The recent heavy snow conditions have no doubt been a photographers paradise throughout the UK. For me however it was met with frustration as I had a nasty flu bug to hamper my much wanted time 'out in the field' and my main Nikon lens was in London for repair (for far too long!) after an incident on Fair Isle at the end of October! I collected my lens just before Christmas, fully restored, and am now desperate to get out and capture some of the magical snowy moments in my post flu-bug enthusiasm. . . . .however all the snow, at least locally, has disappeared over the last 2 days!! being replaced with drizzle and very thick fog.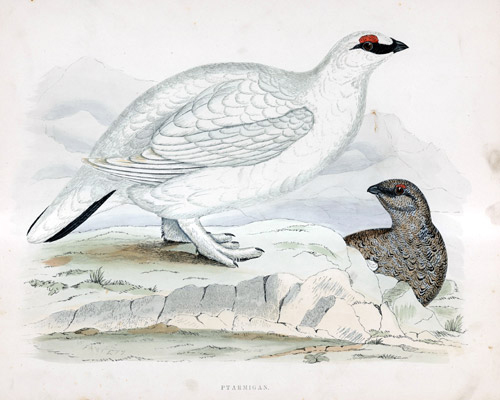 My thoughts turned to a special snow-filled day at the beginning of March 2009. After co-leading a trip for The Travelling Naturalist at the 'Aigas' Centre in the Highlands for Scottish birds and mammals, my Partner Phil and I stayed in Aviemore for a few days birding. There was deep, crisp snow covering the mountains as we made our first free day up into the Cairngorms. There was one particular Scottish speciality I was desperate to see  – a Ptarmigan Lagopus mutus and this was my third attempt in trying! (There are over 10,000 pairs in the Scottish Highlands).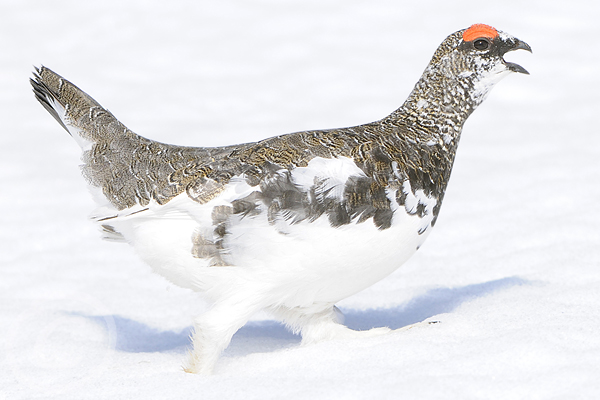 We started our ascent into familiar territory, eyes scanning the white horizon for a movement in the snow or around the exposed dark boulders strewn across this harsh but stunning landscape. I was not expecting to see a Ptarmigan, they had eluded me in the past and had become almost mythical birds I wasn't ever to set eyes on. I stood a while after a steady climb and scanned the distant mountain tops with a scope. It must have been only minutes before I caught a faint movement, maybe half a mile away on a snow-covered scree slope. We picked up our pace and got a little closer before scoping the area again. This time we could clearly see the outlines of not one but two beautiful Ptarmigan, feeding amongst the exposed scree debris. I could not believe my luck, I had found a pair of Ptarmigan!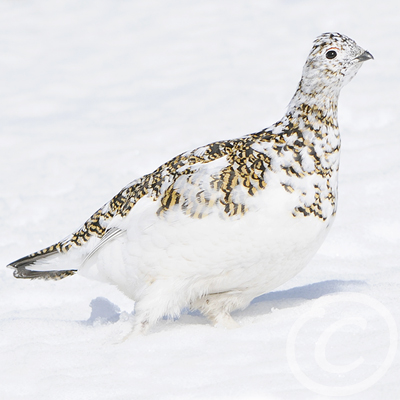 I took my camera gear from my rucksack and set myself up ready to photograph the birds, something I was not expecting to be able to do at all! We carefully made our way up  to where the birds were feeding and incredibly they seemed totally unfazed by us approaching them. We sat within 10 metres of so from them as they padded about with thickly feathered legs and made faint contact calls together in the snow as they fed. I took a lot of images of these two birds and I can honestly say that photographing these Ptarmigan has been one of my best photographic moments to date if not the best so far! The location and weather conditions were excellent and it was a wonderful surprise to not only find my own British tick  – but to photograph them at such close quarters. A magic day and start to our Scottish Highland weeks birding!