I just spent five days in Costa Rica scouting some new lodges that I plan on including on my new July tour next year.
I had actually seen the Caribbean Sea of Costa Rica once before – on a very clear day from the upper Reventazón River drainage in the mountains. This time I got to actually walk up to the surf on the beach at Turtle Beach Lodge in Tortuguero Natonal Park. It first involved a bumpy bus ride to the port of Caño Blanco where many tourists were waiting around for their bus or boat to the next destination.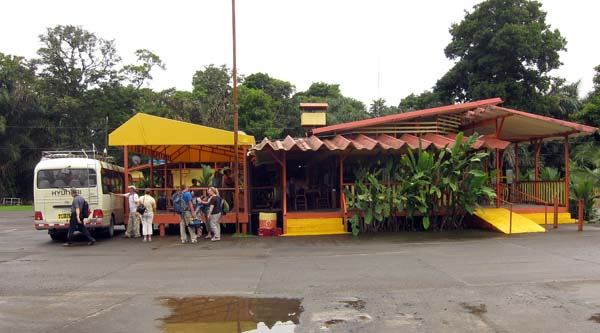 Then I hopped on our lodge's boat and zoomed down to Parismina then up a canal to our lodge. Where a impressive low pressure system arrived, parked itself over Costa Rica, and sat there for two days. It rained all the next day, including an impressive, deafening, torrential downpour that lasted All. Night. Long.
I had hoped to walk the forest trail loop and go on two boat excursions, but instead was holed up in my room, with occasional forays to the beach and on the grounds where Red-capped and White-collared Manakin live. But as you can see here, the rain had quite an effect. In the three years he's been here, Jesse the manager had never seen water this high. I was able to go to the beach a couple times, and on one visit saw a Red-footed Booby and two Brown Noddies working south – both very rarely seen from shore here. I guess next year with my tour (when it will be much drier, and turtles will be coming up to the beach to lay eggs) I'll have to be pleasantly surprised by the birding on the trail. It was probably chest-high this day.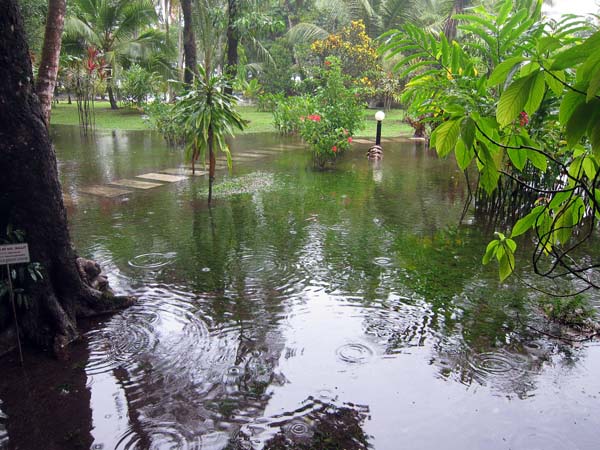 I did get out at night with the frogs which were certainly enjoying the chance to breed. This Hourglass Treefrog was among several calling in an area that is normally lawn (this variable species often has an hourglass pattern on the back but can be solid yellow as this one).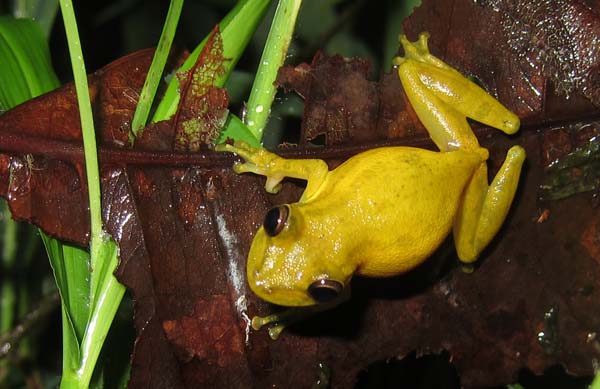 As luck would have it, my return to San José was by plane, this Twin Otter just making it though the clouds and mist of the low pressure system's Day 2. The boat landing at Caño Negro in the photo above (as well as the several miles of road leading to it) was under several feet of water still. More than 1800 people were displaced from their homes due to flooding.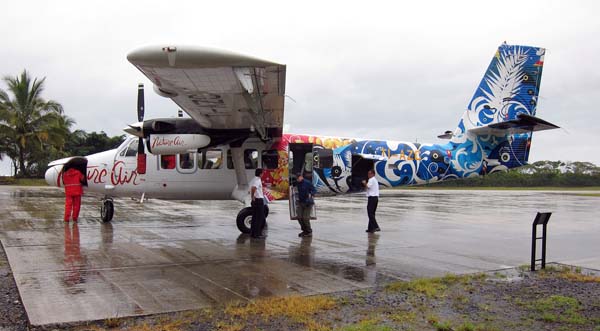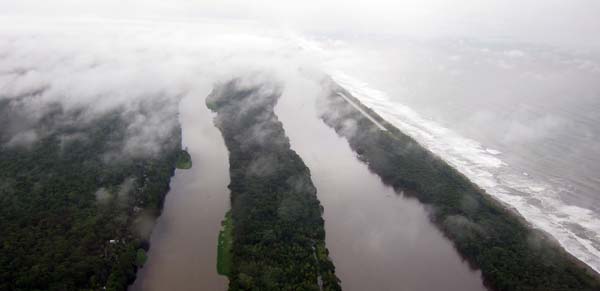 Safely back in San José I rented a car and drove north to visit what turned out to be two utterly gorgeous lodges.
Celeste Mountain Lodge, on the northern slopes of Tenorio Volcano has been open just three years and visited by only a few birding groups so far. Built with a particularly green philosophy, it includes some pristine mid-elevation forests that while private are also within Tenorio National Park. One of the specialty birds here is the Tody Motmot, which I was able to digibin on my quick walk on the trail loop. (Digibin means to hold up my Canon PS-S90 point-and-shoot up to my Zeiss 8X42 binoculars.)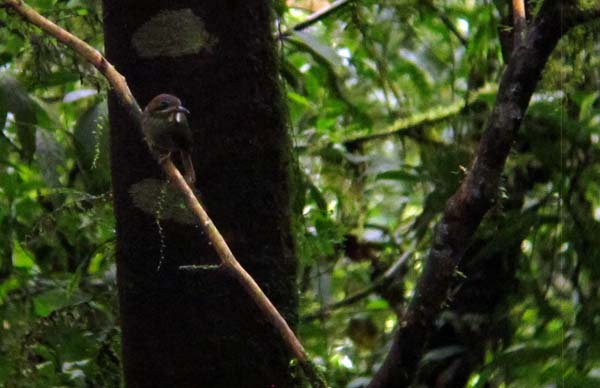 The forests here are truly cloud forests, quite lush and moist. This is a filmy fern, the fronds so thin you can see through them.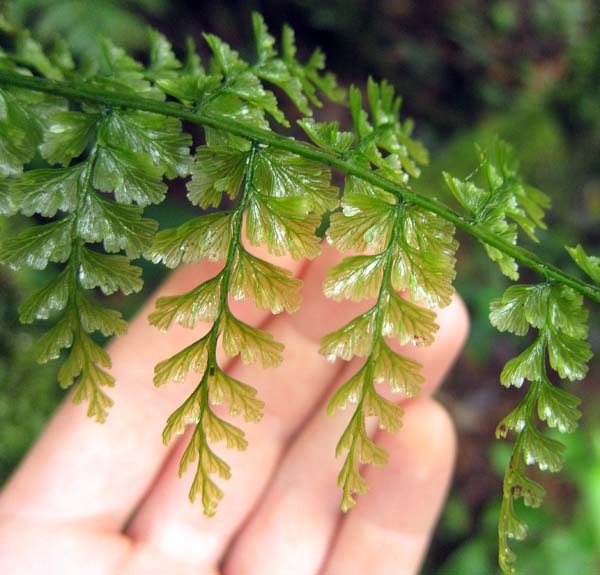 Thanks to the quickly receding flood waters the next day, I was able to make it to Maquenque Ecolodge just north of Boca Tapada on the San Carlos River. From what I understood, they still have not had any birding groups here. I had only an afternoon and a short morning to do a quick run through the trails here.
The birding habitat just behind the spacious cabins is great. I heard Cinnamon Woodpecker here frequently.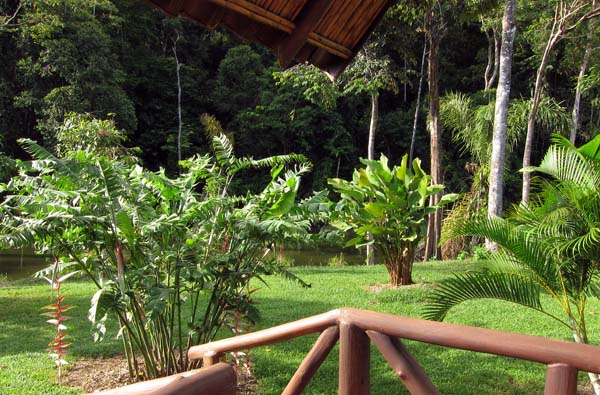 The next morning I saw both Scarlet Macaw and Great Green Macaw, these photos having been taking on previous WINGS tours to the country.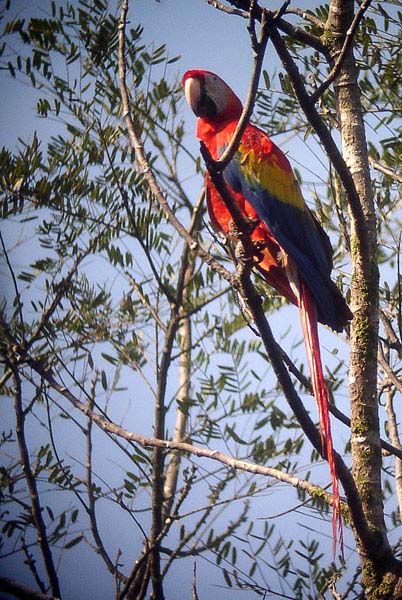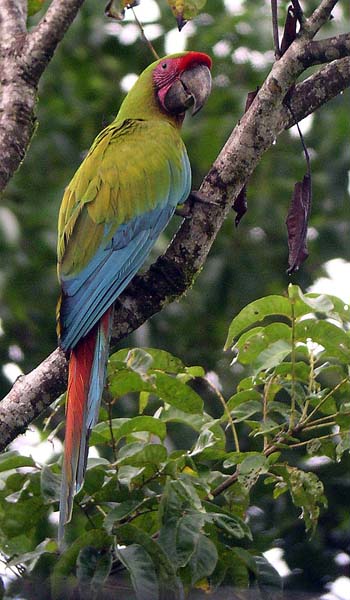 The trail goes through some good forest and crosses a Raphia taedigera palm swamp. During drier times, this should be a magnet for such rare species as Agami Heron and Green-and-rufous Kingfisher.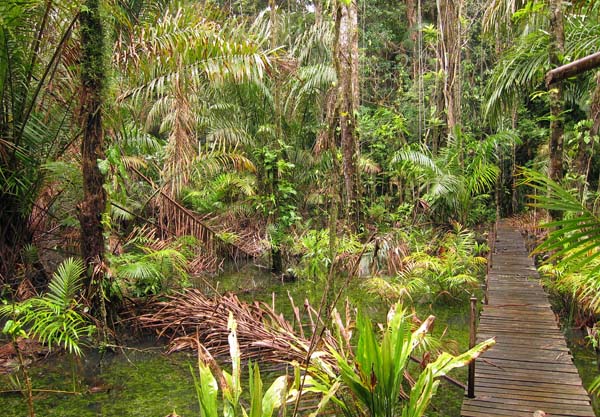 Just down the trail from here I whistled in a Central American Pygmy-Owl, only the second one I've seen in Costa Rica.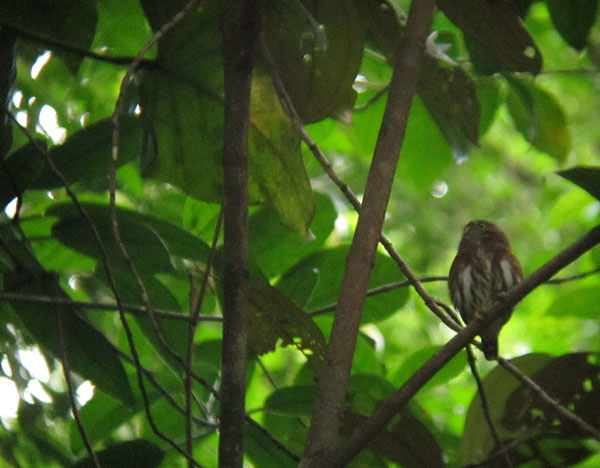 I certainly look forward to returning to all three of these places next July, in addition to the other lodges I already know and like on the itinerary.
Top photo: Keel-billed Toucan, a common sight in Costa Rica. All photos by Rich Hoyer