Colombia has a lot of birds
and not all are easy to identify. While in the old days, the info of field guides was scanty and a lot of birds not seen well or being very cryptic had to be discarded as simple – ID unknown! Luckily, today we can get both photos and recordings digitally and share them on the Internet for others with more experience to help is with ID, but even so the photos are often not conclusive. And to topple it all, my complete incompetence using some of the tools at hand. Look at the photo above. Totally overexposed! I could claim it being ART! But in reality it shows I am not master of my camera. Nevertheless, I let you have a go at the ID, before I reveal it at the bottom of this post.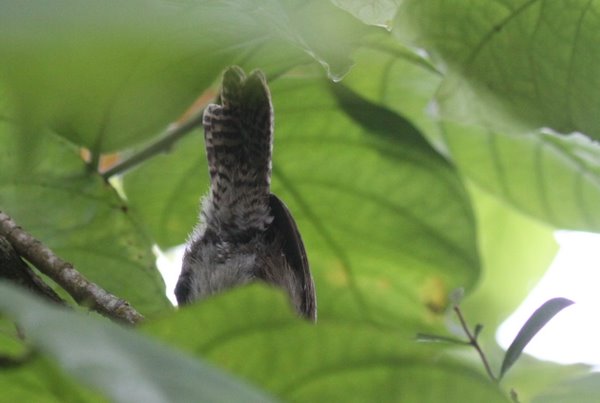 Another example is when the equipment does not respond, like the case of this Critically Endangered Wren. I know what it is of course, and I had it in perfect view through the camera viewfinder, but for some reason my camera would not shoot – until the bird was crawling out of view. Can you ID it?
Let's start with a few nuts that should be easy for a Neotropical birder
Grove-billed Ani or Smooth-billed Ani.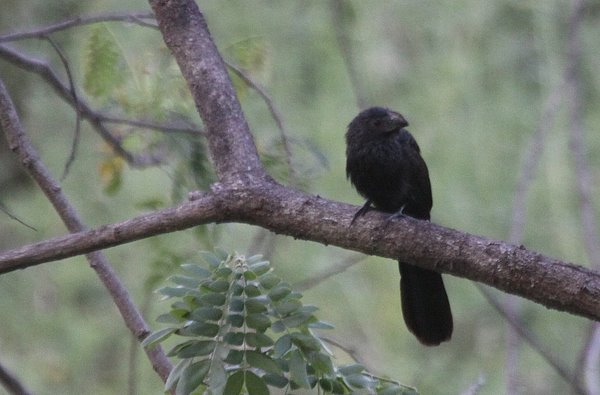 Officially, when doing the list we did not record Groove-billed Ani. Could this be one? It is photographed in the Magdalena valley. Going by the range maps both species occur. Which is it? Usually, the Smooth-billed is easy to ID on it's high arch – the smooth-bill part, while Groove-billed is not as straight-forward  as young Smooth-bills don't have the arch and the grooves are hard to see. Even in a photograph. What do you think?
Catharus Thrush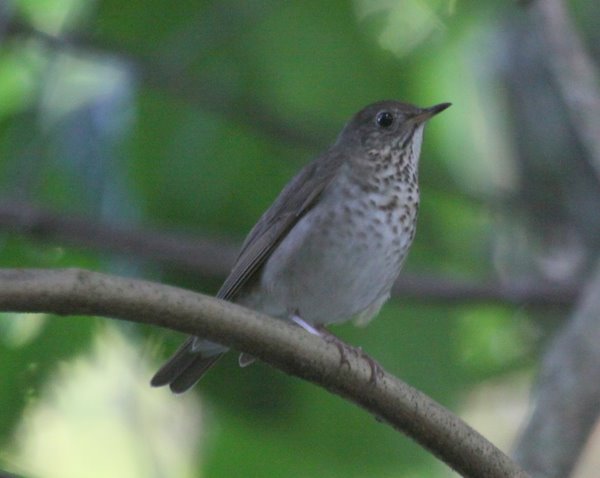 Probably a no-brainer  for a North American birder. But how often do we see this species in South America? Contrary to what the books say, it did call. I'll see if I can fish up the call and post it here later when I reveal the identity.
Raptors
Flying and sitting neotropical raptors are difficult to ID – and far in between. There are no good points where one can sit and study and compare overflying raptors such as sites like Falsterbo in my native Sweden. I enclose this one,  which caused some debate among the group.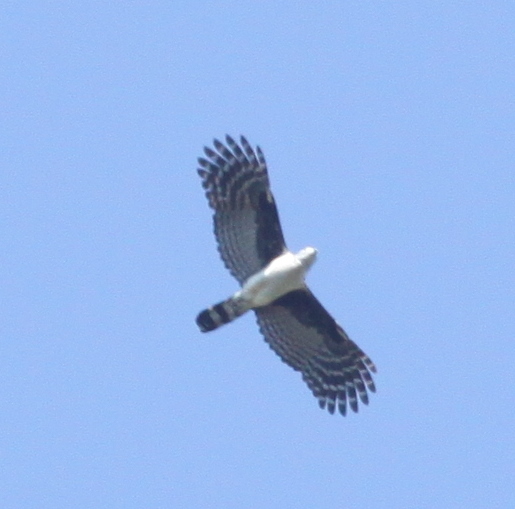 I stated it was probably a Grey-headed Kite, but was opposed in my ID by a group member, who said Gray-headed Kites don't soar – and Hook-billed Kite does – and can look whatever it wants. Plumage is no help? So in an urge, to prove me right, you may support my ID – or keep quiet (just kidding!!) Seriously, I thought the protruding head of the Hook-billed Kite would show. I have a couple of photos of this bird – none good – but none shows a protruding head.
I plead to the raptor experts out there to help me on this one.
Welcome to crap photography! I am not expecting anyone to actually be able to ID this bird. But there may be experts out there that really know South American raptors and immediately by jizz could tell what  this.  Had it been a European bird I am sure I get 100s of people that could ID from such a poor photo. I don't expect this to be the case here.
Anyway, here is the working theory to this bird. We first thought it was a large Accipiter the way it flew.  But it was completely black! So just looking at the pics of raptors in the book, the only one that is completely black and could fit is White-rumped Hawk. Could this be one? We expected to see a white rump, but we never did – but could be perhaps explained that we never saw the upperpart. Please, help!
Hummingbirds
We saw a lot of hummers on this trip.  All the ProAves reserves and lodges had them. Additionally, we visited hummingbird feeders en route to Tolima on our first day. In spite of good views we were not always sure of the ID.The following created problems near the Bushbird reserve.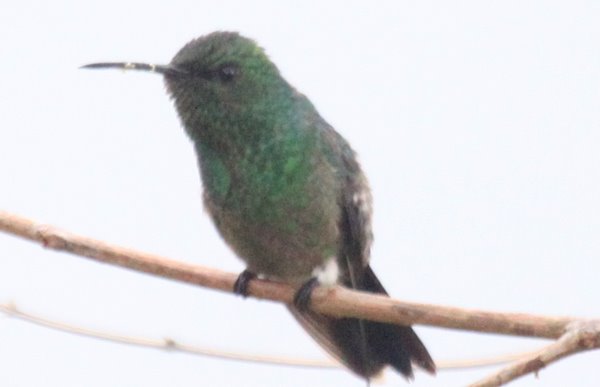 From Ocaña the day after the Bushbird reserve, we went up a road at approx 1200m altitude (guessing) and saw this completely green small hummer with a purple forked tail, and white small tufts.  We think it is a Steely-vented Hummingbird, although Red-billed Emerald is another possibility. Check the following 3 pictures. Is that "red" under the bill – and is it enough for a Red-billed Emerald?
Santa Marta Sabrewing Mystery
The Hilty Birds of Colombia field guide tells us that there are not Santa Marta Sabrewing on the San Lorenzo ridge. Yet, there are recent records and a voice recording of a male done by Niels Krabbe. When playing said tape at a certain spot, this female jumps out. There has been a lot of debate regarding this one. The vent is indeed white why we concluded with the literature at hand that she has to be a Plumeleteer. But is the final word said on this one? What is the current thought in Colombia? Please enlighten us!
Top photo: Donacobius and the next one is the tail of a Nicefori's Wren