Those that read my regular blog where I post less and less frequently since I started Birdingblogs, know that I am obsessed about Social Media in general and Facebook in particular.  I have already promoted that birders do well in connecting more on Facebook on a personal level in for instance this post:  Every birder should have 5000 birding friends on Facebook.
This is still true. Befriend birders and keep them in friends lists of geography to consult when you have specific questions about birding in their area or want to involve them in a birding cause.  You can also group people into specific interests – apart from birding.
There are however two new features on Facebook – Groups and Question – that are very powerful for the  birding community,  especially if you have a cause to spread. I think it should be every birders cause to spread the birding gospel. We should get our true friends into birding and we should bridge connections between newbies and more experienced birders. Facebook can work wonders here.
Groups
The new groups are extremely powerful. As for now, most of them are simply used to share blogposts or photos, but they are ripe for more serious  discussions. It is not necessarily the large groups that are best. Discussion are often better in small groups. Smaller special interest groups may stay focused on the topic and have less spam.
If you have a birding business, you do yourself and the group members a favor not to post commercial links – or links that are off topic.  Instead, get the members to know you by participating in discussions, liking and comment. Let people find out what a wonderful helpful human being you are with a true love for birds and a love for helping others if you can, and you shall see that business will come your way, in a very rewarding way.
Let me list a few that  I subscribe to. If you know of other useful groups, you may add them in the comments below to recommend to readers of this post.
Groups Settings
The new groups work differently. While before, groups were joined by anyone, now you can add add any of your friends to a group. You don't even have to be the admin to add members to a group.  Don't misuse this privilege if you have a lot of Facebook friends that you really don't know that well.
If the group has a lot of activity you will soon be bombarded with emails. Best to set the group in Edit Settings in the right corner. Here is my favorite settings. Your's may be different.
I want notifications of everything. The notifications show when I log into Facebook, with a number at the top right corner. You may want to set it differently to only get notifications when it is new post or when a friend posts.
I don't want to get any notifications in my email-box. Learn how to do this immediately. This is the single most reason why people sign off from a group. The annoying emails.
I also want to have the group show in navigation all the time if I am really interested in the group – and if not why be a member?
Group Chat is cool thing…that members should use, but you don't want it in your face.  So best to have it off.
Old Groups
So what about the old Facebook groups. You know, those very stale groups that you never knew if there were any new posts or not.  What will happen with them? Can they be converted to the new format?
Yes – and – No!
Some very active groups are given the option to automatically be converted with all the members to the new format, but most groups will be archived and lose all the members. The owners of such groups can re-invite the members – but only those he is friend with.
The best option is to make the group active fast.  If there is plenty of activity on the group wall with sharing photos, commenting, or just general postings, Facebook will soon show a link on top saying something like "Ask the admin to upgrade this group". The group user just have to click here and the admin should get a message to upgrade.
I have helped various old groups to activate this way.  However, in some groups in spite of activity and the "Ask the admin to upgrade message", the Admin never gets the option to upgrade. The trick is to invite more admin.  See this link.
Here is the strategy to follow if you are admin for an old group.
1. Invite a new admin
2. Ask them to monitor the top of the group. When upgrade is possible. Click the link.
3. Send a message to all members to post something on the group wall. If a – "tell admin to upgrade" message shows on the top of the group – all members should immediately click so the admin gets a message.
4. Ask everyone to post the link of the  group on their walls.
You can also start a new group on any subject. Here are two new groups I have started. They are brand new and have very little content so far, but please sign up if you are interested in these groups. They will soon be very active and far more active than the old stagnant groups.
Social Media Some time ago I set up a Facebook community page called Social Media. There is some great content there that mostly I shared but the Page is very stale – and as a community it does not work very well.  I think the new group format will serve a community for questions and answers about social media.
World birding Similarly there is Facebook community page called  Worldbirders that I set up. Activity here is also quite stale. Starting a group is the way forward.
It is very easy to start groups. These groups were started in 10 minutes. They need some formatting with a picture and a statement what kind of group it is  and what the rules ares.  It is a good thing to have some basic rules for your group.
As a group admin you should be relentless against spamming. Those contributors who only blow their own horn and do not participate in discussions are of no value to the group. Then again, don't go over the top deleting posts if they are  on topic – but a bit too self-promoting. They may just be ignorant of basic Facebook practices. Talk to the person to set things straight (in a private exchange of messages – not in public).
I for one, do not like company or cause names commenting in my groups.  It goes against the Facebook rules not to have your real name as your profile.  Also, consider that every time, a fake profile makes a comment or a like  – it will look like advertising. Most people will just get pissed off – and nobody will share that stuff.  But if you post in your own name and share something cool people will like that and may even share it. In the end the people who get to know you will soon know what company you work for or what company you own – and this will increase the chance of business eventually coming your way.
Sharing your content
The new groups will sometimes become very noisy. That is, people sharing, but nobody reading – or discussing.  So people will tend to not open all the shared blogposts they see.  But if you have compelling titles and it is of interest to that particular community you will get readers. Some of your posts will be of interest to several groups, why the best strategy is to spread out the postings to different groups timewise. This way you have the greatest chance that your post will be seen. Note also, that comments will put a particular post on the top of the group.  Therefore, a good strategy is to ask questions to get a conversation going.
Facebook Question
I am getting down to the real reason why I am writing this post. I recently did a test of the new Question function.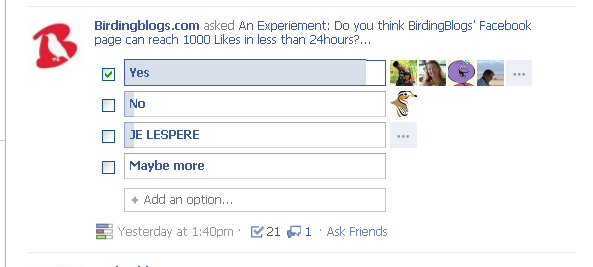 I asked a question on my company's Facebook page: Will you travel with us with in the next 10 years – which got over 200 replies.  On Birdingblogs I asked yesterday: Do you think Birdingblogs' Facebook page can reach 1000 Likes in 24 hours?
The ways of sharing the poll is just overwhelming. Look at this.
Invite friends. You can ask all your Facebook friends.  It is a cool way to bring them to your page. You can also ask from groups or from your wall.  It doesn't explicitly say so, but there seems to be a limit of 30 invitations at the the time.
Share on your wall
Share on Groups – be on topic.
Share on Pages – if you share from your own Facebook page, make sure you post as the page rather than your profile. There is better exposure on the Live Feeds of your fans this way.
You may even email people.
My campaigns were moderately successful, but they could engage far more people if I had known what I have learnt now. Here are some things to think about.
Since the poll can be posted on other pages, don't refer to us like I did, but rather your name organization name.
You are not allowed to have a web-page url in the question
Don't make a narrow time-limit as I did. You need to let people know about the poll and your most effective way, may be to invite your friends. If you, have a couple of thousand birding friends it will take you a couple of days to work through the list. I should have know better. I should have made my goal 1000 Likes in one week. It would also have give time for the friends and the fans to share the poll.  In the end we go26 new likes in 24hours.  Not a lot…but at least something.  This post ought to create more Likes. (RIGHT?)
Both my polls with Questions were tests. I should probably make a point of NOT self-promoting like I did. You will get less people sharing your stuff if you blow your own horn.
If you post your poll everywhere in very short time, you may piss people off. I am not so surprised it happened to me, but I am surprised it happen within a group to which I contribute a lot.
In spite of that I made clear it was a test, and the fact that I am a regular contributor to the American Birding Association, this post was deleted by one of the Admins of the ABA group. Isn't it  a bit over the top?  What do you think?  Comments below, please.

Questions may become a fantastic tool to bridge over to newbies and non-birders – due to the fantastic sharing opportunities.   That was the purpose of the experiment in the first place, although I asked the wrong questions. Now it is up to you.
Have fun, people. Hope this post has been of value to you. We would love if you share it on Facebook…and even more if you like our FB page or subscribe to our feed.  Maybe we can get those 1000 likes on Facebook  – and 1000 subscribers anyway?
UPDATE June 7, 2011:

What is the difference between Facebook Group and Facebook Page?
None of the ADMINS understand the distinction of Groups and Pages.  This is not unusual. Lots of  organizations have had groups and when suddenly they are activated into new groups, the members get flooded with posts and to start with they even come as emails. The self-promoters and spammers flock to the groups for some extra hits. Some admins become desperate and try to protect the integrity of the group.
What is important is the distinction of groups and pages.
Groups are for people sharing an interest – usually quite closely knit – but in the case of birders  a bunch of people sharing the same interest.  Pages are for Organizations, Companies, Celebrities, etc.
The limit of members in a group is 5000
The limit of likes for a page is limitless.
Groups: new posts show as notifications (pop-ups – and a number indicating unread posts in the sidebar, and even email if settings are not changed. Active topics with many comments are pushed up on the timeline everytime a new comment is added. Active and interesting posts self-promote themselves this way.
Pages: New posts – only posts submitted by the Page, not posts of those who have liked, show in the Live Feed in Home mode of every person that have liked the Page.  Active topics with many comments, get repetitive  impressions in the live feed and are pushed up on the timeline everytime a new comment is added. Active posts self-promote themselves
So what should an organisation like ABA do then? Page or Group?
In my opinion. Build Page and Group at the same time to eventually reach the magic 5000.
On the Group: Allow people to post relevant topics. If the topics are border line ignore them, if they are right out commercial or completely off topic, especially from members of the group that has not provided any value what so ever previously – erase. But send a message explaining why you erase.
For ABA it would make sense that the topic should be North American Birds and things that can be useful for North American birders in general.  Maybe even rename the group to the more generic American Birding – remembering that organizations and companies should not be on groups in the first place.
On the Page: Don't allow any self -promotion for other web-sites. This is your kitchen, and your kitchen rules apply. People can ask questions and post photos, but since there is no notification of such, a post on a Page does not reach anyone else than the page owner.  For most people it would be more sensitive to post on the group to get a response.  On  the page people can comment  posts and this way a dialogue between the Page owner and the fans is created.
With smart interlinking of posts on Page, one can direct people from the group to the Page, and soon  the likes will surpass the number of group members.  One can also put a widget for the Page on one's web-page. This is not possible with groups.