Wishful thinking?
About a month ago, my friend Fabrice Schmitt posted a picture on www.BirdingPeru.com he had taken at Pantanos de Villa, Lima in November last year and sent a message on the BirdingPeru list-server.
He was thinking it maybe was an aberrant Blue-and-White Swallow, or could it simply be the erythrogaster race of  Barn Swallow, although the latter should have a rufous forehead and this bird does not.
Or maybe it was something very rare? Something not South American? Only way to find out was to check the pictures on the internet and in Swallows & Martins: An Identification Guide and Handbook
by Turner&Rose (affiliate link).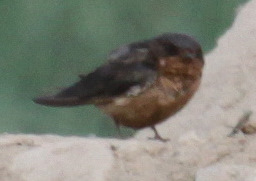 Finally, checking the pictures one after one, I concluded it was either a Black-and-Rufous Swallow Hirundo nigrorufa from Zambia which does not have a rufous forhead or a Pacific Swallow Hirundo pacifica which just like Barn Swallow has a rufous forheaed with the nearest population around Fiji. There was only one problem. Both species were sedant – non migrating species, although for Black-and-Rufous Swallow the book talked of a particular population breeding in Mwinilunga district that completely disappears post breeding do unknown wintering grounds. Aha, maybe this one is overlooked in Peru 🙂
Thus it would be quite far-fetched to think it was a first for South America. Strolling through hundreds of barn swallow pictures on google image search, there are indeed a few pictures of dark chestnut -bellied birds that approaches Fabrice's bird (although a rufous fore-crown is present). See this – and this.
There is of course very little information we can read from the photo about its flight, tail length or other details to be 100% of its identity – especially if we would like to put a rarity tag on it.
There was a very interesting article on ABA blog a few weeks ago by Ted Floyd applying statistics into Bird-identification – and that is what you have to do, if you don't have all the facts and the bird flown away long ago..
Check it out: it is long – but it is a good read….So good that I mention it again. Every serious, hot, lister for a regional area should read this, to get him more cool-headed in identification.
http://blog.aba.org/2011/01/indeterminacy.html
In short – account for the probability. Is the probability of a weirdo Barn Swallow – or a weird Blue-and-White Swallow occuring among the millions individuals of both species that regularly occur  in Peru higher or lower than the probability of a first for South America?
So applying Ted's reasoning on this bird:
I bet that there would be abberrant Barn Swallows or Blue-and-White Swallows that can look like this – even if there is only 1 aberrant like this on every 100000 birds – the odds that one aberrant like this could show up in Peru is still higher than any of those out of place ones.
And that is the best comfort, I can give myself, not being able to tick off a unique out of range possible Black-and-Rufous Swallow over three months ago for my Peru list – in my neighborhood 😉
What do you think?
Photos: Fabrice Schmitt