"The Great March Of Anatolia is a movement initiated by the People of Anatolia to keep the water, nature and their roots alive. This is an open call for everyone and the march is carried out totally by individual and volunteer efforts. No institution or establishment is a counterpart, partner or organizer of this movement."
From homepage of Anadoluyu Vermeyecegiz

Have you heard about "The Great March Of Anatolia"? Chances are that if you live outside Turkey or don't work for BirdLife International you won't have done. Heck, I try to keep up with the big conservation news stories in this part of the world and I hadn't heard of it – but now that I have I really want to make sure the readers of Birdingblogs.com get to share my shock and anger that the Turkish Government has transferred the ownership of all the country's rivers and streams to corporations in the energy business, and is threatening to destroy a vast amount of its biodiversity with an energy plan that will virtually see Turkey's rivers and streams sucked dry by 2023.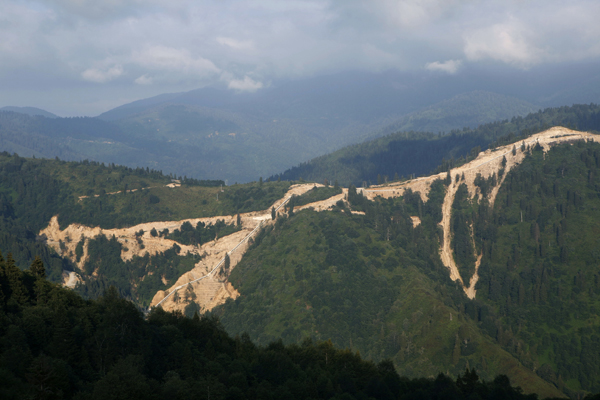 How? By building an almost unbelievable 1,738 dams and hydroelectric power plants (HEPPs). At this moment 2,000 irrigation and drinking-water dams are also being built, and the total length of river systems in Turkey that will be used for HEPP's or dammed is around 10,000 kilometers. In fact just 10% of the water in the entire river system will be left in the ground and virtually no sediments will reach flood-plains or the sea. You don't have to be a qualified ecologist to understand that emptying, diverting, or building on the very water systems that hydrate the biodiversity of Turkey will leave very little room for natural ecosystems to function.
I suddenly have this knowledge because yesterday I had the privilege to talk for an hour with the remarkable Engin Yilmaz, General Director of Doga Dernegi (BirdLife in Turkey). He was sat in a restaurant in Turkey, skypeing to the clatter of dishes and customers as he had arranged to talk with local activists after we'd chatted, and the facts and statistics just poured from him:
The fact that at least 185 out of 305 Key Biodiversity Areas are threatened from dams and HEPP's and will effectively be destroyed;
that the Turkish Government has responded to almost one hundred lawsuits by changing the law to eliminate any legal obstacles against HEPP and dam projects;
that the power plants are being built by overseas multinationals (the same companys that have devastated Bolivian biodiversity);
that hundreds of thousands (perhaps millions) of smallholders are being forced off their land and into already crowded cities as the water supplies they and their families have used for millennia are disappearing;
that the 'drying up' of Turkey will undoubtedly effect biodiversity throughout a far larger area than just Turkey…
I could go on, but perhaps readers who don't know much about Turkey are wondering whether the biodiversity there is important enough to save (biodiversity anywhere – even in a small garden – is worth saving, but I'm talking here about saving from an international perspective).
How about some more facts and stats?
Just looking at birds, Turkey holds:
30% of the global population of the Critically Endangered Northern Bald Ibis (which has a global population of just several hundred pairs – please go to Talking Naturally for more information )
25% of the European breeding population of the Endangered White-headed Duck
more than 10% of the global population of the Endangered Egyptian Vulture (a species which now only really survives in large numbers on Yemen's Socotra Island)
more than 30% of the global population of European Rollers
more than 70% of the global population of the near Turkish endemic and Near Threatened Krueper's Nuthatch (the species shown in the painting at the head of this post, which is by Joseph Wolf and is in the public domain)
and more than 90% of the global population of the Cinereous Bunting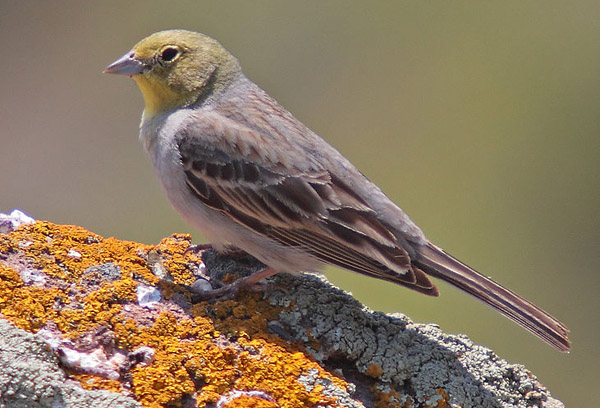 Cinereous Bunting Emberiza cineracea. Photo copyright Mark S Jobling.
From Wikipedia, under the Creative Commons Attribution 3.0 Unported license.
While the country has no endemic bird species, Turkey has five endemic mammals (mountains here still apparently hold the Anatolian or Asia Minor Leopard Panthera pardus tulliana), has 52 endemic freshwater fish, 13 endemic reptiles, one third of Turkish plant species (30,6 %) are endemic to Turkey and the nearby Aegean Islands (which include perhaps 50 endemic (of 175 in total) orchid species, many of which are already threatened), and a host of rare or threatened species spread across all forms of life.
Most are found in the KBAs referred to above of course, which is why they are listed as such. How will the developments impact them? Take a look at the diagram below produced by Doga Dernegi (pink areas are KBAs, the green dots show where dams and HEPPs are planned):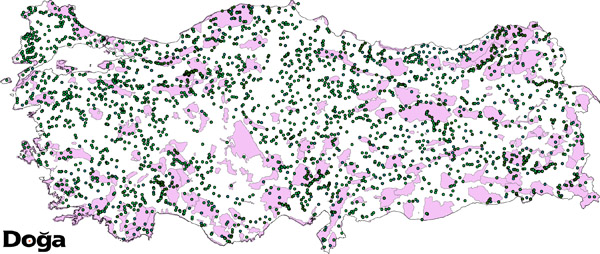 Now imagine the disturbance, the noise, the changes to ancient habitats, and imagine water being removed from all those areas or forced through HEPPs…
Actually why imagine it? This is what is happening right now: first a new dam, second and third 'before' and 'after' photos of the same river…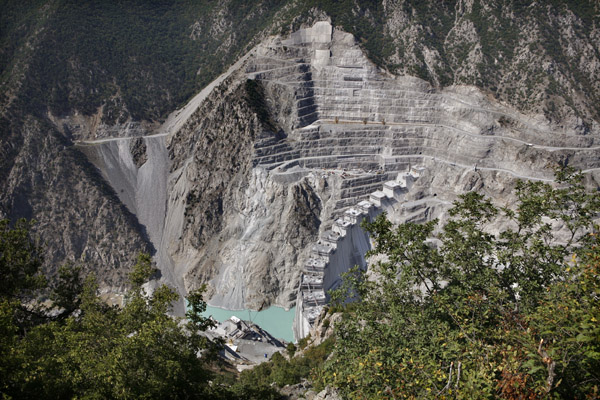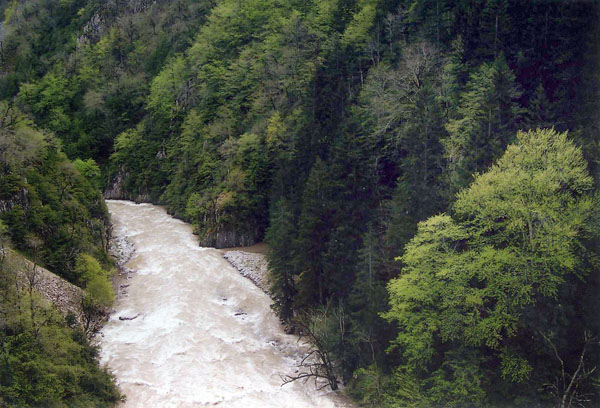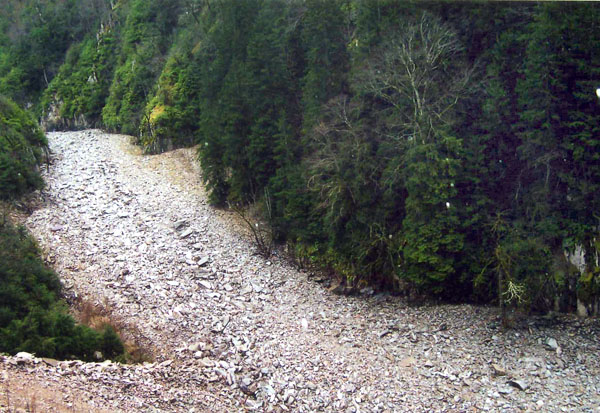 At the head of the post I quoted a few paragraphs from the homepage of Anadoluyu Vermeyecegiz (a coalition of people from all over the country which because of the way political dissent in Turkey is often handled have to remain unlisted), which includes the statement that, "The Great March Of Anatolia is a movement initiated by the People of Anatolia to keep the water, nature and their roots alive".
DD and Engin Yilmaz don't speak for Anadoluyu Vermeyecegiz, but Engin points out that there are alternatives, that there is an extraordinary loss of 18% of the energy already being produced before it reaches the grid, that there are no policies in place to save energy in the first place.
The Government – like governments in so many parts of the world when faced with a concerted backlash against their policies – are calling the marchers 'anti-patriotic', but that's simply not the case. The Great March is nothing more nor less than a citizen's movement, a union of diverse people united under the banner of "WE WON'T GIVE UP ANATOLIA. It started in April 2011 with volunteers walking "from valleys, from villages, from towns and from cities, from all around Turkey" for 40 days and 40 nights to Ankara. They plan to arrive in mid-May and camp outside government buildings. Nothing like this has ever been seen in Turkey and the walk is attracting thousands of people who had never thought about 'environmentalism', never thought to stand up against their government, or thought of themselves as being linked in fighting a common cause – saving their biodiversity and saving their country from rampant and profit-driven development.
We can't be there of course, but we can spread the word about this remarkable effort – on our blogs, via Twitter and Facebook etc. Please, let's support the marchers, Anadoluyu Vermeyecegiz, Doga Dernegi, and committed conservationists like Engin Yilmaz who are working long days because they believe with every fibre of their being that destroying a unique biodiversity can never be excused and that their country – which Engin, as he told me, is passionate about and loves deeply – should not be embarking on the selling off of its natural resources and on developments which will cause irreversible damage on a massive scale.
If you'd like to offer more concrete help please contact Engin at engin.yilmaz@dogadernegi.org
Photographs provided by Engin Yilmaz/Doga Dernegi unless credited otherwise
For a stunning recording titled "The rich birdlife of Turkey's agricultural lands" have a listen to the file at Listening Earth blog run by professional sound recordist Andrew Skeoch. A rich land full of birdsong…at the moment anyway.