My life has recently been dominated by the launch of the new Swarovski EL50 Swarovision binoculars and all the million small details that need to be taken care of. This has been made easier by two things: 1. I really love this binocular, and 2. It is a really great binocular (fairly sure I am not completely biassed).
One of the things that has taken a fair amount of time recently is the setup and organization of a trip to Extremadura, Spain, with a small group of press people. Now I don't know how many people are interested in me blabbing on about my job, but please forgive me, at the moment my life is dominated by work, and it does have something to do with birds. I'll get to that point at some stage, I promise.
Anyhow, one of the people coming on the trip is Charlie Moores of 10,000 Birds, who will be blogging the event, presentation of the EL50 Swarovision, and the first field tests of the binocular (his first post is here, which is where I got my title for this post from). Charlie is a fantastic chap with a really soft, gooey heart – I can hold only respect for someone who lives their life hoping to make a positive difference to the world.
In preparation for our trip next week, I went out to Extremadura last October (see a blog post about digiscoping on the trip here) and used the opportunity to not only check out the hotels, restaurants and birding areas, but also to take lots of photos. The photos I took of us using the EL50 Swarovision in the field ended up forming the basis of our EL50 minisite and much of our online communication. Fun to take, totally realistic, and no fake models anywhere in sight.
I also had time to take the photos necessary to create a panorama for our birding game. The Extremadura panorama was eventually constructed out of about 30 separate photos, to make it big enough, and included two completely separate locations so that we could have open steppes and hills in the same panorama as dehesas and cliffs. Quite a challenge, but I really enjoyed playing with it.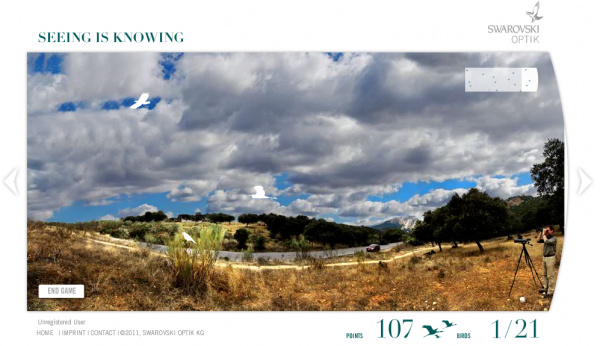 I am really looking forward to getting out in to the field again to do some birding. And the best thing, I will be with a whole bunch of really great birders. It is one thing going birding in my local patch and looking at the buzzards in the fields to see if any look different, but a completely different thing to have the possibility of seeing hundreds of species in a few days (as opposed to 20spp) and be able to share this with others. I miss that.
Hopefully I will be able to blog some photos of the trip next Sunday.
Happy birding,
Dale