This past week some exciting news from Colombia leaked. Six photos were published on Internet Birding Collection claiming to be the Bogota Sunangel. I for one, suspected that this was a leak, and downloaded the pics immediately to have as reference.  Shortly afterwards they were pulled off the page.
A lot of speculation started on various lists, forums and facebook groups. Was this the lost Bogota Sunangel or not?
Background
In the late 19th and early 20th centuries, hummingbird feathers were used in the fashion industry.  Millions of skins from hummingbirds were shipped out from South America. The shipments were often labeled Bogota, Colombia, simply because they were purchased there. The hummingbirds could actually come from much further afar. Later revision of such Bogota skins revealed individuals that could not be placed to species, especially if only one or two individuals were available of a form.  Some such Bogota mysteries were hybrids or rare color morphs, but occasionally some are believed to be valid species. The Bogota Sunangel is one of those.
The Bogota Sunangel exists only as one specimen purchased in Bogota in 1909 and which was sent to Academy of Natural Sciences in Philadelfia in 1947 for identification. Meyer de Schauensee was confused so he asked the creme of the ornithologists in various museums for help.  Peters, Wetmore and Zimmer were confused as well. Some stating that it could be a hybrid between a Sylph and a Sunangel or something completely new.
Since then it has been a mystery until 1993, when Gary Graves describes it as a good species. Read more about the background here:
http://si-pddr.si.edu/jspui/bitstream/10088/8681/1/vz_Graves_Bogota_sunangel.pdf
But the ornithologists were not totally convinced. Only in 2009 when doing DNA work comparing samples from the holytype with various other hummers was it established that the Bogota Sunangel was a good species.
http://rsbl.royalsocietypublishing.org/content/6/1/112.full.pdf+html
But not only that: It was proven that it was not even a Sunangel. The DNA test put it systematically closer to Gray-bellied Comet in Peru and the Sylphs – and far away genetically from Sunangels.
Bogota Sunangel in Rogitama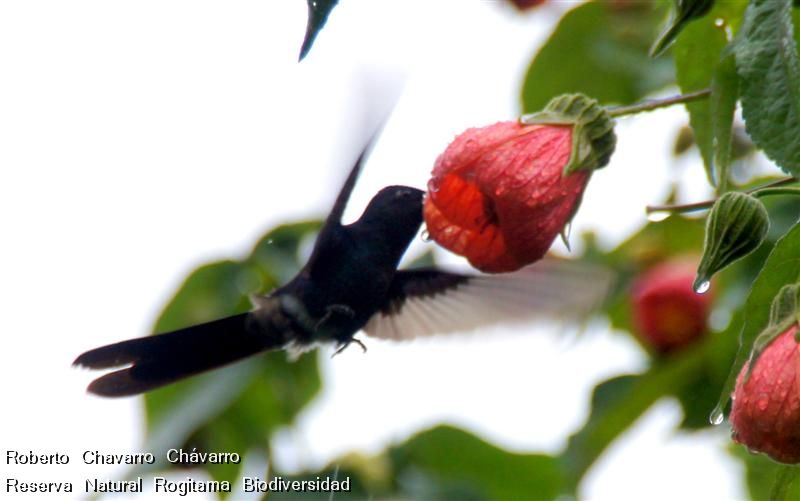 Today a press release was  issued giving the site as Rogitama 145 KM north of Bogotá.  It does not claim that it is the Bogota Sunangel, only that it could be. It could also be a hybird or something completely new.
Two days ago we learn that James Currie of Birding Adventure TV are going to film it. James is back, just in time for the press release below, and had managed to get some footage.  In his opinion it is a colorful morph of Long-tailed Sylph. James Currie says:  After careful review of all our footage I surmise that the bird that WE have been seeing is a strange dark violet form of juvenile sylph. The only recorded sylph in this area is Long-tailed. Again I defer to the experts but this is my opinion at this stage. Sorry for the bad news but perhaps they were seeing something different or another bird. I'll send another update after the Colombian ornithologists arrive tomorrow and Sat.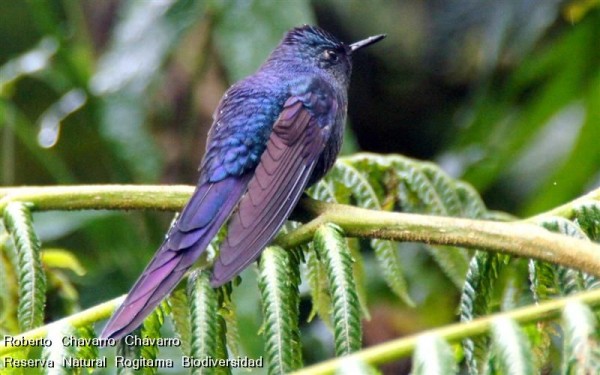 Bogotá Sunangel pressrelease.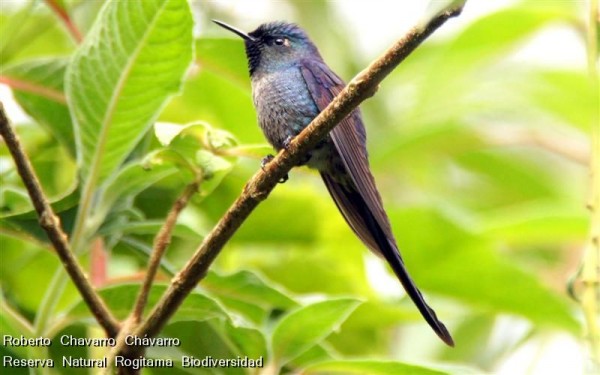 Roberto Chavarro Chavarro from the Rogitama reserve writes:
Some weeks ago, the ranger of the reserve, Jesús Pachón Echeverri, a truly natural observer, told me that he had seen a Sylph above the house; as Long-tailed Sylph is not a rarity for the reserve, I just congratulated for his observations. His comments and my responses were repeated over the days, until the third time when he told me: " it's a beautiful bird and it is similar to the Black Inca because it is also a dark hummingbird ". That comment on the coloration made me go on its quest. I got surprised and quite excited when I realized I was watching a new species for the reserve: the hummingbird No. 18 had arrived!

Overwhelmed by the emotion of the discovery, I made some photos and videos that I sent to the reserve friends to get some help with ID. The first response was by Diego Calderon-Franco from COLOMBIA Birding who expressed his almost total confidence that the photos were from the presumably extinct Bogota Sunangel; with Laura Agudelo, biologist and ornithologist from the local ornithological society of Antioquia (SAO), they quickly traveled to Rogitama to start their in situ work. We were also visited by the professor Pablo Emilio Rodríguez from the UPTC and Laura Fonseca from UNILLANOS; after that, Oswaldo Cortes and Jurgen Beckers have also visited. We have achieved videos, photographs and voice recordings, and together with Gary Stiles and Steve Hilty plus all the above mentioned (the "work team"), we agree that eventually this bird could be the Bogota Sunangel; or a new undescribed hummingbird… some have even suggested a possible hybrid.

We have watched at least two individuals near the main house and just recently while I was planting some flower shrubs in the higher part of the reserve, I watched another individual. Jesús Pachón the ranger, is confident he's seen at least three individuals and I believe him as I know of his great observation skills.

As a group, we are right now working on picking up morphological, behavioral, and feeding data among others. We are convinced more data (DNA and measurements) and analysis are needed in order to ID this hummingbird.

We had agreed on keeping this big news confidential until the ID of the bird was advanced; anyways, the rush of some photographs published on the internet without our authorization, forces us to share early these exciting news.

For Rogitama Reserve, this news is a great honor and a big prize; a compensation for the constant work that started in 1982 with the environmental restoration of this land. Basically, we have changed these cattle pastures into a refugee for wildlife in the last 29 years. Rogitama is also a good base for researchers and birdwatchers. In 1982 we use to see only a few birds, but nowadays we have recorded 121 species. We have planted thousands of plants that offer flowers, fruits and shade for wildlife; we want to offer to the environment a small tribute, under the philosophy that says that vegetation is the support of biodiversity.

We want to make clear, that our job and reserve management is not going to change due to the discovery of this hummingbird: we will only keep receiving small groups. We ask for patience to those that want to come and visit us as we can't receive too many people. In the next days, we would only be receiving visits from the "work team" members . To those interested in visiting us in the future, things will be kept the same: email us at gitulo@uniboyaca.edu.co and rogitama1@yahoo.com.mx or by mobile: 300 570 2502, 300 494 8849, 313 216 4807, 300 383 4649.

Warm regards from Rogitama for everyone; enjoy the photos of this super exciting discovery and share the good news for the Colombian ornithology with your friends.
The information above is from the press release on Colombian Birding.
VIDEO
(Roberto Chavarro Chávarro – Reserva Natural Rogitama Biodiversidad)
Mas informacion acerca de Rogitama en / More info about Rogitama at:
http://www.biodiversityreporting.org/article.sub?docId=19664&c=Colombia&cRef=Colombia&year=2006&date=April%202006
http://www.experienciacolombia.com/directorio-turistico.php?Colombia=Arcabuco(Boyaca)&Reserva-Natural-Rogitama-Biodiversidad&d=216
http://www.biodiversidadvirtual.org/insectarium/ROGITAMA-Colombia-Ejemplo-de-recuperacion-y-biodiversidad-cat859.html
http://www.deturismoporcolombia.com/Fincas/Boyaca/rogitama/indice.php
Place your bets now in the comment section below. Is it the Bogota Sunangel? Or hybrid including Long-tailed Sylph, or a color form,  or perhaps a new species to science. What do you think?
Update: Here is an additional photo and videos that Oswaldo Cortes has sent me. Oswaldo says it is a female.