Turkey bird tattoos
I am impressed by Tristan Reid's quest, which Tristan told you about in his guest blog post 10 best birds of Turkey. He is getting his right arm and shoulder tattoed with these birds and is raising money for conservation in Turkey. Since that blogpost he has now started the painful process of adding one bird after the other to his arms.
Tristan must either like the pain, or he is mad. He has since decided to also decorate his left arm and thus adding more painful sessions!
Here is the proof.
Red-fronted Serin Serinus pusillus
Apart from mountains in Turkey this lovely species can be found in Caucasus and Iran.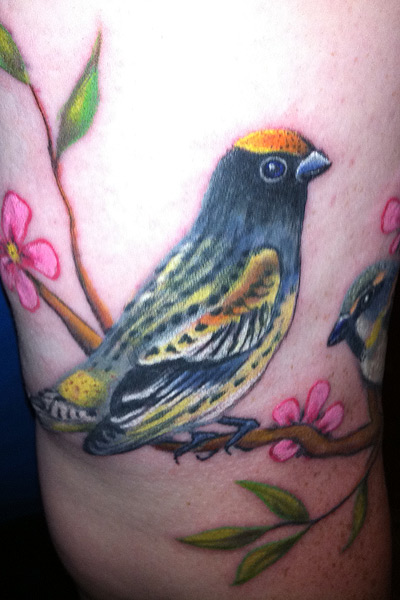 Pied Kingfisher Ceryle rudis
Tristan already has a Kingfisher among the 10 best birds of Turkey – White-throated Kingfisher – and which eventually come up on his arm.  The Pied Kingfisher is a good looking fellow.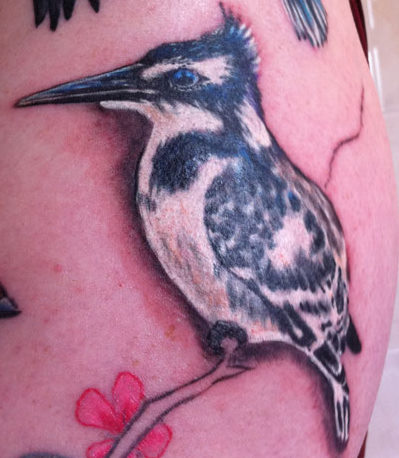 Dead Sea Sparrow Passer moabiticus
Dead Sea Sparrow is a very handsome bird even though it is similar to the House Sparrow.  If you think about it, the male House Sparrow is really not that bad looking bird either. The Dead Sea Sparrow is like a kaleidoscopic colorful version of the House Sparrow on LSD.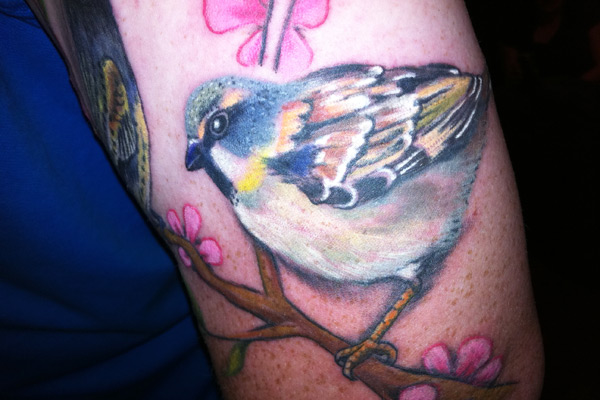 Why?
Why is he doing this? Because Turkey's wildlife is in catastrophic danger from an unbelievably bad series of dam and hydro-electric power developments. See Charlie Moore's blogpost The Great March of Anatolia here on BirdingBlogs, why this is such a catastrophic bad idea. He is raising money for Turkey's Birdlife Partner Doğa Derneği. Money raised is currently on £1,420.00 which includes £200.00 donated by Immortal Art Studio. The goal is to raise £10,000.00.
You should help Tristan reaching the goal and bear the pain by donating at following this link: http://www.justgiving.com/givingmyrightarm
He is paying for all tattoos himself, so ALL donations go to help Doğa Derneği with their work in Turkey.
Find more info on the quest description at http://www.binocularface.co.uk/2011/07/10/the-ten-species-to-feature-in-the-art-work-are/
Top Photo: Eurasian Roller on Tristan's arm.