Well my apologies ;-( I  know I have been a rather illusive participant in 'birdingblogs' in recent weeks, in fact I feel my feet have barely touched the ground since our Lesvos tour back in early May! However, finally I'm back in my coastal Suffolk abode and have managed to free up a little time to make my acquaintance with you once again!  . . . .between sorting images, replying to emails, making a chilli dinner, pickling walnuts, clearing space for our bathroom renovation (BIG delivery tomorrow morning and no space to put anything!) and trying to have a bath all before much needed sleep! The days are sooo long and simmer dim has come and gone already!
This past month has been busy, though late Spring always seems to be that way as we head full force into Summer and then preparations for the Birdfair in August – it will here before I know it! The main exciting part of June was one incredible week I spent in Manitoba, Canada. Before visiting on behalf of The Travelling Naturalist, I had always just thought of the famous Churchill and the Polar Bears when I thought of Manitoba – yet Manitoba has so much more to offer, particularly to the birder in June! Our itinerary took us to some of the best birding locations known and we were not to be disappointed with over 160 species seen in 6 days and on top of the wealth of birdlife the large mammal experiences were equally as rewarding! From boreal transition woodlands, Lake Winnipeg, Riding Mountain National Park and prairie lands, we travelled through the enormous and varied habitats of Canada's heartland, experiencing it's uniqueness and it's wilderness!
A full article of this trip and my experiences will be forthcoming but here below is a photographic taster of what I experienced in Manitoba this June. The forests were alive with breeding summer plumaged American warblers and woodpeckers, the lakes calm and eery with the calls of Common Loons. . . .several of the species were new for me and a real treat! Cape May Warbler for example and the stonking Evening Grosbeak!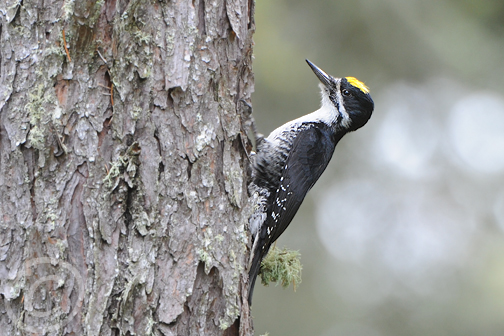 Black-backed Woodpecker . . . .a new species for me which showed down to a few feet in dense lichen covered boreal forest.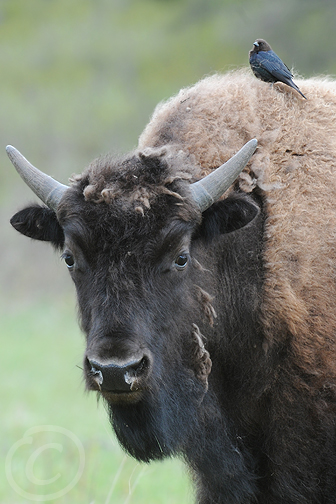 Wild Bison roam the grassland plains in Riding Mountain National Park. . .  it was quite a shock to see my first Bison, a huge male, standing firm on the road in front of the minibus! They can really shift too as when he decided to move, he bolted off at lightning speed! Later we saw large herds of Bison and even some calves grazing contentedly in the grasslands. This is one of my favourite Bison pics with the addition of Brown-headed Cowbird!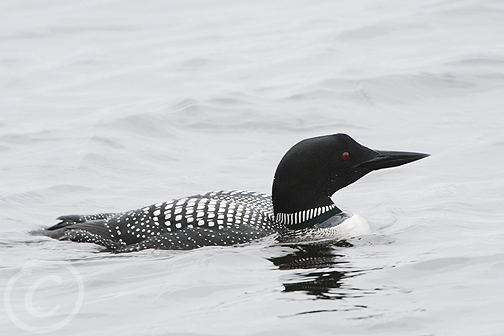 A stunning Common Loon or Great-northern Diver! Some were very approachable and inquisitive!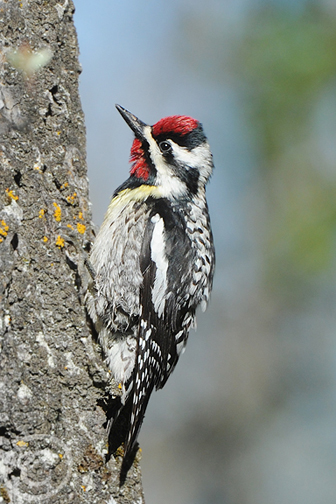 What a belter! a gorgeous Yellow-bellied Sapsucker.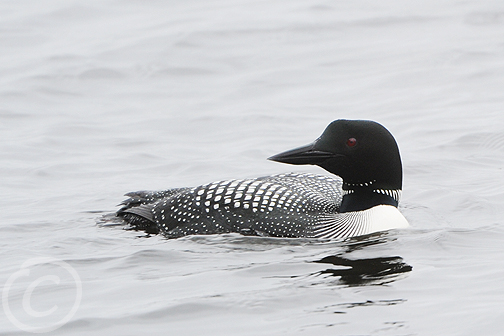 More Loons, there were several on the trip! 😉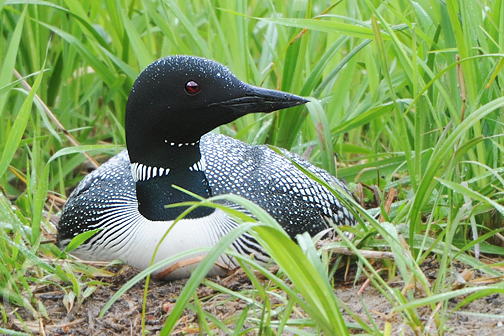 A nesting bird which had chosen a busy little harbour where it was constantly getting disturbed by people and boats! It had failed in the same spot the year before! I love the rain drops on that dense waterproof plumage!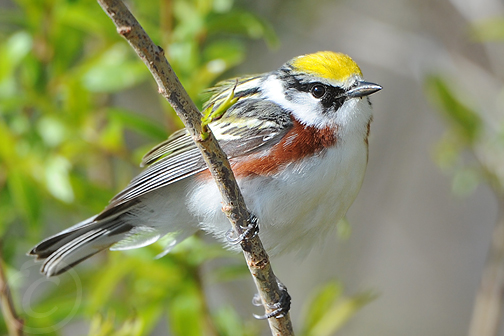 One of many gorgeous Dendroica species seen, here a Chestnut-sided Warbler.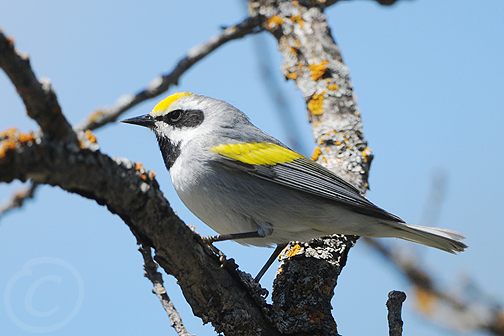 One of the best Warblers ever! A Golden Winged Warbler, worth all the Wood Ticks . . .all 12 of them! including one crawling up my leg a few days later back in the UK on the White-throated Robin twitch! Nice! Where had that one been hiding!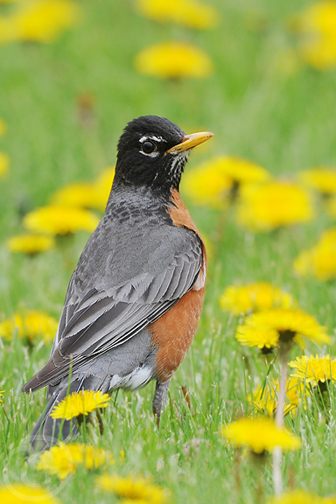 American Robin in flowers . . . .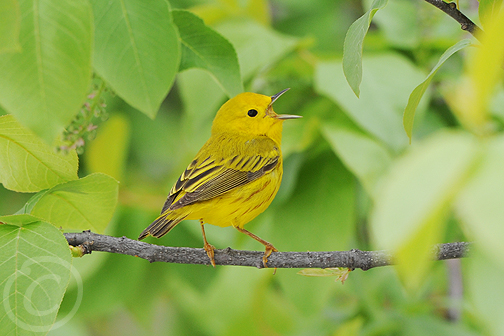 A real star bird, the Yellow Warbler!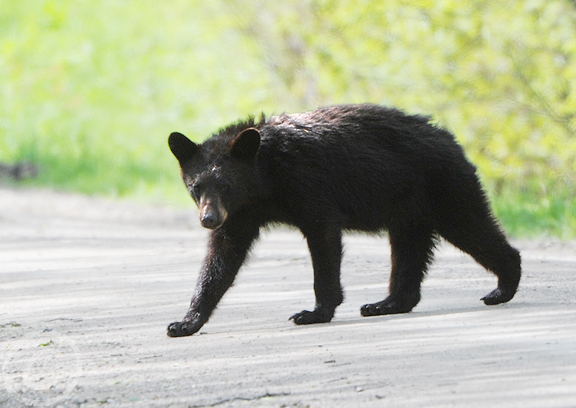 Of course I have my own shaggy bear story too now . . .. like every Canadian! Here we had an encounter with the Black Bear cub above which crossed the road to join what turned out to be 2 other cubs and a monster Mummy bear hiding in the bushes! I'm glad the door of the minibus was open and wide as we were all taking photo's but keeping one eye on the door in case a fast exit was needed! I think it would have been a full scrum!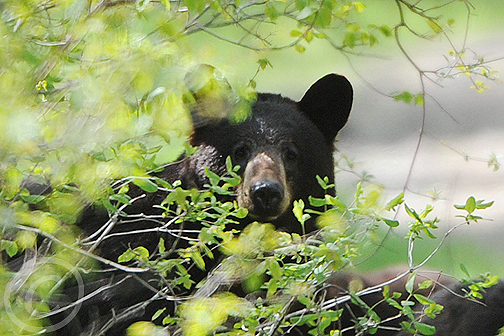 As well as Black Bear and Bison we encountered Moose, Elk, Beaver, Musk Rat and even the wonderfully named Thirteen-striped Ground Squirrel ( I had to count the stripes of course!).  More to come in due course . . .. .thanks to all who helped organise our Magic Manitoba trip, it was a huge success and I cannot be more enthusiastic about returning to this wonderful location again in the near future! Thanks also to the other tour participants who were all great and fun to share time with out in the field!