I've just come back from five weeks of birding and guiding in Peru and Costa Rica – with little chance to blog. I'm happy to be back and posting, and this time I thought I would share just a few photo highlights from the Costa Rica tour I just did.
July isn't a peak month for tourism in Costa Rica, but it is a wonderful time to bird there. It is not nearly as hot as the February-March period that most birding tours do the country, yet birds were abundant and easy. Lots of family groups, lots of evidence of nesting (we found three nests with eggs), and no need to sift through flocks of migrants from the north to find the tropical residents. There was no question that any gnatcatcher we saw in the tops of the trees was a Tropical Gnatcatcher, for example.
Having said that, we did see one Willet, 10 Spotted Sandpipers, and 5 Barn Swallows – so the first migrants were already winging southward, also fun to see.
We started at San Gerardo de Dota in the Talamanca Highlands where we had some excellent birding. Resplendent Quetzals were easy once we found the right group of fruiting trees. We had amazing views of both Silvery-fronted Tapaculo and Wrenthrush, two of the most secretive birds in Central America. The feeders at Savegre Lodge were most entertaining, with the erected ears of Green Violeter being one of the highlights.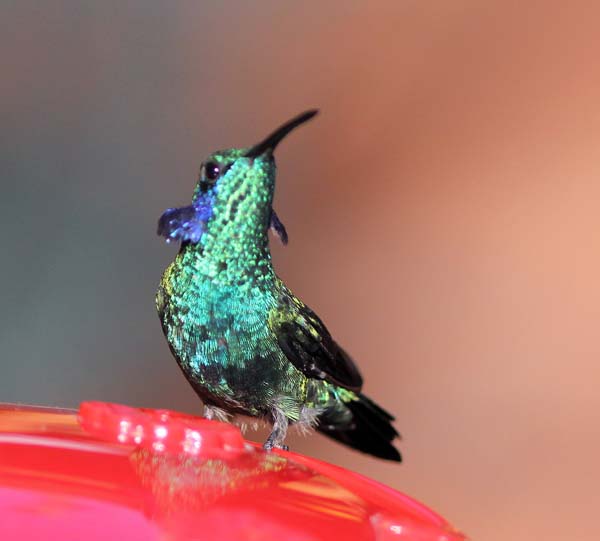 Then at Rancho Naturalista we finally saw our target, the Snowcap, though this year they were strangely scarce at the feeders. We ended up seeing two males, including one bathing and repeated views of a female and immature male at the lodge's porterweed hedge. But the real highlight was a Sunbittern, photo above.
Then we were at Tortuguero National Park, and the turtles seemed to have taken a cue from the Snowcaps – we saw three Green Sea Turtles, but only as they were heading out to sea, not laying eggs. But that's the way it sometimes goes with them. We had some terrific bird highlights though, such as Boat-billed Heron, Green-and-rufous Kingfisher, Snowy Cotinga, and Plain-brown Woodcreeper. This Bare-throated Tiger-Heron was singing in broad daylight (usually they do this at night), so we stopped the boat to spend some time with it.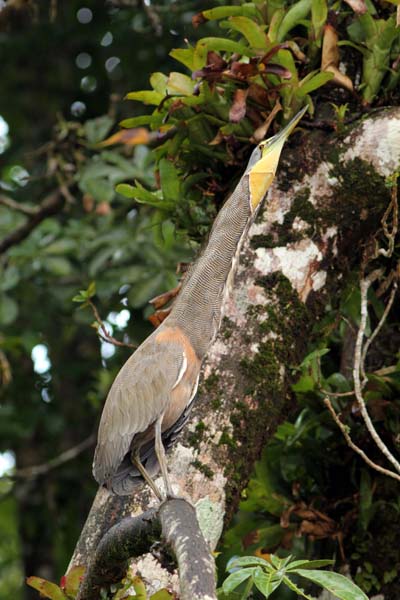 From there we flew back to San José, making a stop at La Paz Waterfall Gardens on the way to our next lodge. The hummingbird feeders here are fantastic, and probably the best place to see Black-bellied Hummingbird. Black is a very unusual color in this family.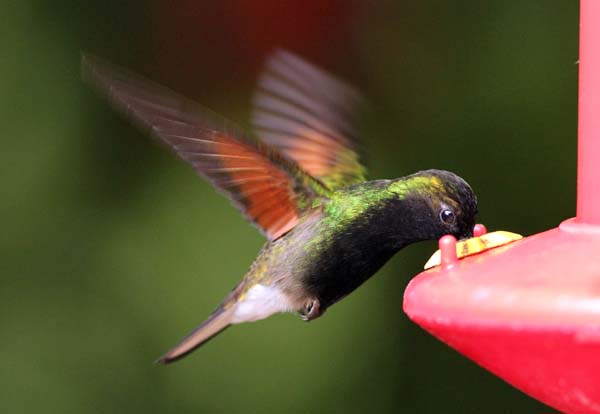 Maquenque Lodge in the far northeastern part of the country is new gem. Here we heard my only new bird of the trip, a Tawny-faced Quail. We never saw it, but that's a topic for another blog post – Hoyer's Metaphysical Law of Listing. Stay tuned. But we did see a lot here, including Pied Puffbird, Red-capped Manakin doing the moonwalk, Ocellated Antbird (one of the fanciest of the entire family), and these Scarlet Macaws.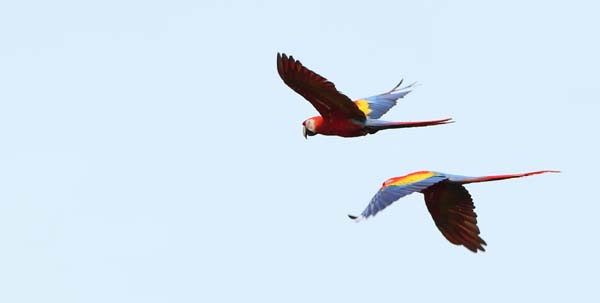 Finally we finished with cooler temperatures and some of the best birding of the entire route on the slopes of Tenorio Volcano in the north. Based at the perfect Celeste Mountain Lodge, we birded along the road, on their trails, and on a trail in the national park nearby. On our first afternoon was this immature Tiny Hawk, always a great find. The next morning we saw it again, but this time it was chasing a pair of Yellow-eared Toucanets round and round through a tree, almost a game. A once-in-a-lifetime sighting, for sure.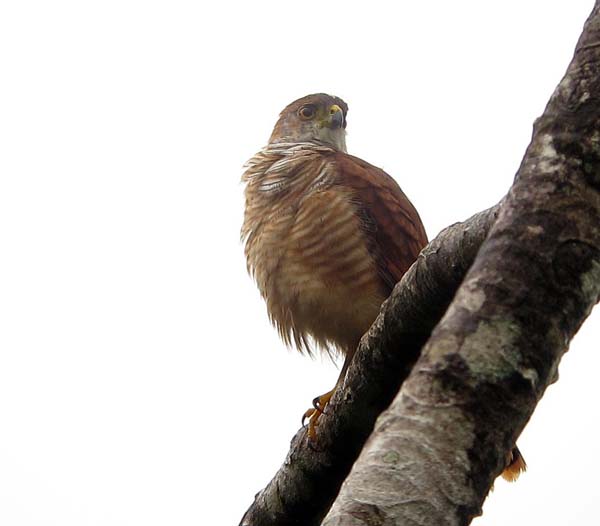 I'm now at Cristalino Jungle Lodge in northern Mato Grosso, in the center of Brazil. Located in the southeastern portion of the Amazon Basin, this lodge is a perfect place to explore this amazing ecosystem. I'll be based here as a guide for the next 9 weeks, so I hope to make weekly posts on the sightings from here.
Photo at top: Sunbittern on the Rio Mina near Rancho Naturalista, Costa Rica