For this week's blog from Cristalino Jungle Lodge I'll describe a hike I took on my own yesterday afternoon, a day I had with no guiding responsibilities.
It was just after lunch, about 1:00 p.m., and I wanted to get to the Saleiro while the sun was still high to see what new butterflies were showing up. The Saleiro is a small mud wallow, now quite dry, deep in the tall forest and a steady 15-minute walk from the lodge. (For me it was actually only 13 minutes, a normal person probably needs more like 20 minutes; a birder distracted by the good mixed flock that has been along the trail might take two hours.) This time of year the slightly saltier soils also attract birds – especially parakeets and doves – and lots of butterflies. This Agathina Emperor was there when I arrived.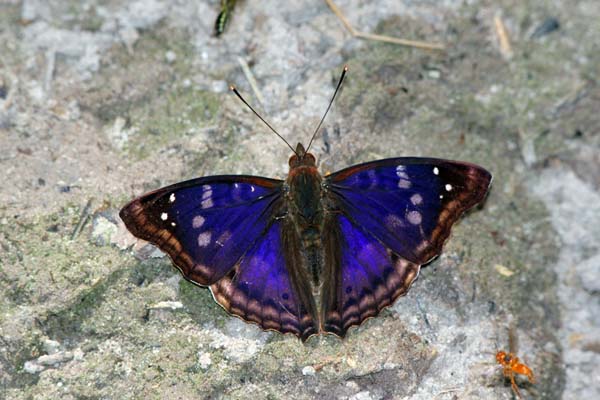 It was actually rather quiet on the butterfly front, as the Saleiro was already mostly shaded (from what the other guides are reporting, it seems I have to be here around 11:00 for the peak) and my curiosity drew me towards the dry, sandy stream bed that passes by it. I've always wondered where it ended up, and with my GPS in hand, I decided this was a good time to explore.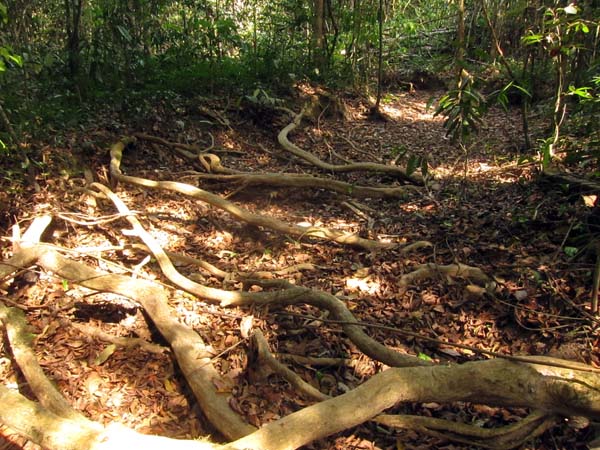 Within about a hundred yards I came across a very viny tangle across the stream and had to bushwhack up through the forest for a while. On the way, I stumbled into a small, quiet mixed flock that contained Pygmy Antwren, Rufous-tailed Flatbill, and Screaming Piha, a strange mix of species. Upon my reaching the stream again, a hoarse, descending complaining note of an antbird led me to this female Dot-backed Antbird.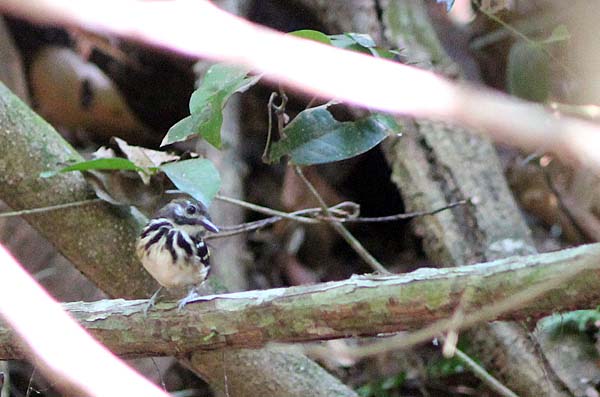 I wanted to stick to the stream bed as it's much easier to walk, but a very familiar high tinking note lured me back up toward the vine tangles where I managed to get quite close to this gorgeous Fiery-capped Manakin.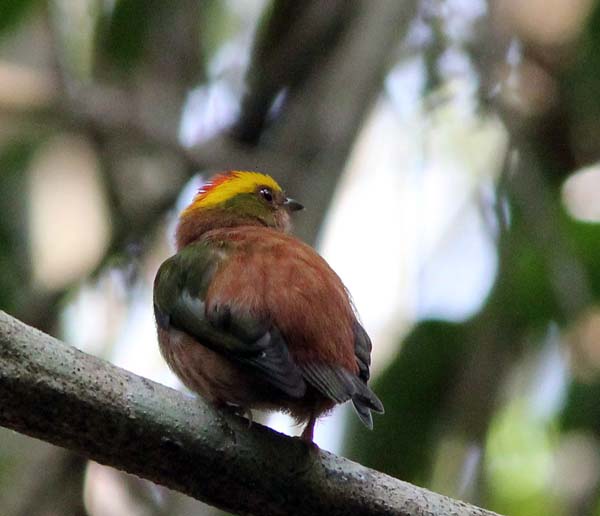 It was now nearing 2:30, the hottest time of the day, which today was 93°F (34°C), and this is where the butterfly action was. Every few steps would flush 2 to 3 butterflies in the leafy understory, most of them unidentifiable hairstreaks that would also just flush again if I tried to get a photo. One cooperative butterfly was this gorgeous metalmark, Euselasia orba.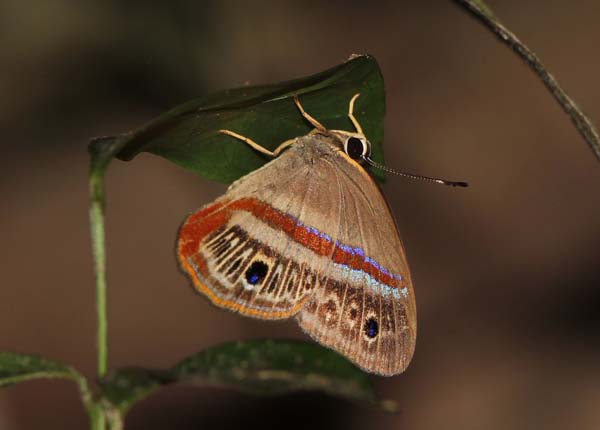 I heard a singing White-crowned Manakin, but it was too far off the stream to try to track down. In just a few weeks, when frequent rains will bring a flowing stream through here, there will be an abundance of dragonflies and damselflies, but this time of year spreadwing damselflies such as this are an unusual sight.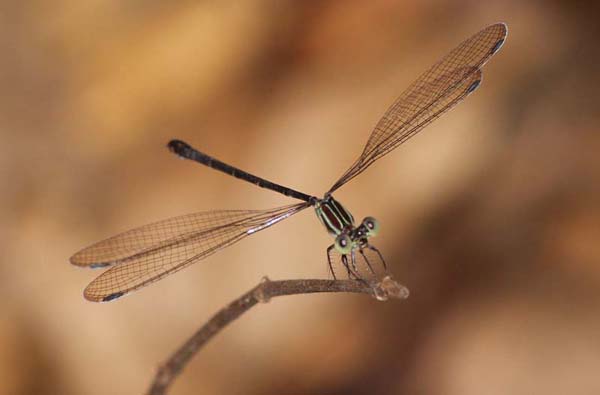 While photographing more bugs, I realized that the repetitive, hoarse "cool-whip!" call of the Dwarf Tyrant-Manakin (which is so common and incessant – and from such a nondescript bird – that I usually tune it out) was right over my head and not that far away. Still, anything right overhead can be hard to photograph, so I feel quite satisfied to have gotten this shot.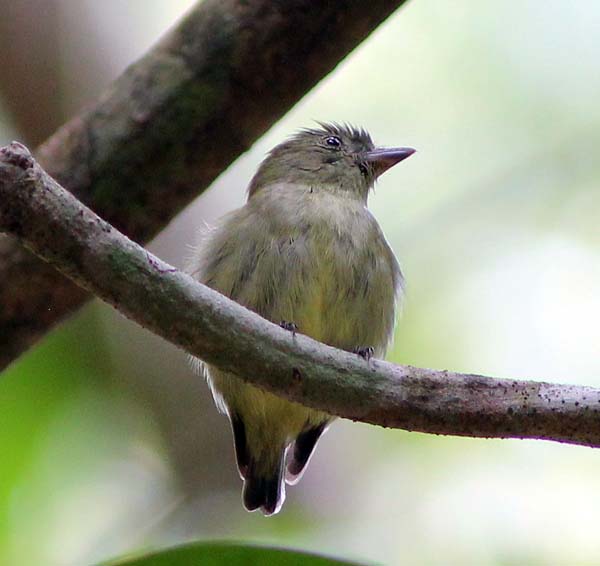 From my GPS I could tell that I was nearing the end of the wash at the Cristalino River quite close to the southern bend of the Caja Trail loop. I figured that would be a convenient way to return and not have to bushwhack back to the Saleiro. I then noticed a foul smell that had me wary that I might be nearing something hosting a vulture feeding frenzy. Sure enough, even before I noticed them, perhaps 10 King Vultures and 20 Black Vultures began flushing from the ground up ahead and scrambling to gain perches in the canopy. There on the ground was a dead Brazilian Tapir, flies buzzing, and the smell quite unpleasant.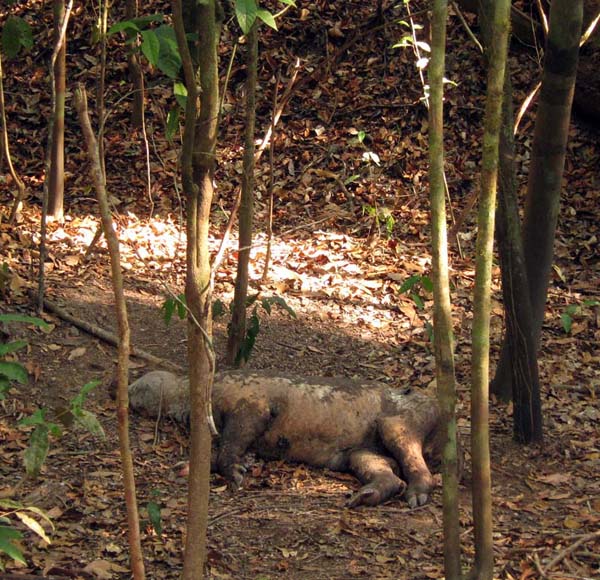 I'll bet that's the first time a photo of one of these has been blogged.
One immature King Vulture was not as wary as the rest and let me approach closely enough to see that it had already had quite its fill of carrion (photo at top). I didn't stay long and easily found my way to the Caja trail and back to the lodge. Not bad for a short afternoon stroll.