Bright colors are often useful for grabbing one's attention, and that's the sole purpose of this week's title photo. This blog is about swifts.
I've been espousing for some time now that after all difficult Scytalopus tapaculos have been recorded and all temporal species of petrel and storm-petrel have been nailed down, many swifts will still remain largely unknown. Most are non-colonial, are extremely difficult to collect, breed in difficult-to-access situations, and have very subtle field marks if any at all. They will be the final frontier in field  identification.
Until recently, I've essentially considered attempting to tease them apart a hopeless task, but Steve Howell recently turned me on to the idea of merely photographing the living daylights out of them. So I've been giving it a try – from the tower as well as at the edge of the Cristalino River where they come to drink and bathe in the late morning.
One has to wade through a lot of bad shots to find something remotely useful, however.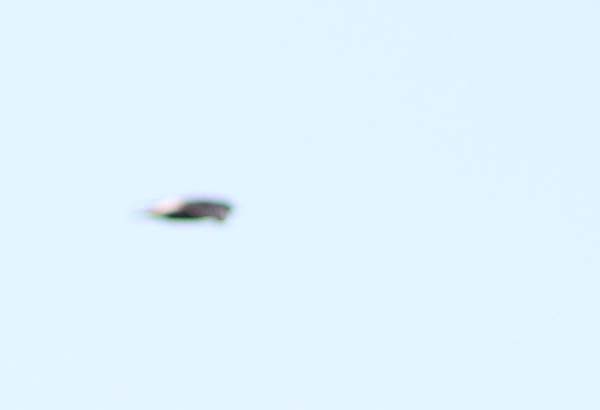 With practice you start to get a bit better. Setting a high shutter speed is essential for photographing birds in flight. So on my Canon, the TV setting with at least 1/1600 of a second is what I use.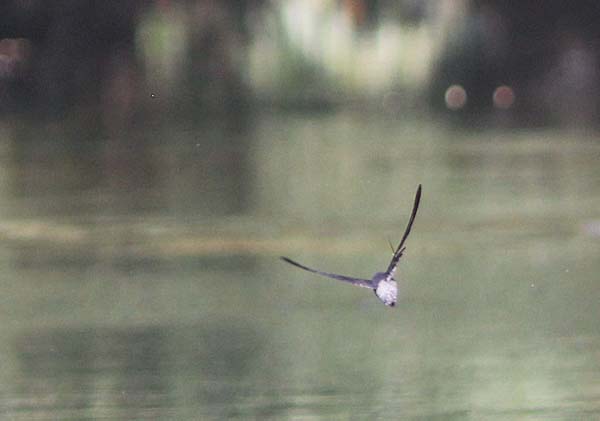 Finally, a clear shot of what appears to be Pale-rumped Swift, perhaps one of the more straightforward identifications here. When photographing against the sky, and using shutter speed priority, I set the exposure compensation to +2 2/3.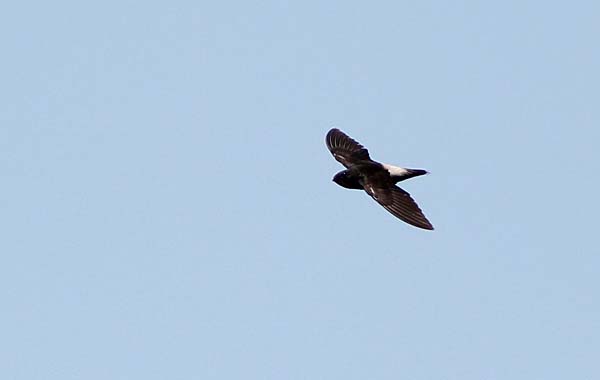 Gray-rumped Swift seems to be the most abundant Chaetura here. They seem to me to be smaller, thinner winged, longer tailed, and with faster flaps. The crown and back both seem to be a more contrasting, shiny black. When shooting against the sky, using AI Servo focusing mode and having the camera select anywhere in the screen as the focusing spot is best.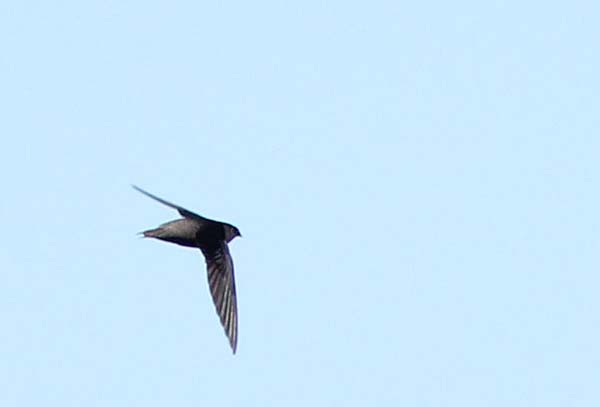 The larger, dull swifts lacking a gray rump (rather brown instead), are more confusing. The conventional wisdom has us calling these Amazonian Swifts, and that's what this may be. But how has it been proven that Chapman's Swift (supposedly mostly north of the Amazon) doesn't occur here? It's supposed to be smaller than Amazonian, but size is extremely difficult to judge in flying birds.When not photographing against the sky, the camera wants to focus on the background. So by shooting in burst mode on a bird against the sky, and then following it down into a dark background, the first few images might be in focus before the camera realizes there's a background.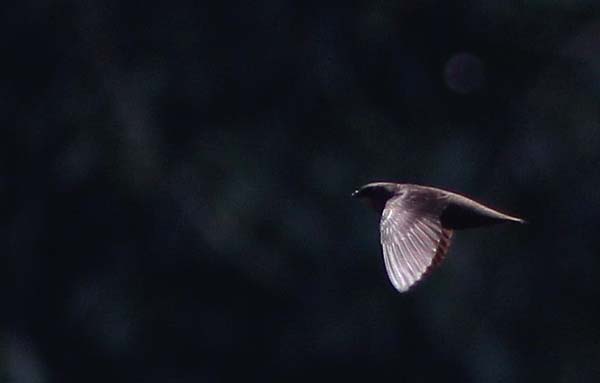 Then again, there's the issue of migrants – Sick's Swift from the south and Chimney Swifts from the north – neither of which has been documented from here. Photos may not be the tool that answers all our questions about swifts, but it does give us one more tool to work with.
Photo at top: Band-tailed Manakin is local resident at Cristalino Jungle Lodge, and the Brazilian folk name for Musician Wren is often mistakenly applied to it.