Here we are back to the montage I posted on October 18, this time covering the second row.
One of my favorite phenomena among butterflies is the puddle party. The males of many species are after salts and minerals, which are in short supply in the geology of this region. Such a cluster of butterflies usually indicates where an animal urinated. And yes, people are animals. 🙂 The ones in this puddle party are all sulphurs – members of the family Pieridae. There are usually four species present in a group like this: Statira Sulphur (Aphrissa statira, solid pale yellow), Straight-lined Sulphur (Rhabdodryas trite, very similar, but slightly larger with a straight line from the forewing apex), Apricot Sulphur (Phoebis argante, most of the orange ones), and Orange-barred Sulphur (Phoebis philea, similar to the preceding but a little larger and with a clearer underwing pattern).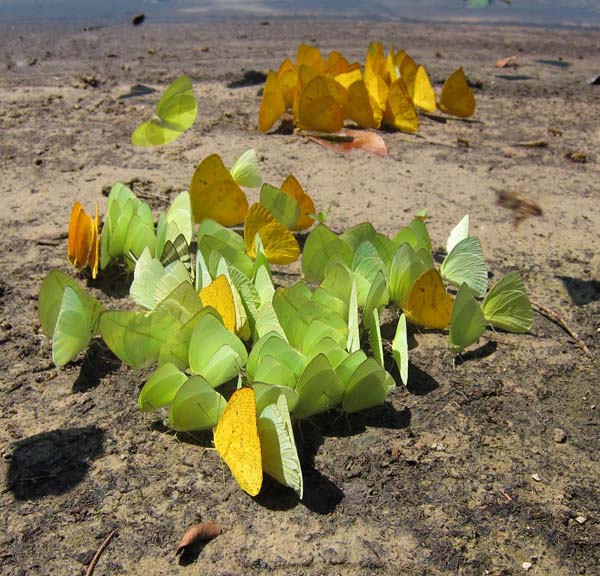 Sometimes they congregations can get quite large, but still mostly the same four species.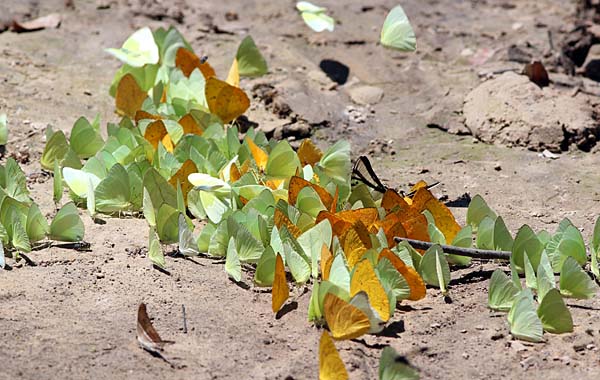 For some reason this day there were only Short-lined Kite-Swallowtails (Neographium agesilaus, thick dark band at the forewing apex followed by a narrow white band) and Glaucolaus Swallowtails (Protesilaus glaucolaus, thin dark band followed by a thick translucent band).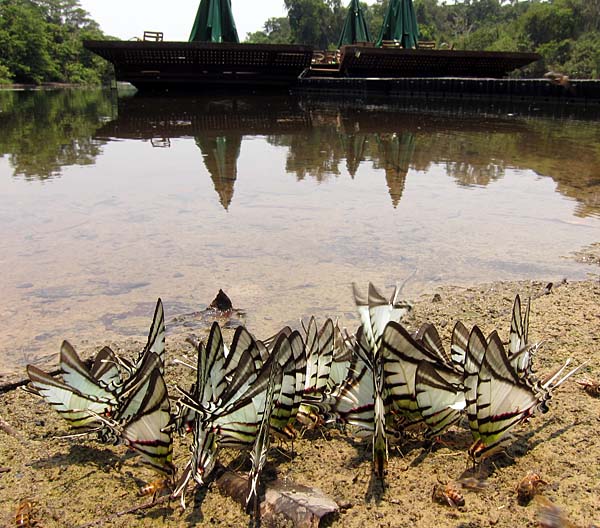 Then on other days there would be a huge host of species from all six of the families of butterflies and skippers (yes, there are only six families): Skippers (Hesperiidae), Sulphurs (Pieridae), Swallowtails (Papilionidae), Brushfoots (Nymphalidae), Blues (Lycaenidae), and Metalmarks (Riodinidae). Two species of blues were the only members of that huge family which is mostly represented by hairstreaks at Cristalino –  none of which ever visited the mud. The largest puddle party I surveyed had 22 species, including 8 swallowtail species.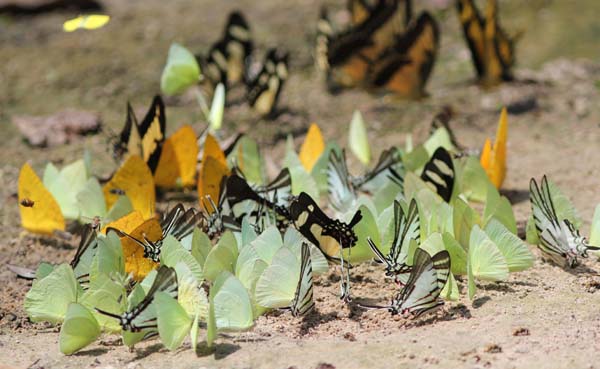 Razor-billed Curassow is the next species. Every morning or late afternoon boat trip would spot a couple of these shy birds on the river bank. We often heard males singing their very low, booming song from a well-hidden perch in a riverside tree. A repeated four-note rhythm would occasionally be interspersed with an emphatic grunt. My local guide in Bolivia years ago told me their transcription of it: "¿Me casaré? ¿Me casaré? ¿Me casaré? Nó!" "Will I marry? Will I marry? Will I marry? No!"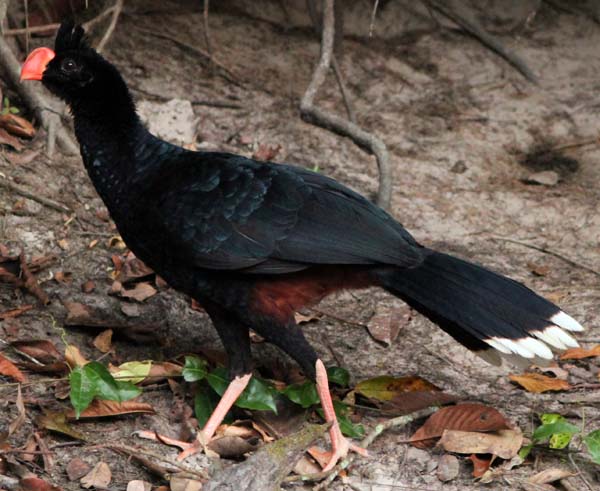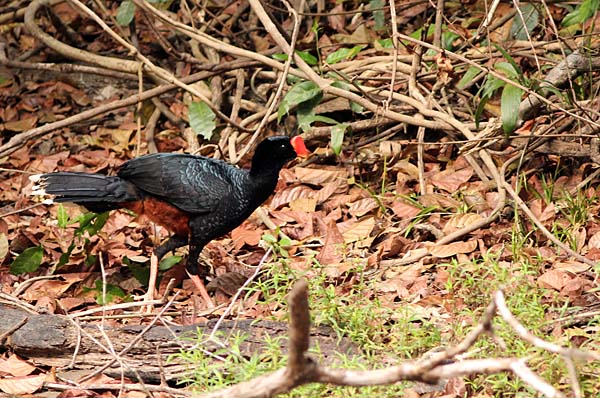 Pied Lapwings were seen on every trip we made to the islands in the Teles Pires river, just downstream from the mouth of the Cristalino and 15 minutes from the lodge. I think this is one of the most beautiful shorebirds.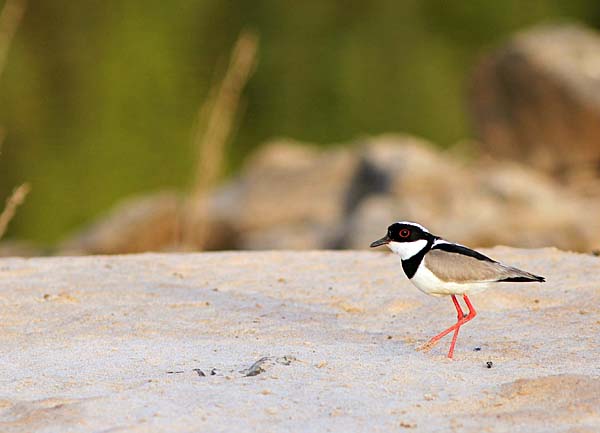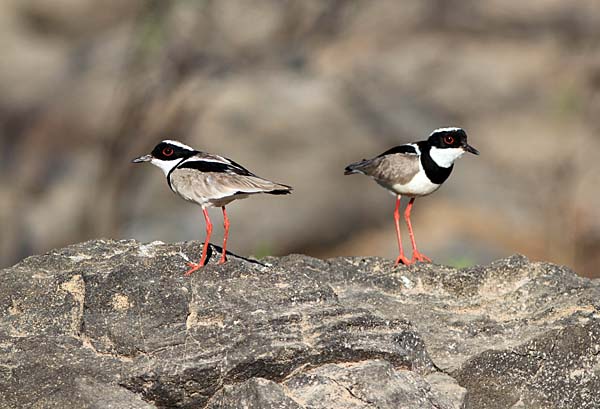 This is a Mitred Toad (Rhinella margaritifera), strangely the only one I saw during my 10 weeks.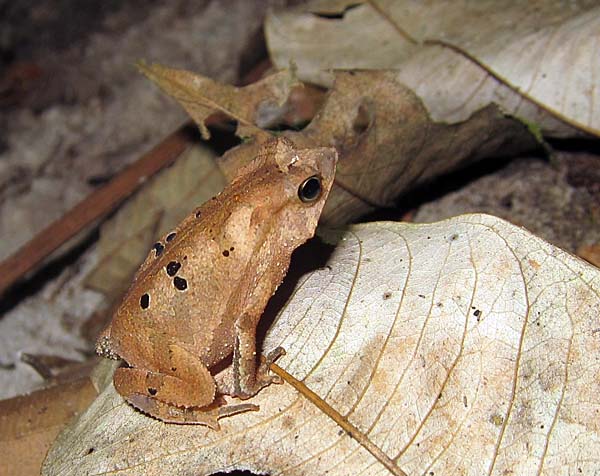 Much more common the grounds was this Smooth-sided toad (Rhaebo guttata), which one could see almost any evening around the buildings.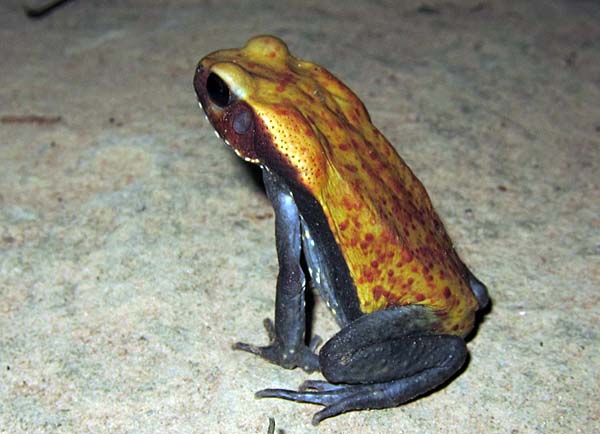 Feline Night Monkey was actually a rather common species at Cristalino, but not so easily seen, and even a greater challenge to photograph. Yes, they are nocturnal – sleeping by day in a very dense vine tangle or tree cavity. I've read that sometimes they're seen during the day, but we never saw them then. They were usually spotted by the noise they made running through the branches, foraging on fruits from various species of Cecropia, Pourouma, or other canopy trees, often right around the lodge grounds.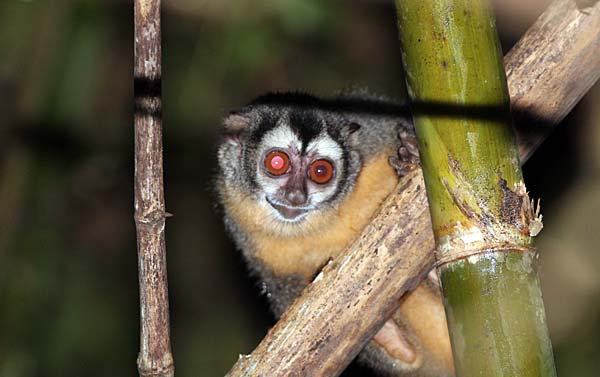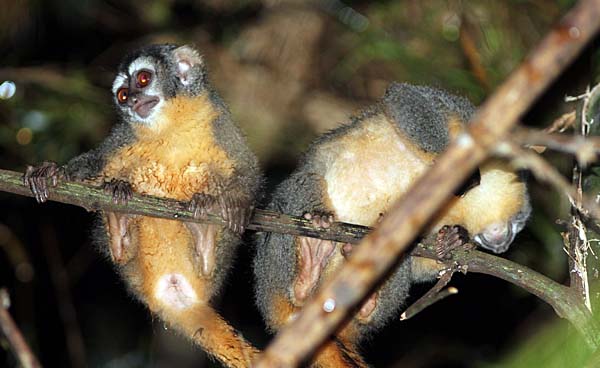 The final species is one of my favorite butterflies, the Long-tailed Metalmark (Rhetus arcius). I found this one at a place in the forest I had baited with rotten fish and urine, and it was the only one I saw during my stay. The flight is buzzy, like a wasp, and then it would alight in an instant and take its stiff, brittle pose typical of metalmarks. Some day I'd like to see the caterpillar and pupa, both of which are beautiful but bear no resemblance to the adult. See the photos at Butterflies of America.