A visit to the Oasis B & B north of Tucson turns up a rare hummingbird.
I've been meaning to visit this place for a couple of years. There are very few bed-and-breakfast establishments in the Tucson area that cater to birders, and I had heard that the butterfly gardens here were amazing. OK, so this isn't the best time of year for butterflies, but with these shots of the well-planted front yard, you might get the idea. It's only 21 miles from where I live in north-central Tucson, but since I don't own a car, it's rather long bike ride, and mostly uphill. So I was lucky to join my friends Greg and Cat Greene for a morning visit here just last week, during a day between guest reservations.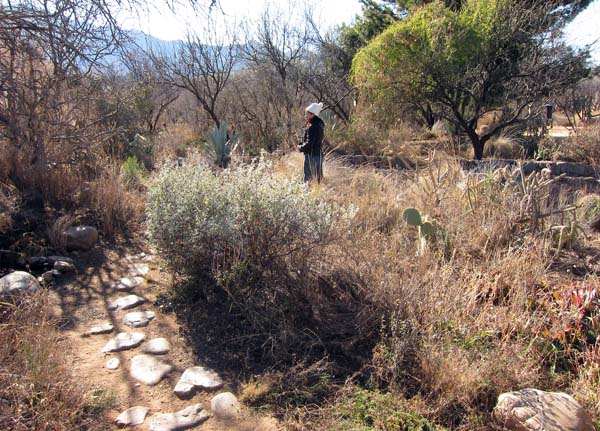 This place is run by CJ and MaryEllen Vincent, and they've done an amazing job at landscaping with native plants – especially plants that attract birds and butterflies – and they continue work on removing invasive exotics and restoring native grasses. This time of year, it's the bird feeders and water features, in addition to all the native food that make this place a constant swarm of bird activity. While we walked the grounds, including a trail through a mesquite bosque, Greg snapped several shots. All of the bird photos (with one exception) were taken by Greg. The hummingbird feeders were abuzz with activity. Several Broad-billed Hummingbirds, such as this male, defended some of the feeders.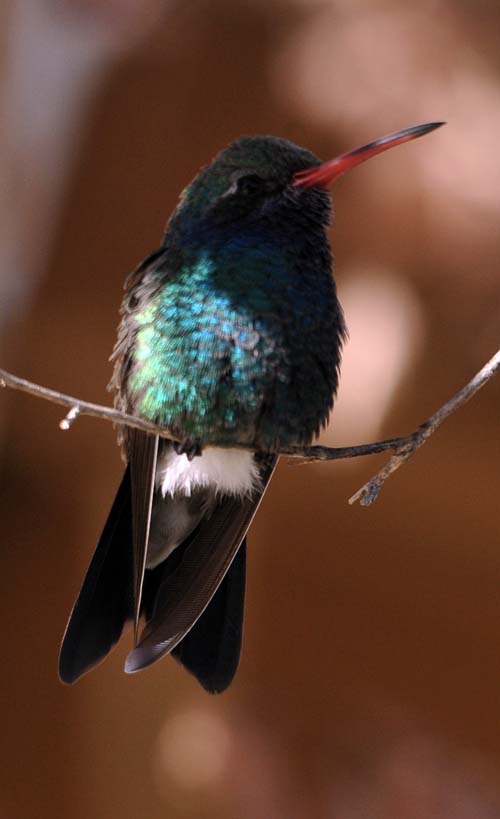 This female Costa's Hummingbird dashed in between visits by the showier males – of which there were 3 or 4 present.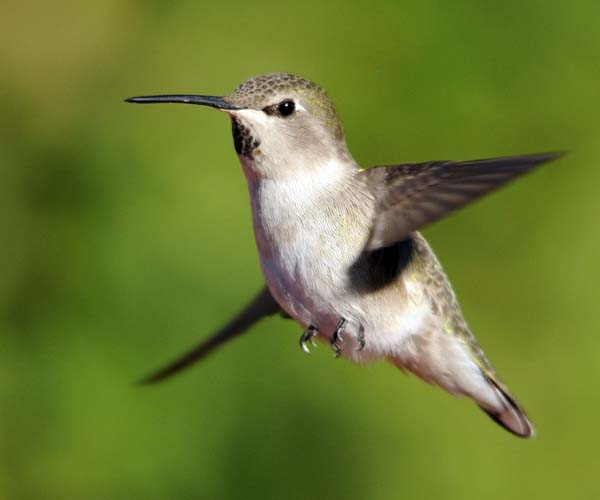 Just beyond the feeders is one of the grass "prairies" that CJ is restoring – by planting native grasses and manually pulling up the invasive Lehmann's Lovegrass.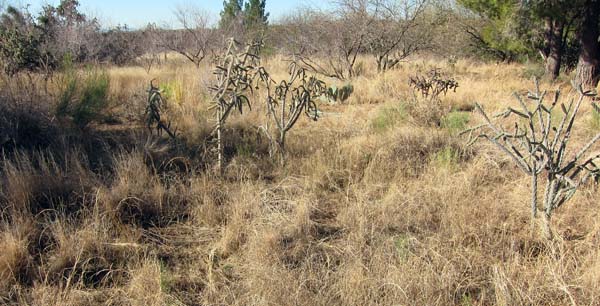 As a result of the native Sonoran desert vegetation, especially including the grasses, there are several territories of the regional endemic Rufous-winged Sparrow (photo at top). Here they actually even come to the feeders right in front of the house.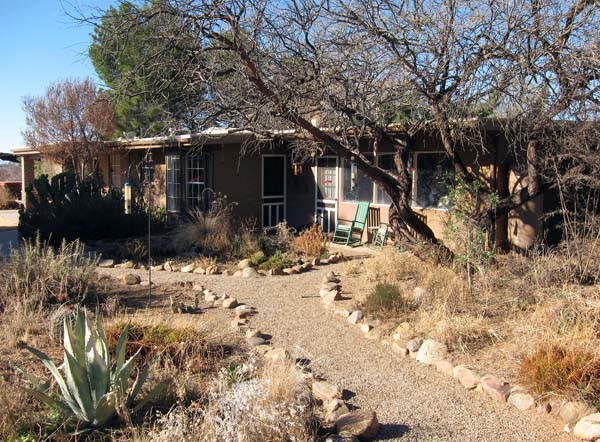 I used to say that this was the commonest breeding bird in Arizona that has never occurred in any other U.S. state. Then just two weeks ago Nick Pederson and Jonathan Batkin found the first record for New Mexico just across the border from Arizona in Guadalupe Canyon.
There were at least three territorial male Cactus Wrens singing while we were here. Yes, spring starts very early in the Sonoran Desert.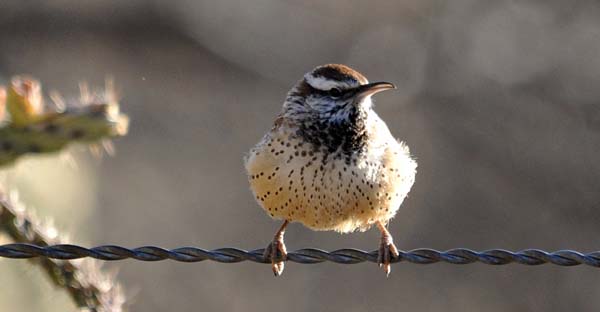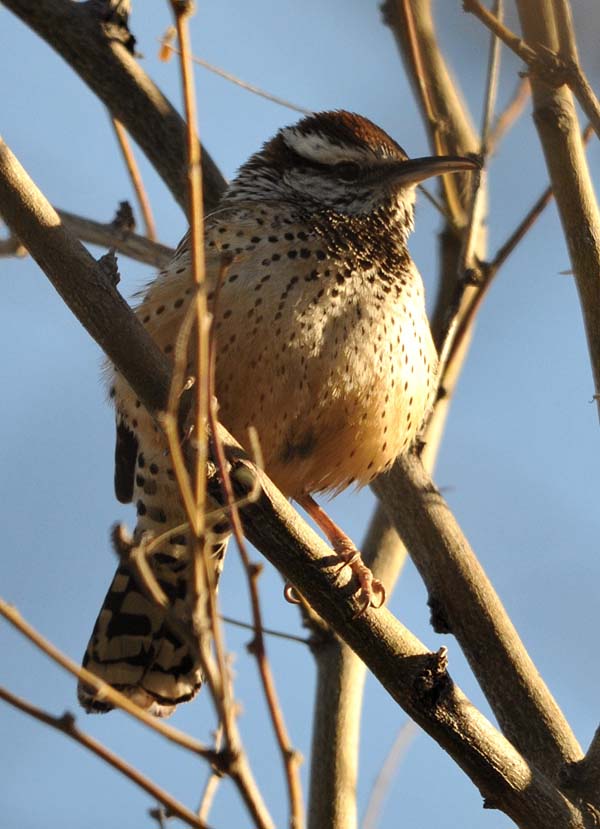 The biggest surprise was this Violet-crowned Hummingbird, which is rare in Arizona in the winter and essentially unheard of this far north at any time of year. CJ took this photo the next day.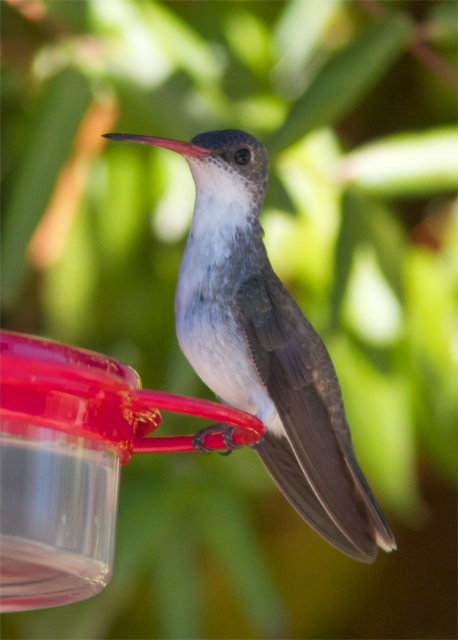 In fact, after I entered this sighting into eBird, it became the northernmost record in the database of over 220 entered from the state of Arizona. Here's a screenshot of the map that shows the distribution of eBird records – the Oasis B&B is the northernmost just east of the town of Catalina.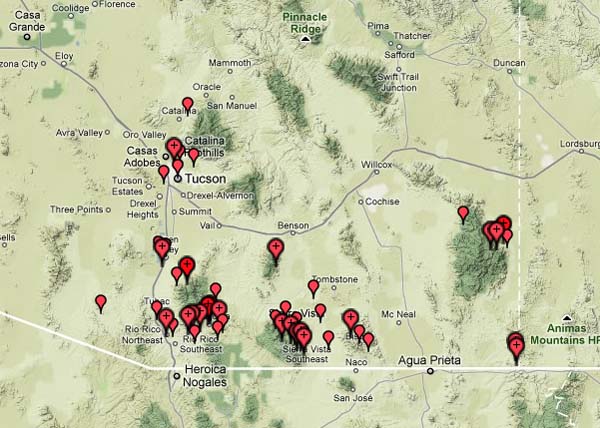 Photo at top: Rufous-winged Sparrow, by Greg Greene