Two things about this trip to Scilly were inevitable – 1) it would have to end at some point; 2) despite me working my arse off trying to find a Pallas's Warbler, someone else would beat me to it by finding one on the island of Bryher yesterday. Not that I'm complaining, I mean with a trip over to Tresco yesterday, this is the list of star birds we've seen over the last eight days:
Northern Waterthrush
Wilson's Snipe
Upland Sandpiper
2 Olive-backed Pipits
Red-throated Pipit
3 Black Kites
Subalpine Warbler
2 Lesser Yellowlegs
Melodious Warbler
Bluethroat
Spotted Crake
Pectoral Sandpiper
5 Yellow-browed Warblers
5 Firecrests
And obviously let's not forget my luvverly monster-rare Treecreeper.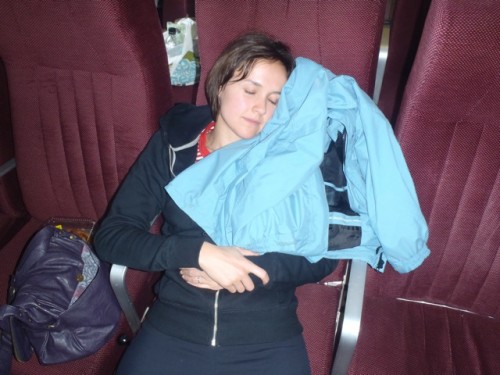 "I mean it, Tom, don't you dare post that photo of me on one of your stupid blog posts"
So that's it for Scilly 2011. We're flying back to Cornwall early afternoon and then we'll probably spend all day Sunday standing around not seeing the Scarlet Tanager. Thanks for reading, hope you enjoyed the daily(ish) updates and if you didn't enjoy them then you need to ask yourself why you kept coming back to read them every night. See you next year, unless the planet gets struck by a massive asteroid and we all die in a split second.
Random Posts:
Similar Posts:
TomMckinney:Scilly – day 29: "What's your favourite bird?" Stupid question, and for me it's impossible to answer. However, when p
Category:Birding Western Palearctic

TomMckinney:Scilly – day 4: Two boat loads of birders, including some of our party, were disappointed and frustrated on a trip t
Category:Birding Western Palearctic

TomMckinney:Sat on a rock: Yo! I'm back down in Cornwall for a week taking part in the final year of the Seawatch SouthWest pro
Category:Birding Western Palearctic

TomMckinney:Tart the Gyr: So it's Sunday night, and I'm wondering why I should bother to write a load of garbage piss-poor poi
Category:Birding Western Palearctic

TomMckinney:MEGA breaking news from Norfolk: The International Journal of Avian Science proudly presents… A Prisoner of Birds by Jeffrey Arche
Category:Birding Western Palearctic