Birding in Texas … meaningless lists of common birds … idiot humour that's not very funny but is very idiotic … swearing …
Why do I bother? Though, thinking about it, the real fool is you for reading it. I wouldn't be seen dead reading it.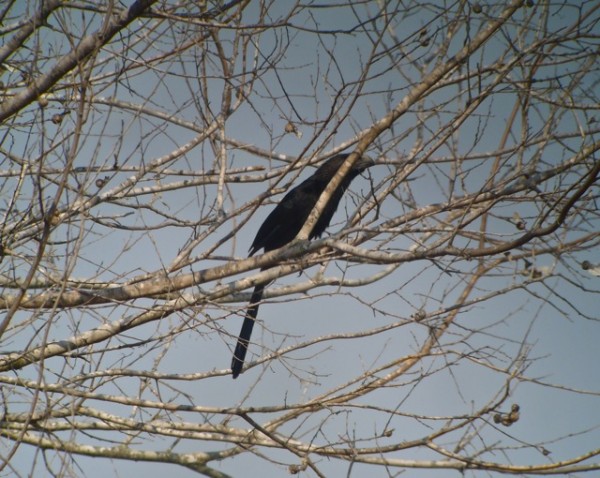 Groove-billed Ani. No seriously, why is there always a branch in the way?
Texas April 2011: Part two of a trip report (of sorts)
14/4/11
Salineno, Las Palmas, Laredo
Salineno is just a few houses by the Rio Grande, there's a feeding station (only stocked in winter), but the main places to view are from the boat ramp and riverside path. Somehow we got lost and ended up at a big rubbish dump. 2 Cactus Wrens singing alongside shitted nappies and rusting cans were simply not good enough to keep us any longer than necessary, so we backtracked and eventually found a big wobbly brown strip of water. BANG! As soon we raised magnifying tools to eyes we nailed three of these: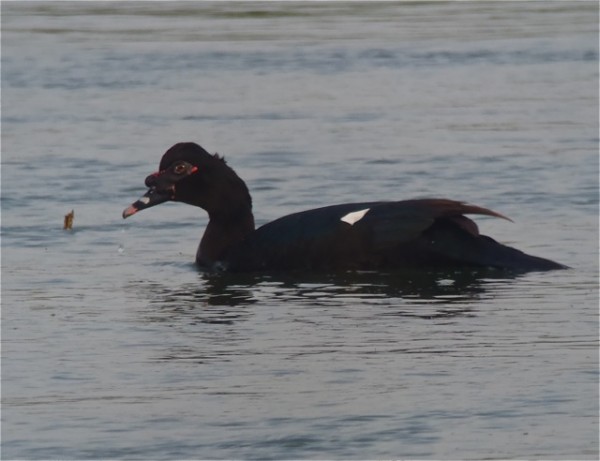 Genuinely wild Muscovy Ducks are pretty rare in America, and to see three actually floating about on the river is about as good as building a time machine and going back to October 1984 to see Iron Maiden live at Long Beach Arena. Most people get only brief flight views of them at first light, but not only did we see them on the river, we later saw them another three times flying back and forth. However, we failed miserably to see Hook-billed Kite. But there was consolation aplenty in the shape of three Ringed Kingfishers, an adult Grey Hawk, two Common Ground-Doves, four Altamira Orioles, a male Bullock's Oriole and best of all… wait for it… a Groove-billed Ani which we very nearly overlooked as another Grackle.
Four hours of raptoring was enough, and Hook-billed Kites can quite simply go and fuck themselves. It was time to leave the valley proper and head north, and so with a tear in the eye we said farewell to the brilliant Green Jays and did some driving on a big road peppered with dead armadillos. Chihuahuan Ravens were common all the way to Laredo, and we had our first Black-throated Sparrows and Pyrrhuloxias along the minor road to Las Palmas. The day ended in Laredo where a big fence built to stop Mexicans from getting into the USA also – inadvertently I'm sure – stopped us from seeing White-collared Seedeaters. Night at Hampton Suites, where Mexican House Finches (and what are they???) are most definitely NOT yellow.
15/4/11
Neal's Vacation Lodges
"Well it doesn't look very hilly," I said as we approached the Hill Country and Chihuahuan Ravens grew into Common Ravens. And then in the blink of an eye there were hills. Proper hills. But still pretty small. Looked nice though. After checking in to the beautiful Neal's Lodges run by the friendliest people we've ever met, we sat on the balcony watching Black-chinned Hummingbirds beating the shit out of each other at the feeders outside our cabin, whilst listening to what sounded like a Willow Warbler. It was a Yellow-throated Warbler, a bird so strikingly stunningly attractive that I then spent the next hour locked in the water closet with only thoughts of warblers with yellow throats. The next thing that happened was pretty weird: a helicopter from US Border Control began to hover above us, and then along came the sheriff of Concan pointing a gun at me in search of a 'hispanic man in a green top' who'd just robbed the bank. The sheriff of Concan is – now let me choose my words carefully – well he's hardly lithe, and with hindsight I really wish I'd lied and pretended to have seen the hispanic man come past and told the sheriff that he'd run down the ninety-nine steep steps leading down to the river. Watching the sheriff tear after him and then attempt to climb back up the steps would have been hilarious, though he'd probably have shot me in the nuts for it. I think it would have been worth it.
We probably should have been concerned that there was an armed and desperate criminal hiding in the area, but there were trails to walk and birds to see, so we hit the Pecan Grove Trail and found Ash-throated Flycatchers, 2 Bell's Vireos, Bewick's Wrens, Cedar Waxwings, Field Sparrows, 5 Yellow-throated Warblers and a big black bag hidden in the bushes marked SWAG. No idea what that could have been. We left it behind and went to Neal's Dining Room for an incredible surprise: real nice proper actual food. I was so shocked that I passed out and had to be resuscitated by having a plate full of chicken fried steak stuffed down my throat. Believe me, chicken fried steak at Neal's Lodges is very good. Though I still don't know what 'chicken fried' means. I should probably Google it. Here, you Google it for me and let me know. Thanks. Appreciated.
16/4/11
Neal's Lodges
Today we decide to use long forgotten, outdated modes of transport known as legs, and walked the trails around the lodges. Weird. An Audubon Society group had gathered by the Cabin 61 feeding station at first light, and we joined them on the benches to watch Hermit Thrush, a good selection of sparrows including Olive, Lincoln's and White-crowned Sparrows, and Western Scrub-Jay. The Buchanan Trail had Golden-fronted and Ladder-backed Woodpeckers, Long-billed Thrashers and Black-crested Titmice (Titmouses?), birds we thought we'd left behind in the Lower Valley but which were still common. After the Audubon birders left we were joined by two birders who greeted us as though we'd just been caught sodomising their pet labrador. From their look of disgust at our presence we could easily ascertain that they HAD to be British. We stayed just long enough to hear the sweet tones of middle England, happy to know that no matter where you go in the world, you can always rely on the Brits to be the most miserable arseholes you'll ever come across. It almost made us long for birding back home.
Faith in our own kind was restored when we moved to the Cattle Guard Trail and bumped into a Brit tour group with Birdfinders, whose leader James Smith gave us plenty of advice on how to maximise our time in the area; not only that but he also shouted us over to see an unexpected female Lark Bunting feeding amongst Vesper and Black-throated Sparrows. Shortly after I was able to return the favour by finding them a Zone-tailed Hawk. This trail was really good with Verdin, Bushtit, Bell's Vireo and five blindingly bright Vermilion Flycatchers. So a really good morning, though no bank robbery. Sadly the quality of all days will now be judged by whether or not a bank robbery took place and a sheriff pointed a gun at me. The rest of the day was spent dossing around the lodges and taking a look at the good scrub by the entrance to the nearby Concan Bat Cave. So many good birds in the area, the best being (Wild) Turkey, Black Phoebes on the river, loads of Summer Tanagers, female Spotted Towhee and Yellow-throated Warblers. Yet more top scran at Neal's Dining Room, tonight overrun with aging Harley Davidson enthusiasts, one even wearing a denim vest. Why don't more people wear denim vests? I might start a Facebook group about wearing denim vests. What am I talking about? No idea. Day concluded with a session of back-to-back episodes of Two and a Half Men, which one undisclosed member of our party found very funny indeed. Here's a clue: there were two members in our party, and I didn't find it very funny.
17/4/11
Kerr WMA, Neal's Lodges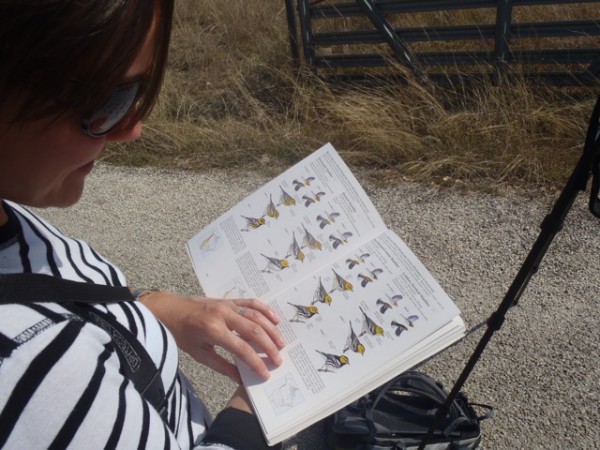 What a Golden-cheeked Warbler should look like
It doesn't look far on the map, but it was almost a two hour drive from Neal's Lodges to Kerr Wildlife Management Area. Following a tip off from James Smith we went straight to Bobcat Pasture and within less than a minute of getting out of the car just past the cattle grid, we saw a male Black-capped Vireo quickly followed by two more. No doubt about it, this was the unquestionable star bird of the trip – a total prize winner in every respect. Intensive management to eliminate the presence of deer and Brown-headed Cowbirds at Kerr WMA means that there are now over 300 pairs of Black-capped Vireos in the area, a significant concentration for a bird whose entire population of <10,000 is vulnerable to development by Donald Trump's new chain of whorehouses and plans to widen the Rio Grande by 200 miles to absolutely guarantee that no Mexicans can get into the USA, unless they're rich Mexicans in which case they can just get waved through border control. Cutting edge politics – ANARCHY! Further along the road there were more vireos and a mixed flock containing a Golden-cheeked Warbler which should have been cause for great celebration, only one member of our party didn't see the bastard thing. Bollocks! But fear not, faint heart ne'er won fair maid, so we ploughed on along the road and saw 4 Turkeys, Eastern Wood-Pewee, Bushtits and a male Spotted Towhee. Compensation for me missing Golden-cheeked Warbler? Hardly. Oh well, because back at the car I heard one singing, marched off along a path and saw a lovely male jobby singing from the top of one of them things covered in leaves.
Black-capped Vireos and Golden-cheeked Warblers: our trip to Texas to had been 100% successful, so we pawned our now unnecessary optics and spent the cash on a huge vat of Babycham.
Afternoon was spent in the sun trying to develop malignant tumors at the Cattle Guard Trail feeding station and watching a Striped Skunk wash its head under the drip (and who says they stink?), Pyrrhuloxia, Rufous-crowned Sparrow, Indigo Bunting, a vomit-inducingly gaudy male Painted Bunting and best of all a male Lazuli Bunting, which then prompted a discussion with a group of Californian birders about how it should be pronounced:
you say Laz-you-lie Bunting, I say La-zoo-lee Bunting, let's call the whole thing off!
Or alternatively, let's just admit that I'm correct and that it is pronounced La-zoo-lee Bunting, because I'm from the country where your language comes from. After that we decided not to discuss how to correctly pronounce Pyrrhuloxia.
18/4/11
Lost Maples State Park, Neal's Lodges, Concan Bat Cave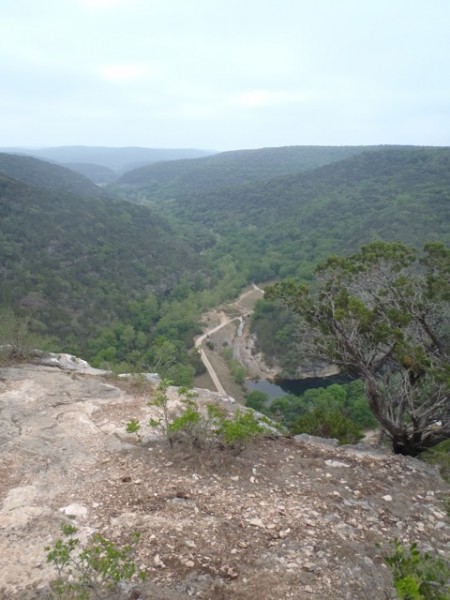 With Black-capped Vireo and Golden-cheeked Warbler in the bag, the pressure was off, and for the first time since we'd been in Texas the day began cloudy with light specks of rain, perfect for walking the steep East Trail at Lost Maples State Park. At the car park feeding station we had Greater Roadrunner, Rufous-crowned Sparrow and Blue Grosbeak, and the trail was stuffed full of birds: 3+Blue-headed Vireos, Bushtit, Canyon Wren, 5+Ruby-crowned Kinglets, Hermit Thrush, 2 Western Scrub-Jays, Orange-crowned Warbler, 10 Nashville Warblers, 2 Black-and-white Warblers, singing Summer Tanagers, and Golden-cheeked Warblers were actually quite common. Up on the summit of the trail we had the best views of all of a fantastically perky (do I mean perky? probably not) male Black-capped Vireo, shit views of Canyon Towhee and *insert pointless comment* views of Field Sparrows.
But – and this is the big but, a bit like J-Lo's but with only one letter T – the big surprise was a bird singing near the start of the East Trail on the other side of the valley that could only be described as sounding like 'someone learning how to whistle', as Sibley describes the song of Audubon's Oriole. It was distant, but after scanning I picked up a male sat in a tree top. "No! I wish I'd brought the scope along," said I, when three British birders suddenly came around the corner… with a scope. Wahey! Good views all round of a bird which I thought was quite out of its usual range in the Lower Valley, but which I've since discovered is actually spreading onto the Edward's Plateau. Mega bird. Next to come around the corner were David and Suzanne Bradnum from London doing the same circuit as us: Sarah and I then hatched a plan to stalk them for the rest of their trip and totally ruin it for them. By the injunction we later received stating that we must maintain 3,000 miles distance from them, I think we succeeded *insert one of them smiley faces*
Lost Maples is really good. Perhaps the nicest place we visited in all of Texas and proper great birding. A definite must-visit site.
Back at Neal's Lodge we had our only Ruby-throated Hummingbird in the Hill Country, Canyon Wren singing in the …. err… canyon?, Black-throated Sparrow, Blue Grosbeak, Indigo Bunting, Painted Bunting … continue to list birds that nobody is interested in… yawn…
Hot mammal action tonight though, with a trip to the Concan Bat Cave – do not miss it, it's a really really really great night out. Our first live Armadillo of the trip paled into insignificance when 700 million-billion-million-thousand-million bats streamed out of the cave, forming a snaking black river through the sky that I can only describe as looking so unreal that it reminded me of the shit quality special effects in Ghostbusters. Being dusk the birding was all about the music, bro, with heard-only Great Horned Owl, Common Poorwill, Canyon Wren and Cactus Wren. Then came more Two and a Half Men. Goodnight.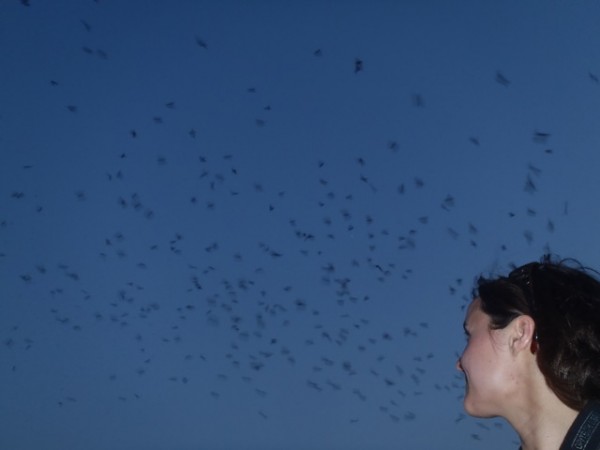 Concan Bat Cave
The end game:
Okay, let's be honest: you don't like me, I don't like you. But we're stuck in this goddam cell for the next seven years, so we may as well make the best of it. Just keep away from my biscuit tin. Oh, and don't forget to slop out. Word count says I'm now on 2626 words. 2627 now. Everyone knows a blogpost should only be a maximum of 37 words long – that's all the modern brain can cope with. So I'll quickly round up the final few days of the trip and we can all get back to doing something far more enjoyable, like watching a Royal Wedding, or watching Two and a Half Men. Or if you're a bit simple then try The Only Way is Essex. So let's wrap this up.
We left Neal's Lodges on April 19th, a sad sad day. It's a very special place. After paying up we took a walk along the Cattle Guard Trail and had a final fling with a technicolor displaying Vermilion Flycatcher. Passing by the entrance to the bat cave we had a quick unsuccessful try for Black-tailed Gnatcatcher, but instead had what sounded like three wounded dogs feebly moaning in the distance. They were Roadrunners.
Goodbye Hill Country, hello flat featureless landscape, and hello to the return of the ubiquitous Great-tailed and Common Grackles, which I suddenly realised had been completely absent from the Hill Country. A looooooong drive to Houston via San Antonio, then a detour north to Spring and a Comfort Suite hotel complete with its very own pet Killdeer running around the car park, which placed us in a neat position for the next morning at W.G.Jones State Park.
The amazing thing about birding in Texas is that it's just so easy. You go to a forest, you see a sign saying 'Red-cockaded Woodpecker Trail', you walk along the trail and you see three Red-cockaded Woodpeckers. You also get to see six Red-headed Woodpeckers, Pileated Woodepecker, four Brown-headed Nuthatches and at least fifteen Pine Warblers. And when you're done it's still not even 09:00.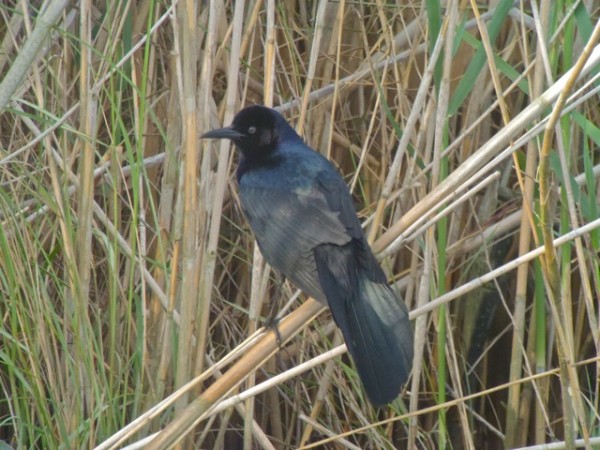 Boat-tailed Grackle. Common around the coast
So after that you go back to Winnie and check in again at the Comfort Inn, where the manager still can't comprehend why you've come on 'holiday' here, and then explaining that you're here to watch birds merely confuses him even more. 'Limey bastards,' I'm sure he was thinking. True as well.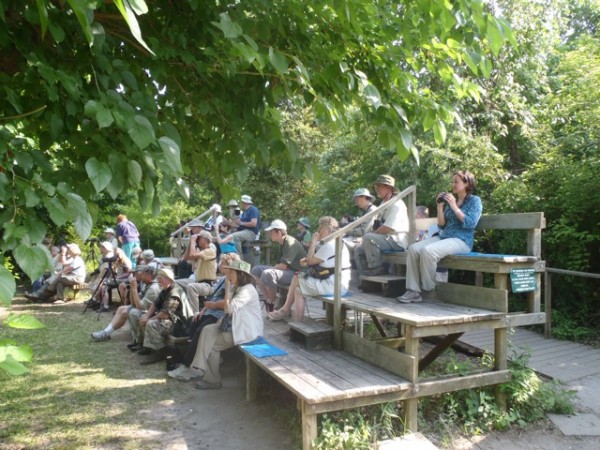 The grandstand at Boy Scouts Wood. And you thought I was kidding?
Our final few days were spent back in the High Island area with trips to Sabine Woods, Anahuac NWR and a park in Beaumont where we had the most embarrassing dip of the trip: despite seeing them flying all over the place, not one single Crow would make a sound, and so we left Beaumont with 'Crow sp' scribbled into our birdspotting jotters, having been unable to confidently identify a single Fish Crow by sight.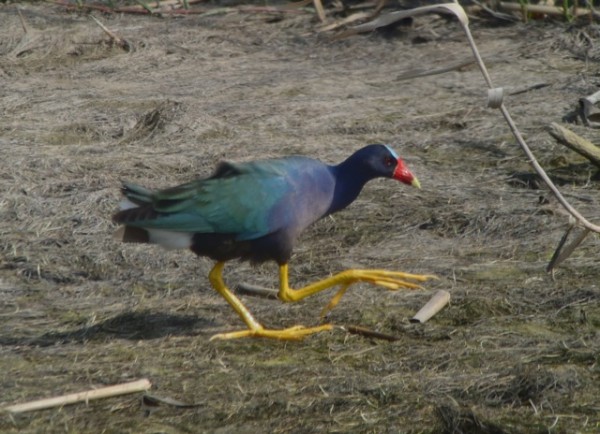 Turquoise Swamp-chicken
Thankfully passerines had arrived and our trip list began to swell with targets, and we also fulfilled our aim of getting good views of Yank vagrants to British shores. So many good birds, but special mentions of star birds in our last few days have to go to Least Bitterns, King Rail, Common Nighthawk, Yellow-billed Cuckoo, Black-throated Blue Warbler, Bay-breasted Warbler, Yellow Warbler, Magnolia Warbler, Blackburnian Warbler, Palm Warbler, Worm-eating Warbler, Northern Waterthrush, Ovenbird, Kentucky Warbler, Rose-breasted Grosbeak, Western Tanager… others I've forgotten or just can't spell. Controversy arrived in the shape of this hybrid dendroica, and also a flycatcher that I found which most settled on as being Acadian, only then it called and was a slam-dunk Eastern Wood-Pewee. Well I found it funny.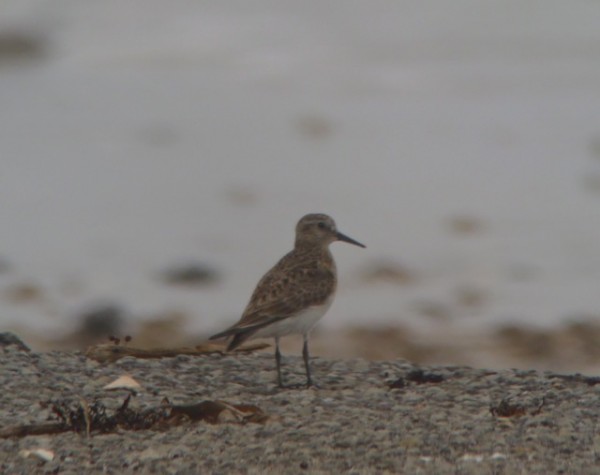 One of six Baird's Sandpipers at Gilchrist
So despite the first part of the trip around High Island being scuppered by the weather, the rest fell perfectly into place and we left with 272 species, nearly all the targets nailed (but Fish Crow? oh shit!), great birding all round, ultra-friendly people, and a final breakfast of 'loaded scrambled eggs'. I'd explain what it was, but I fear you might throw up.
Coming next week …
"Simon King was the luckiest TV wildlife presenter in all of Christendom, for as well as being hailed as the new David Attenborough, he also owned a magic time-travelling carpet…"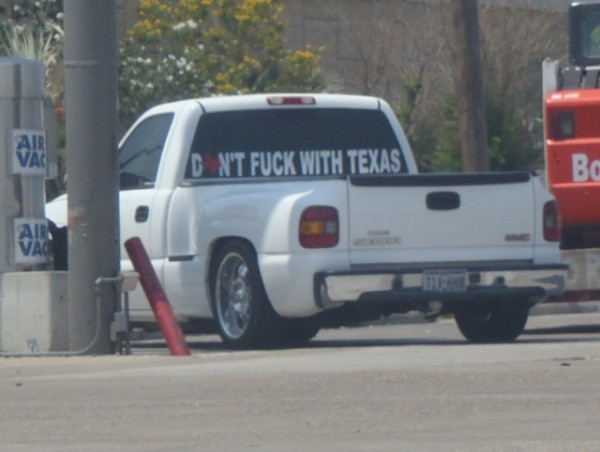 Random Posts:
SusanMyers: Birds from Sulawesi: Techno-wilderness Susan Myers is in Halmahera, Here she sends some bird pictures from Sulawesi.  I g
Category:Birding Asia

Rich Hoyer: Northern Peru – Local Specialties and Fun Birding: This coming July, I'll be returning to Northern Peru for the fourth time in two years to lead a tour
Category:Birding Neotropics

Gunnar: Reservoir Cats interview: Stochastic Reseervoir Cats interview For the first time ever, Reservoir Cats Interviewed! on 10000bi
Category:Birding News
Similar Posts:
TomMckinney:Texas Mission Accomplished: Mission accomplished. Our trip up to Edward's Plateau has secured us nutbag-ripping views of both Bl
Category:Birding North America

TomMckinney:A letter from America: So I'm lying in bed in Brownsville, Texas, having just travelled down to the Rio Grande from High Is
Category:Birding North America

TomMckinney:Texas April 2011 – a trip report (of sorts): Synopsis: a tale of two birdspotters in a foreign land; this is part one of their story in which dry
Category:Birding North America

Kenn Kaufman:Rising From The Caves: During the last week of October 2010, an intense low-pressure system moved from west to east across
Category:Birding North America

TomMckinney:Sapsuckers set new ABA Big Day record: Last week at Neal's Lodge I met Team Sapsucker, a group of six birders from the Cornell Lab who were
Category:Birding North America