The White-winged Snowfinch (Montifringilla nivalis) has got to be just about the most mountain-y bird found in the Alps – occurring exclusively above 1800m above sea level. Where trees stop, the Snowfinch stops. In fact I have only once seen a Snowfinch near a tree and that was in the depth of winter when three birds visited a sunflower feeding in Axamer Lizum skiing area.
The easiest time of the year to see Snowfinch is certainly deep winter, when they seem to flock and visit a few selected high altitude ski resorts to feast on the seeds provided in special bird feeders.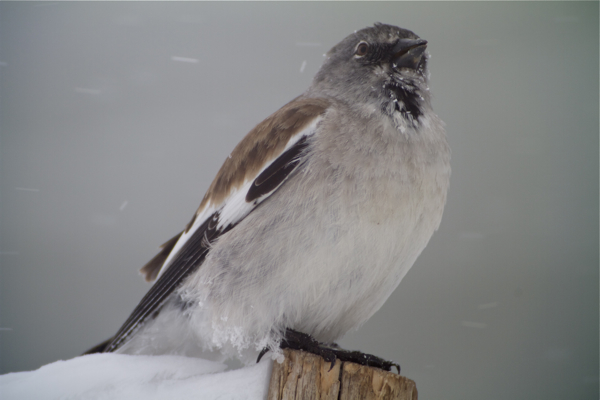 My favourite place to find Snowfinches here in Tirol is Kühtai – a small ski resort not far from our house – and a combination of a bit of birding and good skiing make for an enticing combination. Some winters draw huge numbers of birds, peaking in January and February. A few winters ago I saw a flock of 2-300 birds, an incredible sight.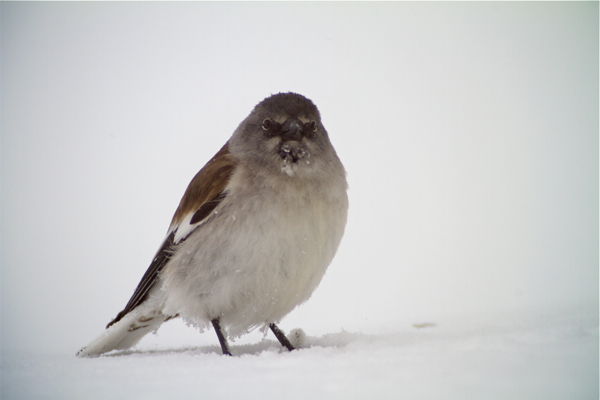 In deep winter, the Snowfinches all have bright orange/yellow bills and as spring draws closer, the bill darkens to black.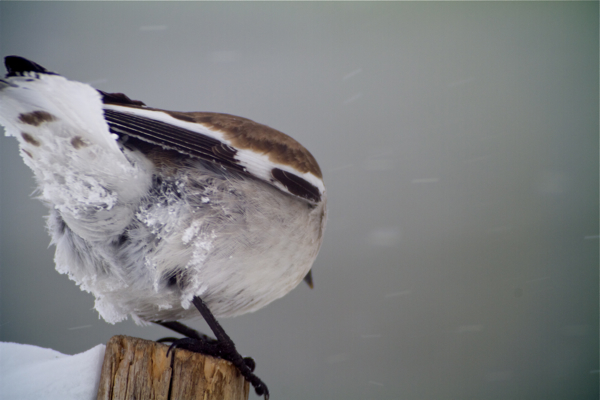 By April, there are usually only a few birds left around the skiing areas and these are only seen when the weather gets really poor. A couple of weeks ago I went back up to Kühtai to see if I could find a couple of late birds in the area. Lucky for me the weather was ghastly – blizzard conditions with thick fog and only about 15m (50ft) visibility. But despite the weather, it did mean that there were a few Snowfinches about.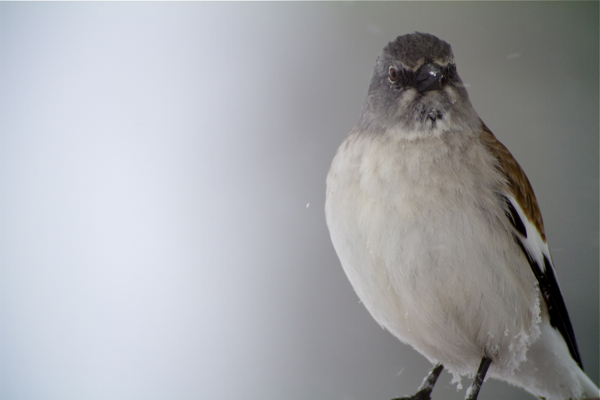 In order to get any photos at all, I had to be really patient to get really close to the birds. And after a few hours in the freezing cold, I decided to leave the digiscoping, disgusted with what I was seeing on my camera's display. And despite the pistes being in incredible condition, there was no point unpacking the skis as I could hardly see my feet, let alone where I would be skiing.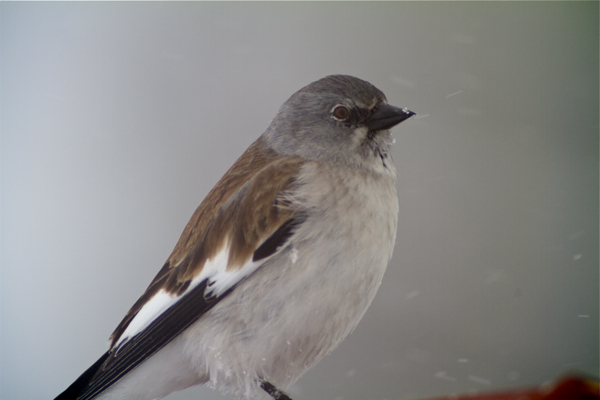 It was only at home, that I saw how much I was able to pull out of the images in iPhoto.
All images Digiscoped with a Swarovski Telescope & Canon 7D. Copyright me.