The winner is….
It is usually straight forward to pick a winner in a voting game. The participant that gets most votes wins. This is a little more complex. Presenting the results from the final of this contest which has been running since the beginning of December 2011 is long overdue. Things got a bit tight for me to post before my Marvelous Spatuletail photography trip in Northern Peru, so I could not post in time. Now, I have had more time to analyse the numbers.
What a silly game!
I totally agree. You can not pick one bird from ten thousand birds worldwide and say that one is the better than another and an absolute priority to see, less than you can say that any one place on earth is more important to see before you die. Yet, that is exactly what the online daily news magazine Huffington Post pretended. They organized 16 top tourism sites in the world in a World Cup for the ultimate place to see and their readers voted. Machu Picchu won.
So yes, this is silly. But it is also fun! And it is about birds, so why not? It is impossible to choose just one bird, but what if you have to chose just one of of two species paired. Actually, it is not that difficult. The world birder will probably always lean a little bit more towards one bird than the other… and this way..a winner in the Bird World Cup will eventually crystallize. At least, that is what I thought.
How to define the winner?
I guess you are all eager to know who the winner is. Officially, the voting stopped on Jan 7 at midnight- I checked the scores and Philippine Eagle had a small lead. Here are the scores, when I did a screenshot at 2 AM on Jan 8. Clear Philippine Eagle win!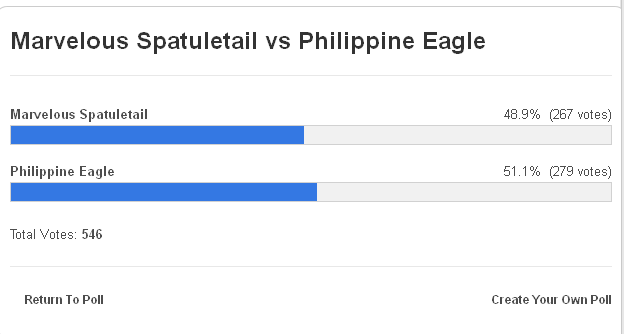 However, there was no way to stop the voting in the survey format, and votes continued to come in. All of a sudden, Marvelous Spatuletail was in the lead.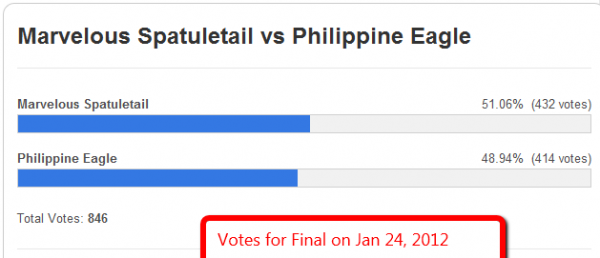 300 more votes took Marvelous Spatuletail to the pool position.
In previous posts I have alerted that I was not very pleased that local birders on the Philippines were campaigning for their endemic Eagle. With a massive local vote it was not possible to tell what the world birders in other countries were voting.
Let's check some post stats. Here are the page-views between Jan 3-Jan 7.
These numbers are not showing number of votes from these countries, but page-views. It would be similar votes.  We are seeing the same thing from Peru. Peruvian birders are voting for the Spatuletail. The Bird World Cup was determined by local birders. There are far more people from the Philippines and Peru checking out the blogpost of the final than from any other country.  The title is not for the best bird in the world according to birders around the whole world, but for the bird that can amass most local support in Peru or in the Philippines. Clearly, not what I had in mind when I started this game.
But let's conclude once and for all Bird World Cup 2011 was won by Philippine Eagle.
Threatened birds in need of local attention.
So even if the purpose of the original set-up failed, this is not a necessarily a bad thing. Both the Marvellous Spatuletail and the Philippine Eagle are threatened birds in need of a lot of attention. Consequently, local rallying for these birds is a GOOD THING. I am in fact very pleased that so many birders in the Philippines and Peru are campaigning for their birds. Without local support, conservation will be so much more difficult.
Third place.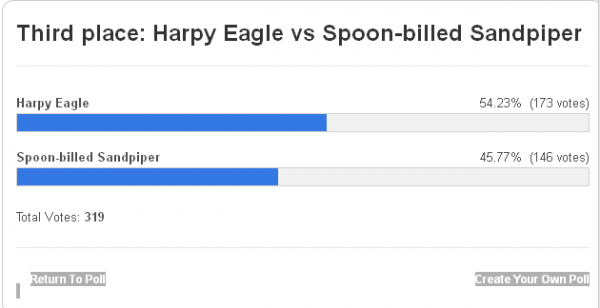 Harpy Eagle won third place! I guess, when it comes to comparing the weird and critically threatened Spoon-billed Sandpiper sheer and brutal power of the Harpy makes it favorite in this match, in spite that the Spoonie was seeded as number one.  It obviously did not help that the Peruvians and Filipinos most likely preferred the Harpy Eagle if they voted at all in this game. Note only 319 total votes in this match and 546 in the final.
Bird World Cup 2012.
I am sure you wondered why some birds were not even participating. Why was there no Kagu? Shouldn't there have been some of those jewels of the Asian forests – the Pittas – present? No wallcreeper, no pheasants, no cranes among the top 16?Since this game has become so popular we shall repeat it again in the end of this year. Which 16 candidates that should be presented in the first round will be determined on Facebook just like this year.
This time, I will most likely purchase the pay version of the polls app to get better control of the survey and make sure birders vote in all games. It should still make it interesting in countries that have endemic star birds like Peru and the Philippines to campaign, but hopefully it shall be less skewed.  By then  hopefully millions of world birders have discovered Birdingblogs and we'd have a fair Bird World Cup. 🙂
1000 birds to see before you die.
With the risk of sounding somewhat repetitious. This contest has had some similarities to another project of mine – 1000 birds to see before you die. The essential is to choose the 1000 best bird of the world to somewhat score these birds higher than the rest, and the ones that will motivate you to travel to see them. After all, let's face it. Most of us will never reach 8000 species, in fact we will probably never reach 7000 and just maybe six or five thousand. But what if we forget about the numbers and just concentrate on the good birds – the thousand best birds of the world. The ones worth buying a trip to see. How to determine which 1000 birds are worthy to be on the list? Actually, you can help. Choose your top 10, top 20, top 50 or up to top 100, send the list to me kolibriexp@gmail.com – and I will use the lists to compile the top 1000 list. Sounds like fun? Read more about this project on the birdingblogs post about 1000 birds to see before you die.
How to see the best birds in the world?
When the best birds have been determined it makes it so much easier to decide where one should travel next. As I have indicated in previous posts, I am planning to do trips to see Spoon-billed Sandpiper and Philippine Eagle in 2013. I will let you know in future posts here on birdingblogs where one needs to go to see the four finalists Harpy Eagle, Spoon-billed Sandpiper, Marvelous Spatuletail and Philippine Eagle. I'd plug some for Kolibri Expeditions trips, but I'd also provide info how to do it on your own. Fair enough?
My next post in this series will be "How to see the Spoon-billed Sandpiper". Those of you in the know, please send me advice (and pictures) for the the review. All contributors will be duly cited. You can also leave info in the comment section.