Antpitta twitch
Just back from an amazing new Kolibri tour covering Northern Peru and a considerble part of Ecuador. It was a crazy 3 week program in killing pace that really should only have attracted very hardy birders. However, since we had two vehicles, two drivers and two guides – the program somehow feels very successful. Maybe it was the Antpitta theme – the trip was called the Antpitta Twitch! Or maybe the fact that we saw a shit-load of birds. Over 780 species recorded over 22 days – if one includes 5 days post-tour to La Selva and three days in Lima prior to the departure – over 1000 species were recorded. The tally is still in progress! And we saw 15 species of Antpittas. Jocotoco Antpitta was one of them
Jocotoco Antpitta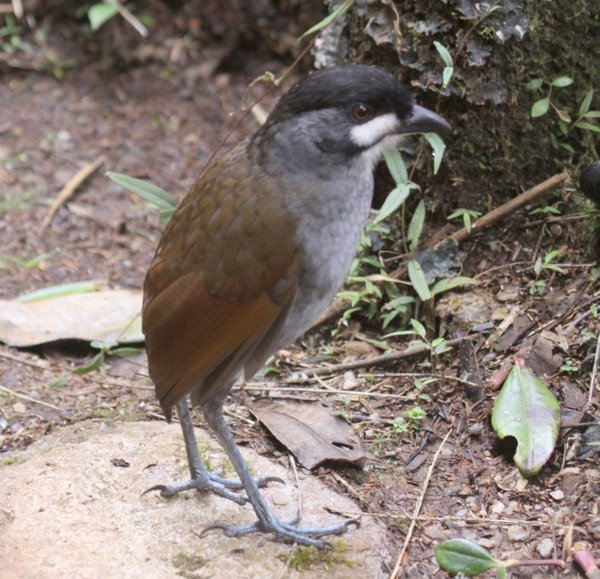 Having said that – the Antpittas stole the show. One of the principal magnets was Jocotoco Antpitta  at Tapichalaca reserve. I was there in 2005 but missed the Antpitta. Since they have been feed with worms and it now has become much easier to see.  I had to take two steps back to focus my camera!
The Discovery.
It was maybe to use a worn phrase…a Holy Grail discovery in 1997 by Bob Ridgely. Such a large and spectacular bird can not be found that easily nowadays in an area as well surveyed as Southern Ecuador. But yet, there it was. Rob Ridgely says in an interview on birding.com:
On November 20, 1997 I was birding with friends in southern Ecuador about three hours south of Loja in an area called Cerro Tapichalaca when I heard a call I did not recognize. An hour later and farther down the ridge I heard the call again, much closer this time. I recorded the call and played back the tape. When I did this, an Antpitta with bold white cheek patches walked out of the forest. You could have knocked me over with a feather! I new immediately that it was a new species none of us had ever seen before. I called the others over to see the bird. We were able to observe it for 45 minutes. A few months later we returned and collected four individuals, after determining that there was a reasonable sized population in the area (perhaps 20 pairs). By luck we had two males and two females — they look the same.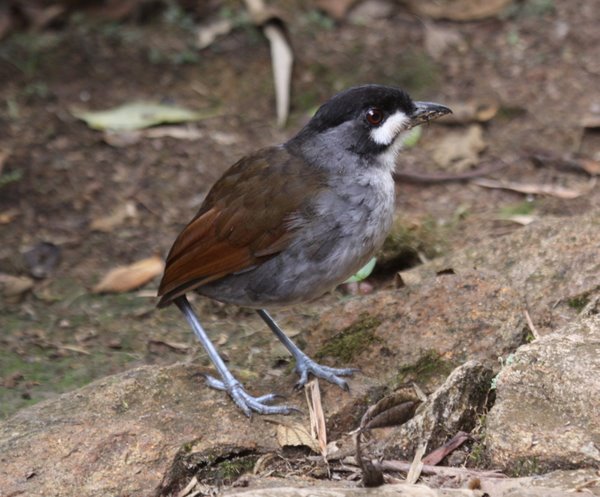 Jocotoco Foundation.
After the  sensational discovered money was raised to buy land where it occured to form a private reserve. This was the initial seed of Jocotoco Foundation. Now at the Tapichalaca reserve is managed by the Jocotoco Foundation and there is a comfortable lodge where one can stay. Jocotoco Antpitta can easily be seen at the worm feeding station on one of the trails.
Jocotoco Antpitta Nesting
In 2009 the second nest of the Jocotoco Antpitta was found near the feeding place. Surprisingly the nest of the ground dwelling Jocotoco Antpitta was found 5 meters above ground. For some pictures of cute Jocotoco chicks check out the the 2nd nest pdf.
Jocotoco Happiness!
Now the Jocotoco Antpitta is hopping around almost at our feet. It was an amazing experience – here filmed with my iphone!