First: ugly Gulls!
I admit it: I love gulls.  They are endlessly fascinating and challenging.  If we look at a gull flock closely, we find that no two individuals look exactly the same.  They vary with age, season, and individual, many species are confusingly similar, and they often hybridize, further adding to the challenge of figuring them out.  Of course, many birders hate gulls for the same reasons that I love them.
This was an American Herring Gull that had skipped out of our local garbage dump for long enough to eat rotting dead fish on the beach.  It's April, and the bird is in moderately worn plumage: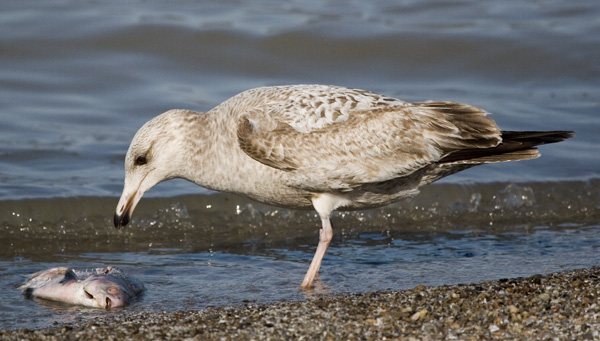 But that bird doesn't look nearly as bad as this one: a worn, faded, gross-looking bird, standing around on a Texas beach in May.  The first birder to positively identify this one will receive a valuable coupon, good for 50 cents off on the purchase of a Boeing 747:
But they're not all bad …
With birds like that wandering around, it's no wonder that some birders hate gulls.  But if you are one of those, I'd like to offer some antidotes.  Some gulls are genuinely nice-looking creatures.  Consider this Heermann's Gull, a common bird along the Pacific Coast of northwestern Mexico and seasonally common north along the coast of California, occasionally getting as far as southwestern Canada:
Here's another bird to consider: the Dolphin Gull, common around the southern tip of South America.  Sure, it has sort of a pig-faced expression, but at least it's easy to identify: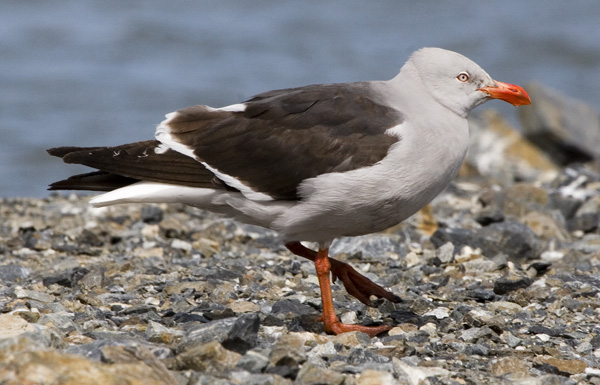 And if that doesn't do it for you, take a look at the remarkable Swallow-tailed Gull of the Galapagos.  This stunning bird flies around at night – it's the only gull in the world that's mainly nocturnal – and its white bill tip is thought to be an adaptation to help with feeding its chicks in dim light.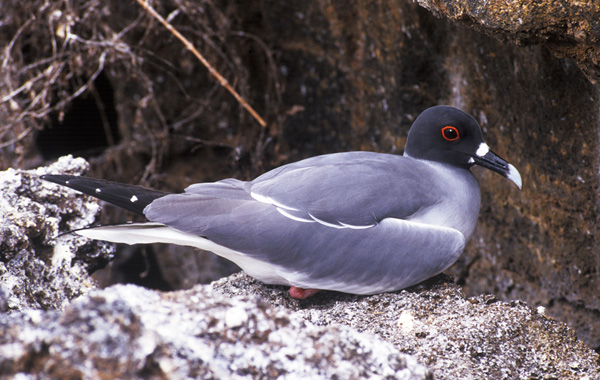 Bonaparte's Gull: it's not like all the other gulls
For most readers of this blog, though, it would take some traveling to see most of these birds, so I offer up a substitute that's widespread in North America:  Bonaparte's Gull (as the top picture).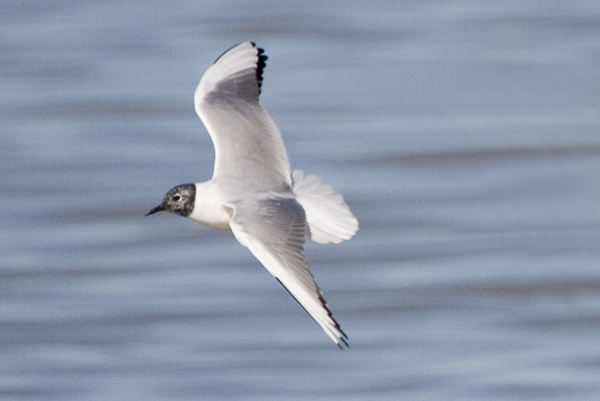 This small, delicate gull was not named for Napoleon, but rather for his distant relative, Charles Lucien Bonaparte, who was a skilled naturalist.  As shown in the first photo at the top of this post, Bonaparte's Gull in breeding plumage has a black hood, but winter adults are white-headed with a small black ear spot.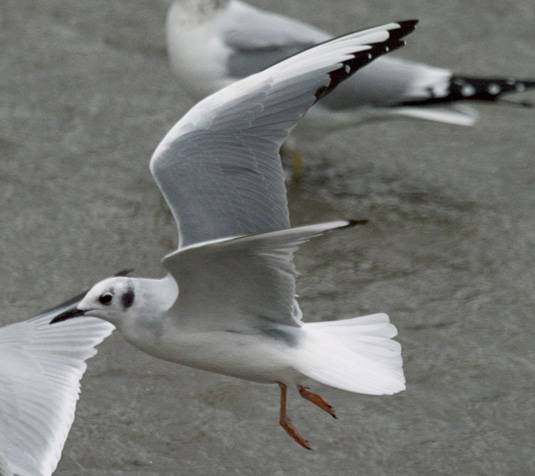 Bonaparte's Gull nests in forested regions of Canada and Alaska, and nests in the forest, placing its nest one to five meters (or about three to fifteen feet) above the ground on a branch of a coniferous tree.  (I'd like to see one of those big, honking Herring Gulls try to do that!)  First-winter birds have a more complicated wing pattern and a black tail band, as shown below.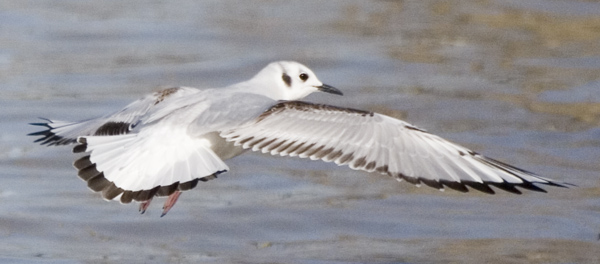 Where my wife Kimberly and I do much of our birding – along the Lake Erie shoreline in Ohio, USA – there will be tens of thousands of Bonaparte's Gulls in November, with smaller numbers remaining as long as there's any unfrozen water.  But Bonaparte's also can be found seasonally over most of Canada, the USA, northern Mexico, and the northern Caribbean; it strays to Europe (especially Britain and Ireland) and has appeared in West Africa and Japan.  So many birders have the opportunity, at least occasionally, to enjoy this gull.
What about you – do you hate gulls?  Love them?  Do you think Bonaparte's Gull makes a good ambassador for the group, or would you choose a different gullfriend?