One of the most enjoyable 'groups' of birds to photograph & get to grips with during a good Autumn on Fair Isle are the various Redpoll sub-species which can arrive on the Island in good numbers during October. Although the number of Redpoll's present varies year to year as with any influx from the North, this year saw a good October influx & much of my time was spent tracking various parties down & photographing as many as possible! Here is a little introductory Redpoll taster, they can be a bit tricky, some more than others as you will see, but there's nothing like a but of controversy over Redpoll ID every Autumn – it keeps birders on their toes & makes for a exciting Redpoll round-up in the log at the Obs each evening! At least there is no disputing a 'Horny Man' when he appears out in the field!
Common (or Mealy) Redpoll – Carduelis flammea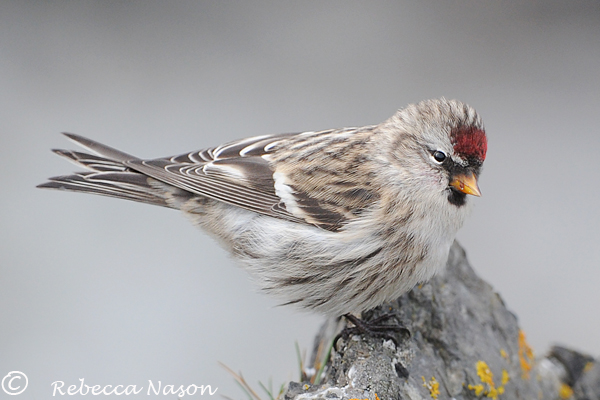 The most 'Common' Redpoll on Fair Isle although this is not the case in many other parts of the UK. These are from Fenno-scandia & are a robust, pale Northern Redpoll. They have pale wing bars & cool plumage tones. Here is another in the sunshine showing off varying warmer tones & nicely streaked rump . . . .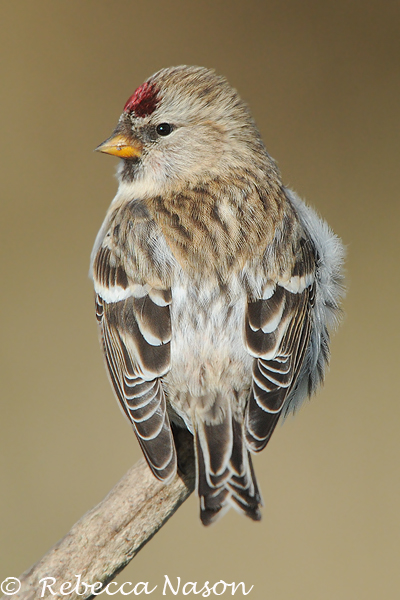 Common Redpoll – Cardeulis flammea
Lesser Redpoll – Carduelis cabaret
Another species of Redpoll which at home in Suffolk is the most common Redpoll present is the Lesser Redpoll  – Carduelis cabaret. These are quite distinctive being often significantly smaller than flammea & the plumage is a darker brown throughout, not the pale, cool plumage tones of flammea. These finer featured birds are associated more with Britain, C.Europe & the more Southerly regions of Scandinavia. On Fair Isle they are far out-numbered by the Scandinavian flammea Redpolls. Please see some 'Lesser' cabaret examples below . . . . .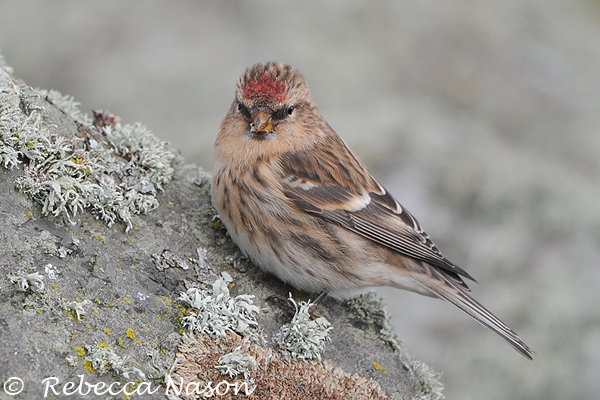 Lesser Redpoll – Carduelis cabaret

Greenland Common Redpoll ssp. rostrata.
The two species described above are fairly easy to identify, especially when they are together for comparision as they often are whilst in feeding flocks. The problems start to arise when trying to ID other NW types of Redpoll such as those from Iceland or Greenland, it is these more tricky Redpoll gems which start to get the Redpoll enthusiast excited! These Redpolls are larger than flammea & are often dark & much more heavily streaked, they can also be quite brownish like cabaret. Below is thought to be a chunky, heavily streaked (flanks) Greenland type Common Redpoll – Cardeulis flammea rostrata
Common Redpoll – Carduelis flammea rostrata (NW type)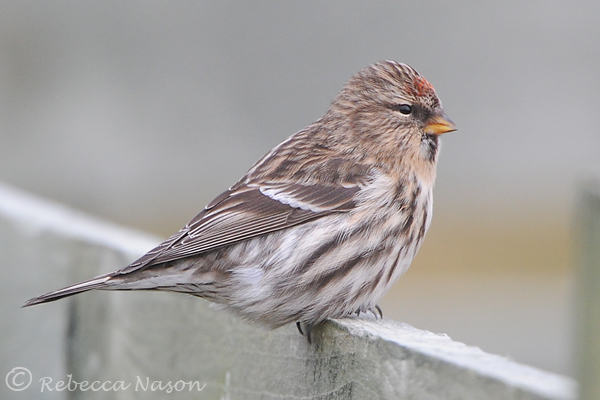 and finally . . . the best is saved for last, that 'Horny Man', the stud of the Redpoll world – the one, the only – the snowball that is . . . .
Arctic Redpoll – Cardeulis hornemanni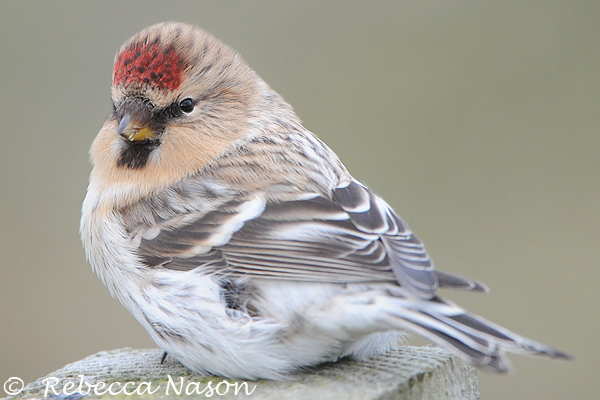 This handsome species of Redpoll is the real deal – Redpoll royalty. In Autumn, these species are unmistakeable, like giant snowballs, they contrast heavily with the brown heather-clad Autumn habitat – they are always a real treat to come across in the field & are still a good rarity find, though normally an annual visitor to the Shetland Isles! Arctic Redpoll's are LARGE, with clean, unmarked white rumps & only a few, thin streaks on the flanks. They are pale overall & usually have a pale forehead & pale buff, bulldog heads! Their fluffed up, loose white plumage has given rise to the endearing term 'snowball' which I think describes them well.. . . . . .I hope you have enjoyed my Redpoll Gallery. I leave you with one more image of the 'Horny Man' . . . . .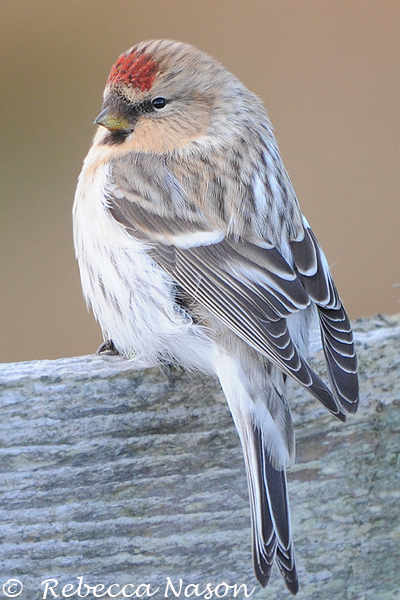 Top photo: Common or Mealy Redpoll Carduelis flammea. Photo: Rebecca Nason