I have to confess to being a lover of fine bird art, from the modern to the antique. At the Bird Fair each August in Rutland, UK, I have a stand in the art marquee where I sell my photographs and have enjoyed exhibiting and selling my work there for 6 years now. However, every year I have to make a particular effort to stay behind my stand and remember what I am there for – as the pull to some of the other exhibiting artists work is a temptation hard to ignore and my purse is hot in anticipation of a nice Ian Lewington, a John Gale, a Robert Gillmor or perhaps a Peter Cooper sculpture. . . .there are so many, I just have to keep my head down and stay strong. It is not an addiction as such, it is just a strong appreciation, purchases are few (with the odd exception). I have considered running my own gallery, to house both my own photographic work and other artists works, but I think I'd feel a wrenching sickness inside at having to sell on some pieces in my care, I'd probably end up trying to buy them all myself and my business would quickly make a loss. . . no, I can't see that one working. . . .unless of course I was the proud owner of a nice clean 19th Century Audubon 'Birds of America', then perhaps I'd let it go, the cool $10,000,000 would be hard to turn down and imagine the bird art I could buy with that sum – I could buy the Art marquee! However in the face of a recession, a well used overdraft facility and no Audubon masterpiece, that won't be happening.
My love of old, antique bird prints stems from my childhood. My Gran was an antique dealer in Southampton and in regularly visiting my grandparents house, I was always surrounded by interesting antiquities and beautiful items 'not to be touched'! But certain things stood out to me, as an early childhood birder I was drawn to birds, in any form. It was a couple of antique bird prints which drew my attention, on the wall going up the stairs, the Hoopoe, the Golden Oriole, the Roller, in fascinating design and with colours so vivid they looked like they had been hand-painted yesterday, not 150 years ago.  Later my parents chose different species but the same style of bird prints in their home. These prints were by  the Rev. Francis Orpen Morris, from his 'A History of British Birds', six volumes of fascinating 19th Century victorian insight into the world of British Birds coupled with 358 stunning hand-coloured bird engravings. These volumes, published in London by George Bell & Sons, took 7 years to complete (the first edition 1851-7) and were a combined effort by Morris (the writer), Fawcett (artist) and Lydon (principle engraver). These publications proved very popular and were followed by 'A Natural History of the nests and eggs of British Birds' and 'A History of British Moths'. Of course these are not on par with Audubon prints and are not worth a great deal of money, but I have certainly always loved them!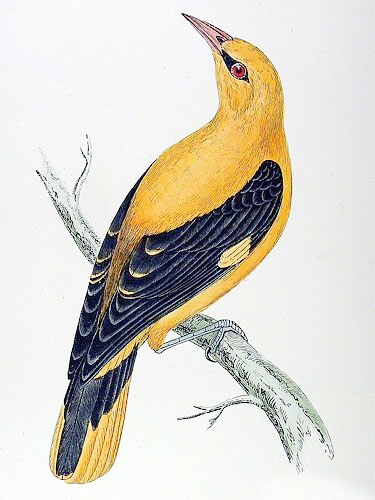 The individual bird plates adorning the walls were from one of the six volumes produced, found battered with the binding missing from an old antique shop some thirty years ago.  I was browsing in a small local bookshop  a couple of weeks ago when I came across a full set of 'A History of British Birds' books by F.O Morris from 1860's. These were from an early edition and although not in the best condition, were all still intact and were not highly priced!  As I carefully thumbed through them I noticed hand written notes in pencil from a Victorian ornithologist and paper cuttings on bird 'news' of the Victorian era. One letter stuck inside volume I grabbed my attention, hand written to the books owner in back ink, dated 1891 . . . I began to read about Sparrow eggs being found in Swallow nests, then the note ends with: "I am glad you did not shoot the Golden Oriole – they would have been indigenous here by this time if not shot on arrival" signed F.O Morris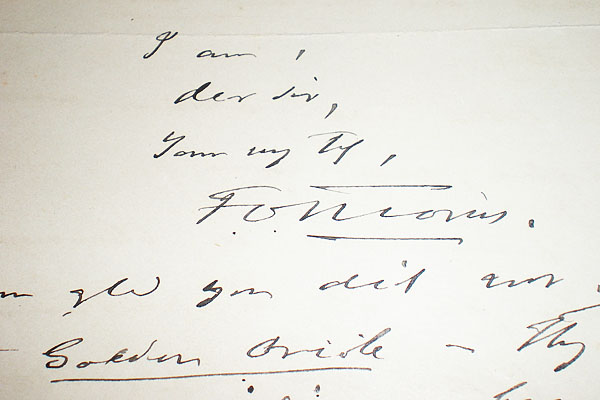 I was so excited to find I was holding not only a full set of Morris books, but a letter signed by the man himself inside, I just had to buy it! They appeal, not only in the attractive plates but in the wealth of historical bird information within and even the extra information written by past owners of those particular volumes. So 3 generations on and 'Morris' birds are still running in the family, though mine will not be removed from their bindings anytime soon! Not exactly Audubon works, but a UK – next best thing perhaps. Now all I need in another book shelf!
The Woodcock, Jack Snipe & Common Snipe, 3 of my favourites plus the Grey Partridge, perhaps by contender as a traditional English Christmas bird (Re; Martin Garners blog post) after the humble Robin . . . .