Field guide to the birds of Colombia
Below follows a short review of  the newly published Birds of Colombia financed by the Colombian conservation NGO ProAves. It is in place to put forward some of ProAves virtues, in the aftermath of the rather long debate presented here on Birdingblogs regarding ProAves hasty description of  a new Antpitta in a ProAves to scoop a former employee who intended to describe the bird he had found and collected without proper permits.  I think it is clear also to ProAves that the results of the feud has hurt the organization – at least its relationship with professional ornithologists. All parties have now left this episode behind -and there is a desire to build a greater understanding and cooperation in the future. (See the last footnote of the link above).
ProAves – Birding tourism catalyst in Colombia
Meanwhile, I think a review of ProAves role for conservation and the upsurge of birding tourism in Colombia is in place.  Proaves has not only bought land to protect a number of key species, but also built infrastructure so the same places can be visited and the key species seen.  They operate birding tours and birding lodges under the commercial branch Ecoturs and provide the services to both independent birders as well as birding tour operators.  The massive promotion made by ProAves has also helped many Colombian birding tour operators  (a list of operators specializing in Colombia is provided below). There is now a boom of birding tours going to Colombia.  And, as is the case with my Peru, Colombia warrants several tours to justly cover its endemics and specialties. International birding tour operators have also discovered Colombia in recent years and are flocking to go to Colombia.
While, the most important factor is that most of the key areas for birding are now possible to visit without fear of getting kidnapped by FARC, the role of ProAves for building the brand "Birding Colombia" in its generic terms, can not be underestimated.
Colombia always had a good position to start receiving hoards of birders.  A good field guide in Hilty's Birds of Colombia

– a major work for Neotropical Ornithology, a good modern road system, good hotels and a network national parks and reserves that are inviting to visitors with basic lodging and camping facilities. But usually it takes time for the public to understand that the country overall, or most of the best birding sites, are safe to visit.  And here ProAves positive propaganda machine with help of ABC and WLT,  has certainly played an important role to switch birders presupposition that Colombia now is safe to visit.
The new Birds of Colombia  field guide
Now the new Field Guide to the Birds of Colombia
produced by ProAves workers Thomas Donegan, Miles MacMullan and Alonso Quevedo is out.  Although, it can not compare with the massive information provided by Hilty's book (an update of Hilty´s book is in the make), it is still a remarkable achievement. It is a one of its kind. No other field guide contains so many species in such a handy format. It is truly a pocket guide that does fit in your pocket. The photo below is clickable to see its real size.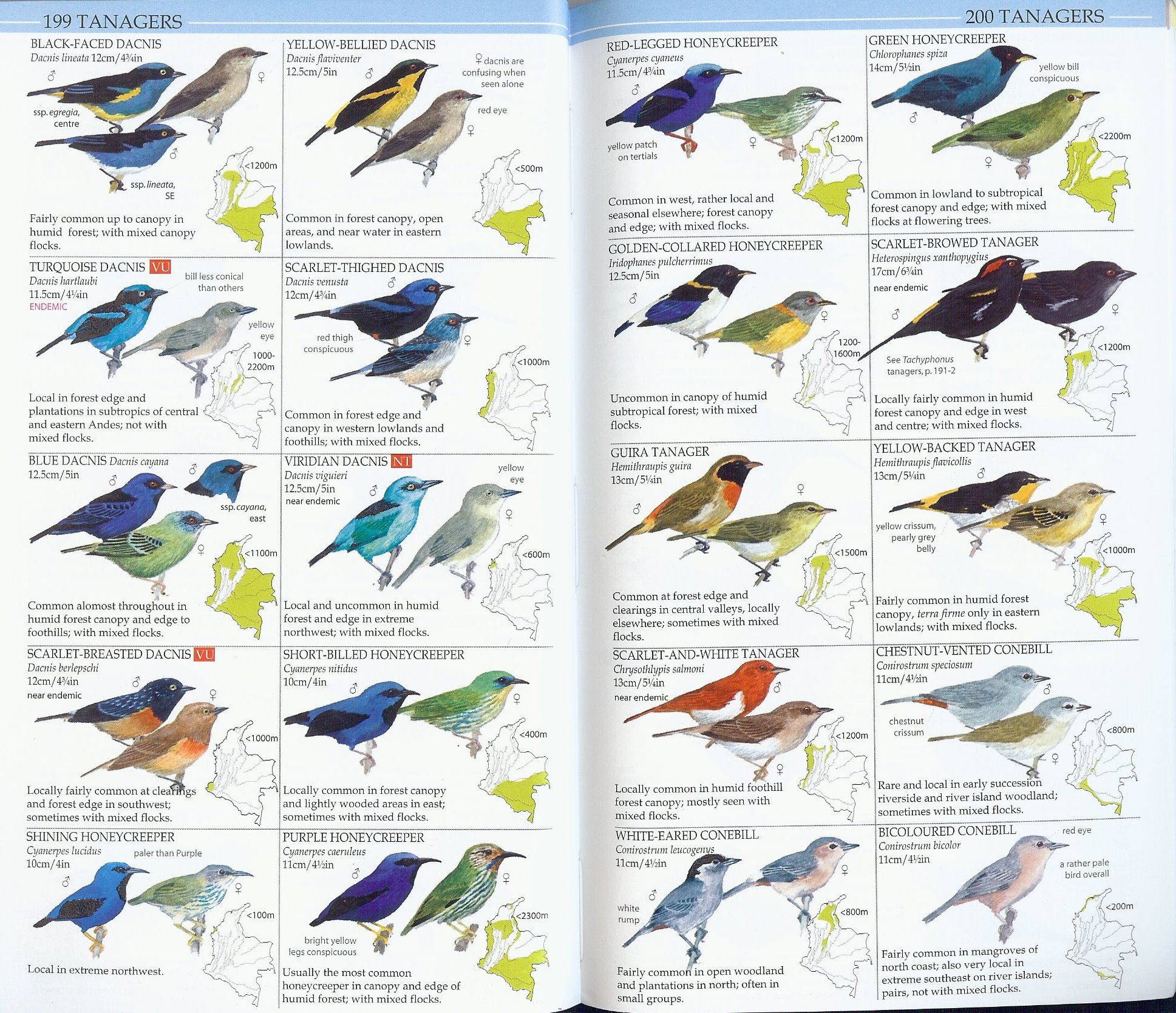 Virtues
small size and very portable.
up to date
distribution maps and short description together with the image
depicts all migrants, including shorebirds and warblers
pointing out endemics and threatened species.
voice rendition included. Whether it is of much value can be debated, but it can certainly be used when studying up on the calls that you have downloaded from xeno-canto or if you bought the Cornell collection (see below).
Drawbacks.
too small size – I will struggle with the book in the field as the text is just a little bit too small for my 50 year old eyes. The could have made the book slightly wider and that way the size of pictures, range maps and text would have easier to read in the field.
Solution:
Technology solves everything. I just got an iPad. I scanned all the plates of the ProAves guide. With the touch-screen magnified views of the photos and the text are literally at your finger-tips. What is more, the iPad will also have scans of Hilty's book, birds of Ecuador and Birds of Peru – as well as all the call of the birds we will find on our way in Colombia on my next visit in two weeks. I just ordered the Cornell collection A Guide to the Bird Sounds of the Colombian Andes: Seven-CD Set
.
I think it would be a good idea for ProAves to also to produce a version for the iPad/iPhone/iPod.  After all, I would certainly had bought a digital version of the book had it been offered. Countless hours of digitalizing, and changing filenames of  225 slides could have been better spent.
Bird Tour companies specializing on Colombia
I want to send some gratitude to those companies that have helped me set up Kolibri Expeditions first Colombia tour in 13 years.  Our first trip goes from Bogotá to Santa Marta via ProAves' Blue-billed Curassow, Cerulean Warbler and Recurve-billed Bushbird reserves starting April 3 (any last minute takers?). A follow up trip is planned for a Cali to Medellin  in January 2012, visiting sites in the Cauca valley and the Choco region. If you can't go with us, I strongly recommend these operators.
Colombia is definitely one of the worlds best birding destinations.
Disclaimer: All Amazon.com links in this post are affiliate links.