Merry Christmas and Happy Holidays.
I am writing this early on Christmas Day.  The fireworks in Lima is settling down. Checking the results of the quarterfinals. The two top seeded Marvelous Spatuletail and Spoon-billed Sandpiper won easily again against Wandering Albatross and Kakapo respectively.  The other two quarterfinals were much more even. They were extremely close.
Wilson's Bird of Paradise took on Harpy Eagle. It was the beauty against the beast. And in spite that beauty wins in the fairy tales, sheer muscle and brutality prevailed here. Harpy Eagle won narrowly. In spite that the bird of paradise had a small lead half through the game, Harpy managed to get 135 of the 267 votes, while Wilson's got 132.  3 votes difference only! Congrats to Harpy Eagle.
The game between Shoebill and Philippine Eagle was equally even. Shoebill started off very well and has a small lead again the Eagle. I had issued a warning to Philippine Eagle in the last game, that in order for votes to count, a voting person needs to vote in all games, not just for one favoured species.  It should be birders that vote and they should vote in all the games. Therefor, instances with  number of votes vastly superseding the number of votes of the other games, is not fair play. The additional votes are not from true birders.
Nevertheless, Philippine Eagle had an excellent last part of the game. In total there were 283 votes, 16 more than the Harpy game.  Thus, we ought to discount 16 votes from the winner.  Even  so, with the Eagle at 151 votes and the Shoebill at only 132 votes, Philippine Eagle is still in the top.
Here are the semifinalists.
Philippine Eagle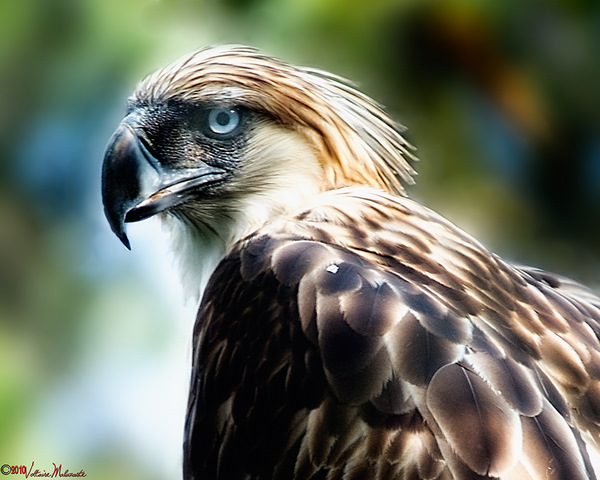 This gigantic Philippine monkey hunting eagle obviously have a large fan base, which could be vital to go further in the game. But will it stand up against the popular Spoon-billed Sandpiper. To see it, one best has to go to Mindanao island and Mount Katanglad National Park.
Harpy Eagle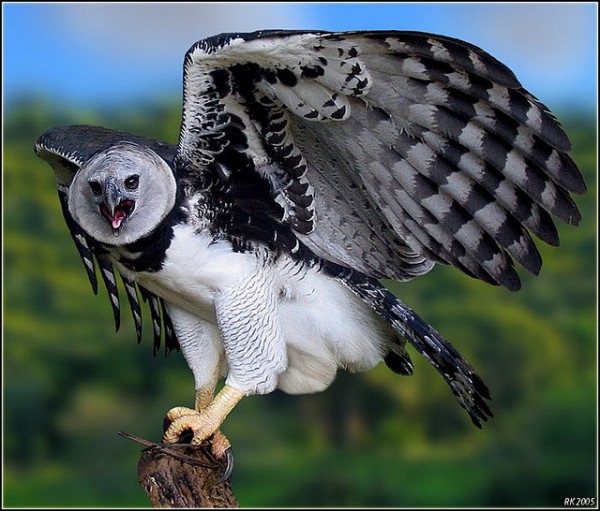 The other giant from the rain forests in the Neotropics where it is not only top of the food chain and an indication of healthy habitat, but also a very important resource for ecotourism involving local communities as guardians. Right now three nests that have shown some activity near Puerto Maldonado in Peru and are being checked whether it is possible to set up  sustainable viewing facilities for photographers and birders in early 2012.
If both Philippine and Harpy Eagles can win their matches, it is lined up for a match against the Giants in the final. But both will have a tough game against the favorites Marvelous Spatuletail and Spoon-billed Sandpiper.
Marvelous Spatuletail.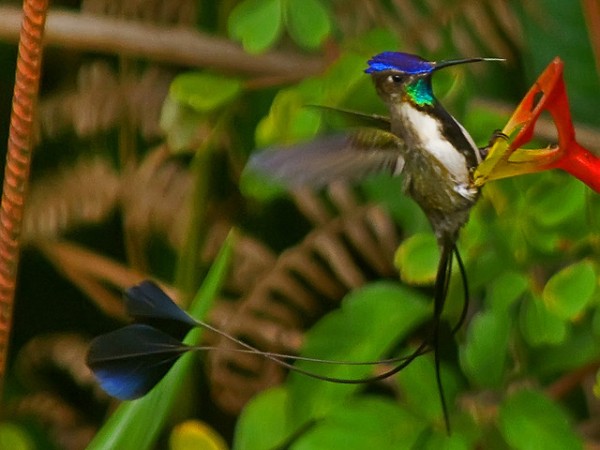 The immensely popular Marvelous Spatuletail. Most Peruvians have perhaps not realized what a tremendous asset this bird is for eco-tourism. It only occurs in the small Amazonas department in Peru and nowhere else. Habitat destruction is very intense and few people have any interest of conservation.
Spoon-billed Sandpiper
Absolute favorite to win the title. It has become very popular recently due to the recent media campaign with the captive breeding facilities at Slimbridge.  It is definitely a bird you should support with donations now and one that is a priority to see. But does it qualify for the best bird in the world? Maybe. Your vote counts.
[polldaddy poll=5789053]
[polldaddy poll=5789055]
Visit these birds in 2012 or 2013
Being game master of this game I have narrowed down what I want to do the coming years. I want to go and see all the semifinalists before 2013 is over.  Two, Harpy and Marvelous Spatuletail,  I have already seen but are worth to see again and I am already hooked up to see them in 2012 on some of our tours. The other two, Philippine Eagle and Spoon-billed Sandpiper, I am making arrangements to see in 2013. Write me at kolibriexp@gmail.com if you have tips how to go about or if you want to join me.
Previous entries in the Bird World Cup
If you just checked in on this fun contest, here are the previous posts.
It'll give you an idea how the contest has run uptil now.
Photos: Wilson's bird of Paradise from Wikipedia by Seranoksay did not quite make it. Philippine Eagle by Voltaire Malazarte on Flickr, Harpy Eagle used by permission from Ricardo Kuehn on Flickr and Marvelous Spatuletail by David Cook Flickr. Thanks all photographers for the use of your stunning photos.