Which is the one bird that every birder should aim to see before it is time to leave this life?
In Huffington Post there was recently a vote for what place on Earth to see before you die. Not surprisingly, Machu Picchu in Peru was number one.  It made me wonder. If you asked the birders which bird is the most important to see before they die. Which one would they choose?
So I simply asked using Facebook Questions.
Make your vote on Facebook too and while you are at it, LIKE  Birdingblogs Facebook Page as well. This is how it looks like.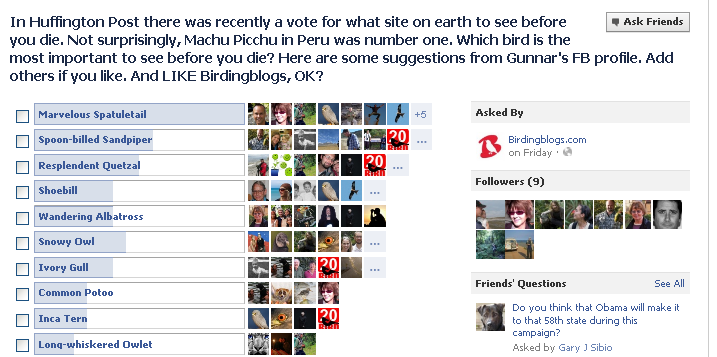 So far Marvelous Spatuletail is in the lead.
I have been playing with this thought before in "1000 birds to see before you die" (and am still working on it) and am reminded that I made New Years resolution to get it going for this year. This is too similar NOT to do it.  It is in the right direction – and there is still a month left of 2011.
I think people had a hard time to come up with 100 birds that I required in the mentioned post, but there should be less problem of coming up with ONE  bird.
As you go through the process of picking one bird, you'll see that this is also difficult.  So OK, you may chose at this stage as many favs as you think is necessary, although a maximum of 3 would be of best effect of choosing the final 16 contendents that will go to finals.
World Cup of birds to see before you die.
That is right! It is going to be like the FIFA World Cup! From the voting on Facebook, we shall get 16 finalists. Like the Huffington Post contest this shall result in pairwise voting.  The 16 finalists shall be presented on Dec 10 and voting will start for selecting 8  winners of the first round to compete in quarter finals on Dec 17.
The semifinals will start on Christmas Eve Dec 24 and the final start on Dec 31. By January 7, 2012 the winner will be pronounced.
UPDATE: Finalist round post is slightly delayed. It shall appear on Dec 11.
Top Photo: Marvelous Spatuletail by Glenn Bartley.
Random Posts:
GlennBartley: THE 7 ELEMENTS OF A GREAT BIRD PHOTOGRAPH: Bird Photography Basics. In order to create beautiful images of birds on a consistent basis it is im
Category:Digiscoping & Bird Photography

Rebecca Nason: Ruby Tuesday: MALE SIBERIAN RUBYTHROAT – SHETLAND, UK It has been a while since I have posted on Birdingblogs and
Category:Birding NewsBirding Western Palearctic

Rebecca Nason: 'Tirrick' Tern Gallery: A small 'Arctic Tern' Sterna paradisaea  or 'Tirrick' (Old Norse/Shetland for Arctic Tern) gallery  
Category:Birding Western Palearctic
Similar Posts:
Gunnar:World Bird Cup – Final!!: Surprise Semifinal It was a total surprise that Philippine Eagle would be able to resist the popular
Category:Competitions and Contests.

Gunnar:The Bird World Cup Winner: The winner is…. It is usually straight forward to pick a winner in a voting game. The participant
Category:Competitions and Contests.

Gunnar:Semifinals Bird World Cup: Merry Christmas and Happy Holidays. I am writing this early on Christmas Day.  The fireworks in Lima
Category:Competitions and Contests.

Gunnar:World Birding Destination Cup 2013 2nd round.: First round results. Here are the results from the first round where 32 birding destinations were pa
Category:Competitions and Contests.

Gunnar:Quarter finals. World Bird Cup: Past Games. It was tough, wasn't it? How can one choose, when they all are good birds.  And why was
Category:Competitions and Contests.