Second round.
Here is the next round of the exciting December fun to get to know which is the ultimate bird to see on this planet in this life. Several great birds did not quite make it to the top 16. It was a very even race for the last three slots. For instance Common Potoo, Hoatzin, Atlantic Puffin, Light-mantled Albatross and any Lyrebird calling were very close. Check out the Facebook page where the voting in the first round took place and the blogpost that presented this contest.
The contestants are presented one by one, and then we go to the first 8 matches from which 8 winners will appear after you have voted.
The vote ends on Saturday. Let's begin! Quarter finals will be on line late on Dec 17. Don't forget to share this with your birding friends.
Spoon-billed Sandpiper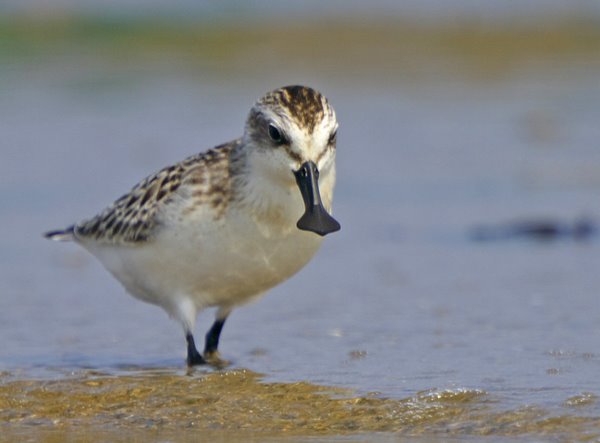 The Critically Endangered Spoon-billed Sandpiper is one of the most wanted birds by many birders and a very peculiar bill. This species has a naturally limited breeding range on the Chukotsk peninsula and southwards up to the isthmus of the Kamchatka peninsula, in north-eastern Russia. It migrates down the western Pacific coast through Russia, Japan, North Korea, South Korea, mainland China, Hong Kong (China), Taiwan (China) and Vietnam, to its main wintering grounds in Bangladesh and Myanmar. Wintering birds have also been recorded from India, Sri Lanka, Thailand, Vietnam, the Philippines, in the Fujian province of China, Peninsular Malaysia and Singapore. The breeding population in 2009/2010 was estimated at 120-200 pairs, which may be too optimistic. Photo by nkenji on Flickr.
Marvelous Spatuletail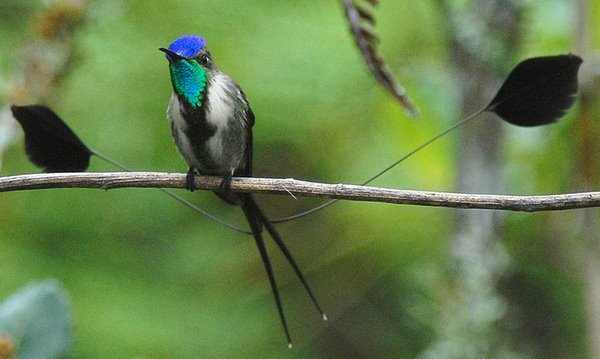 The Endangered Marvelous Spatuletail is perhaps the most spectacular hummingbird in the world. It is uncommon and restricted to the eastern slopes of the río Utcubamba valley (an affluent on the right bank of the río Marañón) in the Cordillera del Colán, Amazonas, and one locality further east in San Martín, north Peru. Photo: Roger Ahlman featured in birdingblogs post in January 2011.
Harpy Eagle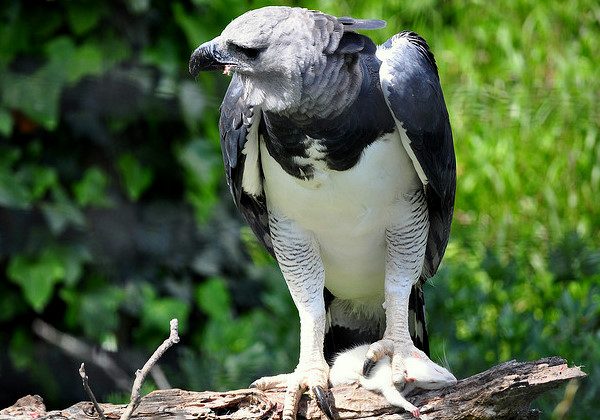 Harpy Eagle is the most powerful eagle on Earth. It is sparsely distributed and generally rare throughout its extensive range in south Mexico, Guatemala, Belize, Honduras, Nicaragua, Costa Rica, Panama, Colombia, Venezuela, Guyana, Suriname, French Guiana, Ecuador, Peru, Bolivia, Brazil, Paraguay and north-east Argentina. Photo by Isaac Hsieh on Flickr.
Resplendent Quetzal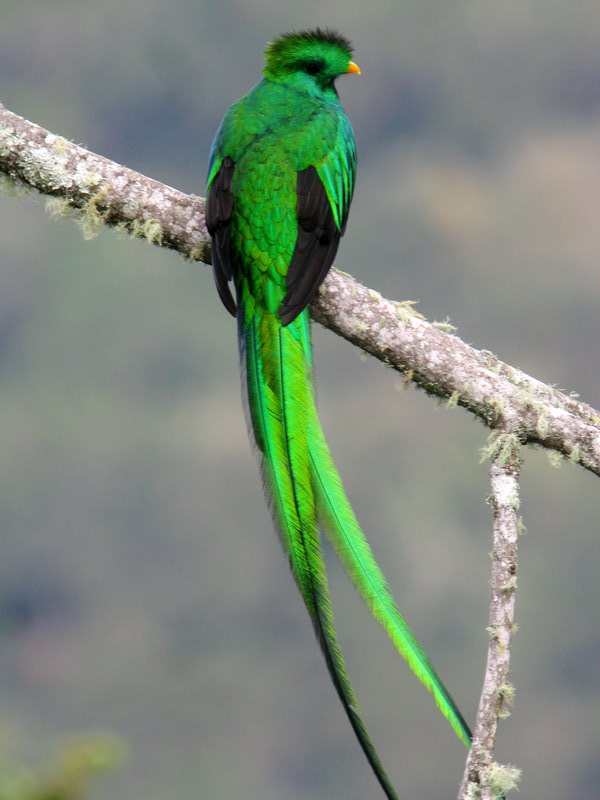 Resplendent Quetzal is a magical and godly bird from Central America from Mexico to Panama. Photo by Clay Taylor featured on Birdingblogs in September.
Shoebill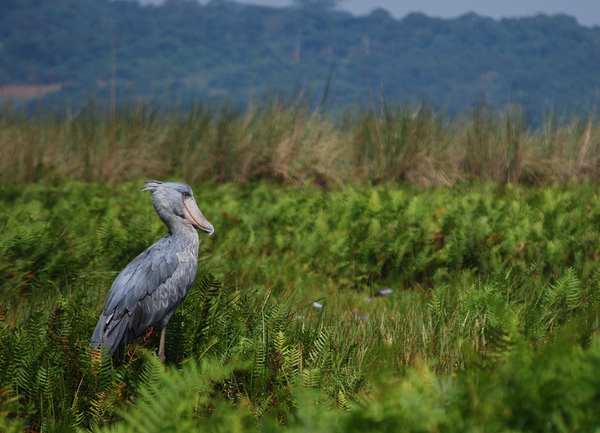 The Shoebill has the most amazing bill. It is widely but very locally distributed in large swamps from Sudan to Zambia and listed as Vulnarable by Birdlife International. Photo by Stttijn on Flickr.
Snowy Owl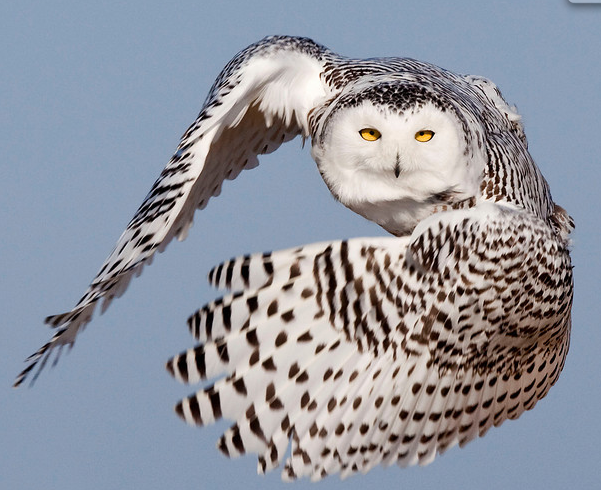 Snowy Owl is high on many birders lists. It occurs in Arctic regions in the Old and New World. Photo used by permission from John Afdem.
Kakapo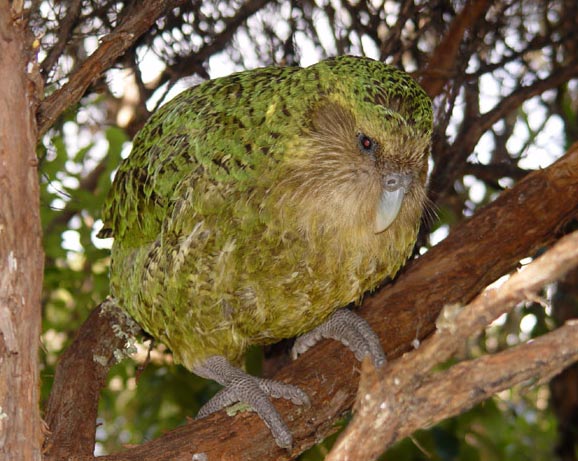 The Kakapo is a nocturnal flightless Parrot from New Zealand and critically endangered. It formerly occurred throughout most of the North, South and Stewart Islands, New Zealand. Although it disappeared from most of its original range in the wake of human colonisation, the species remained abundant in Fiordland and some other higher-rainfall and more sparsely inhabited parts of South Island until the early twentieth century . The last accepted North Island record was in 1927, the last South Island record of three males in Fiordland in 1987, and the last Stewart Island record of a female found and transferred to Codfish Island in 1997. In 1999, 26 females and 36 males survived , comprising 50 individuals of breeding age, six subadults and six juveniles. The population stabilised, and has begun to slowly increase following the implementation of intensive management . By 2009, the kakapo population stood at 124 birds .
Males cluster in traditional lekking sites and advertise their presence by calling each night for about three months, with mating occurring mainly between January and early March. Female kakapo take nine to 11 years to reach breeding age, and may live at least 90 years. Photo Department of Conservation.
Wandering Albatross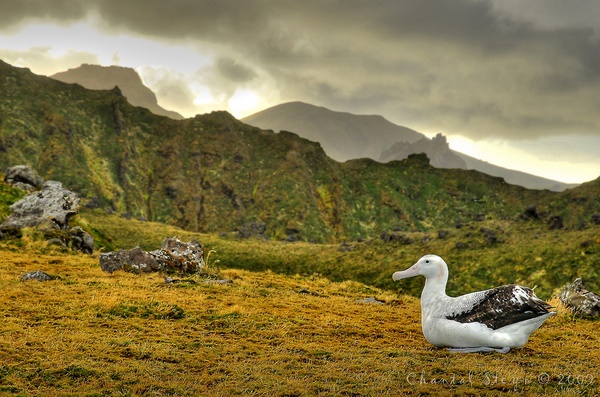 Wandering Albatross has the longest wingspan of any bird. It lives in the southern oceans and is listed as Vulnarable by BirdLife International. Photo by Chantal Steyn.
Ivory Gull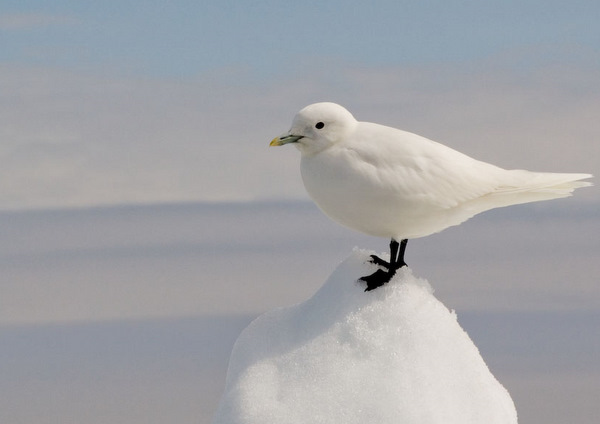 The snow-white Ivory Gull has a near-circumpolar distribution in the Arctic seas and pack-ice, breeding from north Canada through Greenland , Svalbard and Jan Meyan Islands and islands off northern Russia. It occassionally wanders to temperate areas in the winter, causing twitch mode among hard core birders of the Northern hemisphere. Photo by Jomillo75 on Flickr.
Emperor Penguin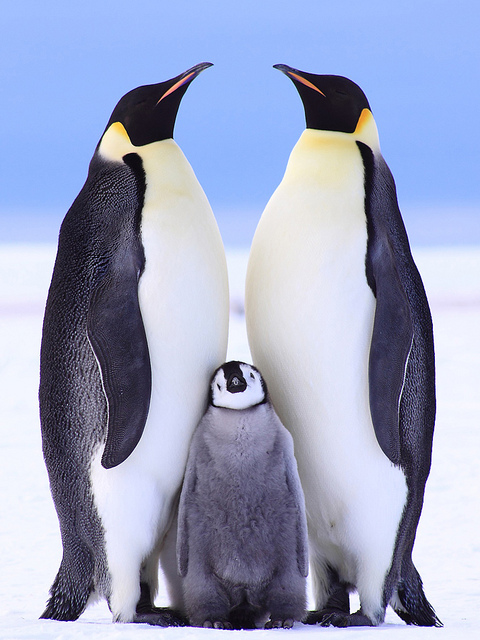 The Emperor Penguin has a circumpolar range, restricted to the coast of Antarctica where major breeding colonies can be found. Charming and popularised by the Happy Feet animated movie. Guess which bird would win if your kids would do the vote for you? Photo by Anne Froehlich.
Wilson's Bird-of-Paradise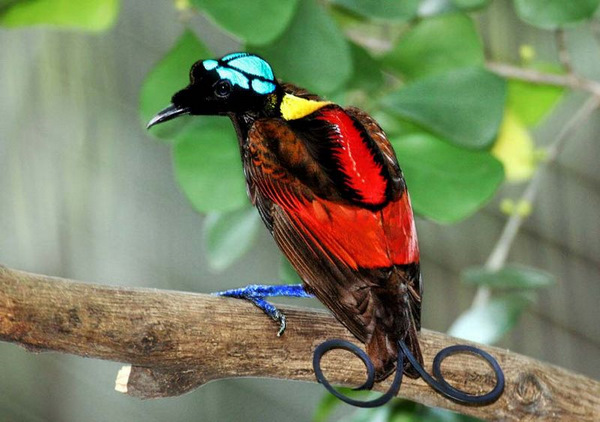 Wilson's Bird of Paradise is endemic to the Papuan islands of Waigeo and Batanta off north-west Papua (formerly Irian Jaya), Indonesia, where it reported to be frequent in hill forest above 300 meters. The male displays its vivid colors in arenas. Photo from Wikipedia by Seranoksay.
Inca Tern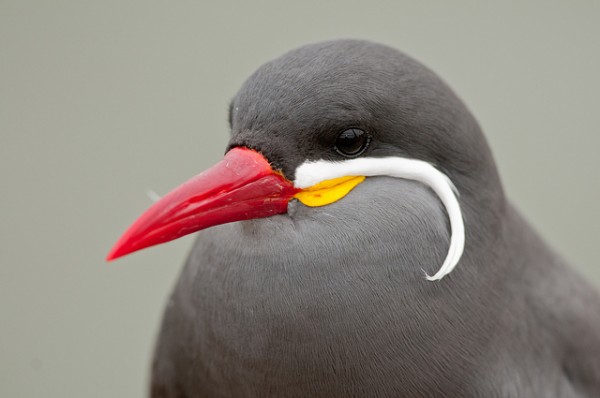 Inca Tern is the most beautiful Tern in the world and it is common along the coast of Peru to Central Chile. Photo by Alfredo Fernandez featured in Birdingblogs in October 2011.
Philippine Eagle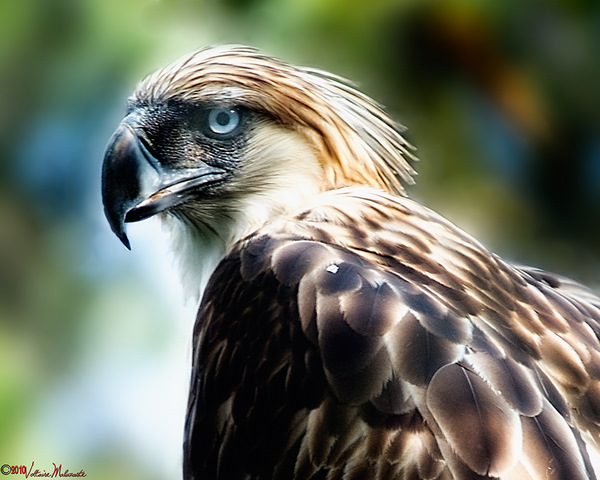 The Critically Endangered monkey eating Philippine Eagle is endemic to the Philippines, where it is known from eastern Luzon, Samar, Leyte and Mindanao. Mindanao supports the bulk of the population, with recent research estimating 82-233 breeding pairs. The total population is estimated to only 250 pairs. Photo by Voltaire Malazarte on Flickr.
Blue Bird-of-Paradise
http://youtu.be/F296HzlG1gE
Blue Bird-of-Paradise occurs in the eastern Central Ranges of Papua New Guinea, from Mt Sisa south of Tari to the Owen Stanley range. It is patchily distributed and absent in many areas, but nowhere common. There are no Creative Common pictures on the internet of this species, but since a photo would not do it justice, maybe a video would actually be better.
Long-whiskered Owlet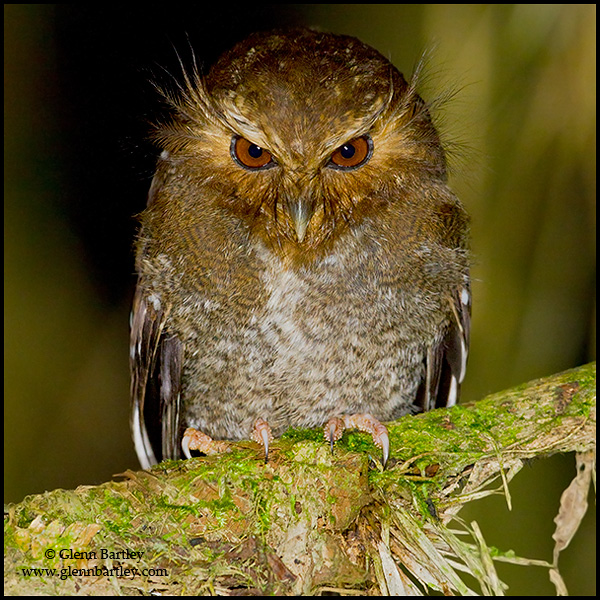 The enigmatic Long-whiskered Owlet, which until recently only known from a few specimens, can now be seen in the Abra Patricia area in Amazonas department in Northern Peru. It is listed as Endangered by BirdLife International. Photo: Glenn Bartley featured on Birdingblogs in December 2011.
Ibisbill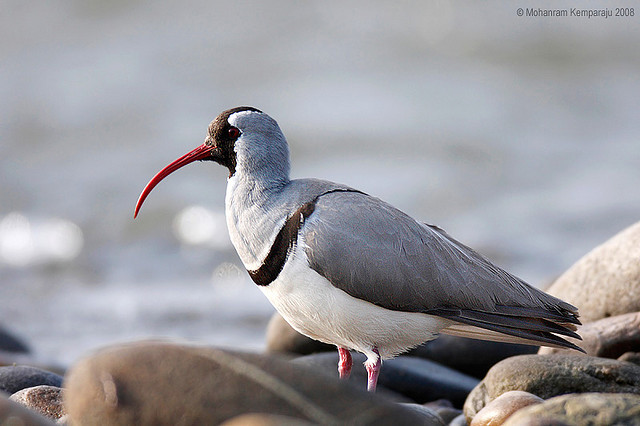 The Ibisbill is a bird related to the waders, but sufficiently distinctive to merit its own family Ibidorhynchidae. It occurs on the shingle riverbanks of the high plateau of central Asia and the Himalayas. Photo by Moharan Kemparaju on Flickr
[polldaddy poll=5749923]
[polldaddy poll=5750397]
[polldaddy poll=5750407]
[polldaddy poll=5750415]
[polldaddy poll=5750418]
[polldaddy poll=5750423]
[polldaddy poll=5750434]
[polldaddy poll=5750437]