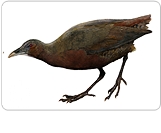 A new species of Rail from Madagascar has been described in the scientific journal Zootaxa (click for pdf) by Goodman et al . One of the authors is well known birder Nick Block from Texas who was responsible for the genetic analysis.  The new species named Tsingy Wood Rail Mentocrax beankaensis is closely related to Madasgascar Wood Rail Mentocrax kioloides
New bird to science emphasizes the critical need to conserve the remaining dry forests of Madagascar
In a recent issue of the scientific journal Zootaxa, researchers from Madagascar and the United States described a new species of forest-dwelling rail.  The new bird was named Mentocrex beankaensis, with the genus Mentocrex being endemic to Madagascar and the new species beankaensis being coined after the type locality, the Beanka Forest in western central Madagascar. This species was distinguished from another in the same genus, known from the eastern portion of the island, based on aspects of size, plumage, and DNA.

The dry forests of western Madagascar have been drastically reduced in size.  Estimates proposed by the World Wildlife Fund (WWF) indicate that 97 percent of the original forest cover in this portion of the island has disappeared since humans arrived some 2,500 years ago.  Over the past decades these remaining dry forest areas have been the sites of numerous discoveries of plant and animal species new to science.  The Beanka Forest is a largely intact area resting on exposed limestone formation with razor-sharp pinnacle like structures, which are known in Malagasy, the language of Madagascar, as tsingy.

Read more…..