Marvelous Spatuletail Loddigesia mirabilis.
The Marvelous Spatuletail is an endemic bird to Peru. One of the most spectacular things to witness in the birding world is the display of  the males spatuletails.  Our guide (then) Roger Ahlman together with our protegé Santos Montenegro were the first to witness this remarkable lek in over a 100 years in 2003. The lek was later filmed with high-speed video camera and featured in the BBC series Life presented by David Attenborough (see the video below).

Well, the display is actually happening right now.  According to Santos – and the old published information – the display can be seen between November-May. Santos has located two leking sites where the male Marvelous Spatuletail gather near the village of  Pomacochas.
Spatuletail history.
Untill recently the biology of the Spatuletail was little known – and males were rarely seen.  For exmple Ted Parker reports that 2 out of 35 sightings were adult males.  This, together with reports from Taczanowski and Stolzmann in 1881, concluded that there was a sqewed  sex ratio – with females and immatures greatly out-numbering adult males. However, Santos have found males at specific sites and it is now not difficult to see the males. It appears that the males may have different selection of habitat prefering shrubby areas and keeping low in the vegetation making them more difficult to spot.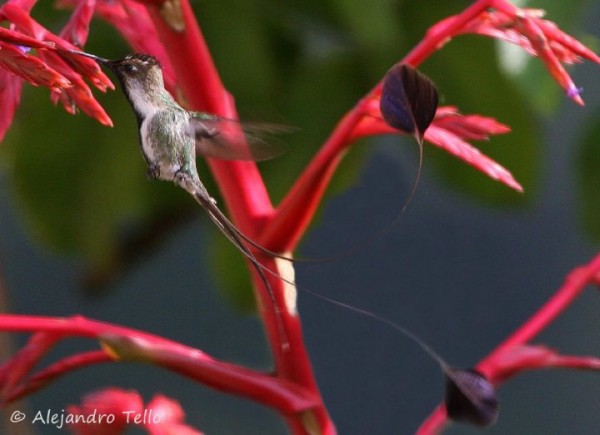 Where to see and photograph the Spatuletail
There are mainly three good secure sites.
Leimebamba: Tambo Kentu. Recently opened new lodge above the Leimebamba Museum with a dozen or so well visited hummingbird feeders. Male Spatuletail comes in regularly. Other good hummers include Sword-billed Hummingbird and Purple-throated Sunangel
Huembo: ECOAN:s visitor center below Pomacocha. Santos is the caretaker of the Huembo and has put together homemade feeders that now attract a number of good hummingbirds including male Spatuletails. Other good hummers here include Andean Emerald – and sometimes Little Woodstar.
Private Spatuletail Reserve above Santos house (top of the hill on the road between Rio Chido and Pomacochas). This is the prime lek site where BBC filmed the lek. The reserve was created with funds from Kolibri Expeditions clients given to Santos so he could simply buy the land.  Check out this interview with Santos and more about the conservation project.
Have you seen the Spatuletail? How do you rate it among the birds you have seen?
Top Photo Credits: Marvelous Spatuletail by Roger Ahlman
Other Spatuletail pictures by Alejandro Tello.