The results for the Swarovski Digiscoper of the Year 2010 competition have just been announced:
http://digiscoperoftheyear.com/
This year's winner is the biologist Óscar J. González Hernández, of Salamanca in Spain, with a stunning image of a European Bee-eater (above). I managed to get hold of Óscar and ask him a few questions that were at the top of my mind (see the story behind the photo here):
When did you start digiscoping?
I started in 2005: a friend, Javier Briz – one of the first to start using and developing this photographic technique in Spain – showed me some photos and they surprised me so much that I decided to buy a digiscoping setup myself. I have always used a Swarovski ATS 80 HD, but what I have changed are the cameras: Canon 300D, Canon 570IS and now the Canon S90. I have had the great luck that in the four years I have entered the Digiscoper of the Year competition (2007-2010), I have received a winning place with all three of the cameras mentioned.
Were you in to photography before you started digiscoping?
Yes, I was doing macro and landscape photography, both with slides.
Which is your favorite area for digiscoping?
Salamanca (western Spain), as there are lots of species to photograph. ((it happens to also be where Óscar lives))
What are your favorite species or themes?
I particularly like the European Bee-eater (Merops apiaster) and the Bluethroat (Luscinia svecica). Nocturnal birds of prey are also amongst my favorites.
Are there any digiscopers or photographers that you find inspiring?
Many, both digiscoping and using other photographic techniques. I believe that one can learn a lot by looking at the works of others.
What do you think will happen in digiscoping in the future?
Digiscoping is developing at an incredible speed. For example, the quality that one could achieve with the Canon A570IS and that which one can achieve now with the Canon S90 are worlds apart, and there are only three years between these two cameras. Because of this, I see a great future for digiscoping.
Do you have any digiscoping tricks or techniques you would like to share?
If there is one thing that I have learned it is that, in order for the photo to turn out well, you need to be close to the animal that you are photographing. Digiscoping is a great technique, but you have to try to get used to the animals and how to attract them close to your equipment. Camouflage is essential. The winning photo of the European Bee-eater was taken at 12m ((40ft)). I could, however, have taken a similar photo at 30m ((100ft)) with more magnification, but it would only have had half the quality.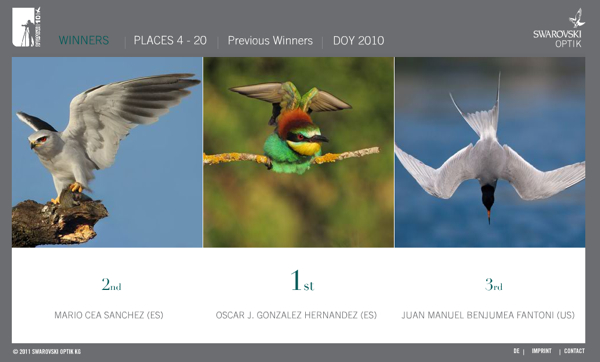 To find out more about what was happening behind the scenes at the Digiscoper of the Year competition, and about how some of the photos were made, see Backstory: Digiscoper of the Year on 10,000 Birds.
Happy digiscoping,
Dale Forbes