In Darwin's time explorers had converted the European view of the world by their observations, much like travelers of today convert their own view of the world, from a simple binary to a mosaic. Before experience, information, exploration, learning and reflection, the world is something of an "us and them" or a "here and everywhere else" arrangement. But after visiting a number of places and finding out that not only is each place different from your home, but also, each place is different from any other place.
Louis Agassiz, the most famous scientist of his time, eclipsing Darwin in his stature and influence (up to a point) addressed this diversity across the landscape in one way. Darwin addressed it in another way. Today, most people don't even know what Agassiz said, even though it is a perfectly rational model if you are a creationist, and something like half of all Americans are. But, his ideas would be considered absurd even by modern Young Earth Creationists (YECs). Darwin's view, in contrast, is not absurd, but it is complicated.
Agassiz believed that the geographical complexity of life on Earth was a direct creation of god. If there are kangaroos in Australia and bears in North America, god put them there. OK, you may think, if you are a creationist, that's logical, so why do I think it absurd? Because Agassiz is ALSO the scientist who proved that much of the earth's landscape had been dramatically altered by ice ages again and again. He was incorrect about certain important details. For instance, he figured that the entire planet may have been covered by glacial ice (for various reasons beyond the scope of this essay, that made sense at the time).
This helped him to explain fossils and biogeography. According to Agassiz, god put the kangaroos and the Aborigines in Australia and the brown bears and the Native Americans in North America and the red deer and the Europeans in Europe. Then he wiped them all out with those floods and glaciers. Then he did it again. He put everybody back. Then he wiped them all out again. Then he put them all back again. Then he wiped them all out again. Then he put them all back again. Agassiz surmised that there were about five or six glaciations. Modern evidence tells us the number is closer to two dozen. I wonder if he would have kept up this idea had he known that.
When Darwin looked at the same date, he asked "how did things get this way …. and how does geography explain the biology, and visa versa?"
Darwin thought about these issues as he traveled on the beagle. He simultaneously thought about adaptive change, similarities and groupings among species, and the two main aspects of geography that related to species diversity: Habitat differences and geographical barriers. And we see this thinking happening in his notebooks and writings over this five year period.
I was going to weed through several hundred pages of writings and present you with a half dozen or so bits and pieces that would show Darwin's thinking develop, but when I got the scraps together it was boring and quirky. Most of it, that is. There is one piece of writing that is to me telling of Darwin's thinking, and also, tells us something about when he was thinking these things, that I want to show you. And it has something to do with birds.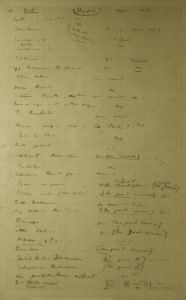 This is page 41 of a notebook we call "Charles Darwin's Beagle animal notes (1832-33) CUL-DAR29.1.A1-A49" You can tell they were written in the field because the notebook is used in an up and down (portrait) orientation. Darwin used similar notebooks, and actually pages of earlier used notebooks, in the "lab" after the voyage, but he wrote on the pages in landscape mode, as it were (at least usually, if not always).
This is a list of birds with notes as to whether or not to keep the specimens, and if so, why. At the top of the list, circled, is the phrase "Take all closely allied species"
This could be a senseless bit of gibberish, or it could be one of the most meaningful sentences in Darwin's notes. Why save allied forms? To examine variation? If there are closely allied species, then there are less closely allied ones too. Thus complexity in a taxonomy that might reflect phylogeny. And if you look at the list, there is more telling information: Some of the birds are different than typical, it would seem. There are notes about the habitats of the birds AND notes about where they are found geographically AND notes about their seasonality all mixed up with notes about features of their diversity all in the context of that circled remark referring to closeness and ally-ness of species. Among the notes we see that some birds "go round" which I believe is a reference to the bird's distribution around the southern tip of South America.
And, on the overleaf of this page, he wrote, in landscape mode (!):
Ornithology of Falklands as compared to T. del Fuego.

The resemblance in the ornithology of opposite side pretty close.

several birds which do not appear to have never crossed some that do, while it does not seem very probably would voluntary cross the mountains representative species on each side.
And just to put a finer edge on this, in the same set of notes (on an earlier page) he wrote:
The sterile plains at the foot of the Cordillera, elevated several thousand ft above the sea, appear the probable birthplace of nearly all the animals, Birds, & perhaps even plants of Patagonia.
… suggesting that while still on The Voyage and well before the Galapagos, Darwin had the concept of species radiation and biogeography pretty much on his mind.
The image of a Magellanic Oystercatcher (Haematopus leucopodus) is from Wikipedia. The page from Darwin's notebook is from The Complete Works of Charles Darwin Online