Photographing birds in Peru.
Once in a while you come across bird photography that is so jaw-dropping that you simply want to throw your camera to the floor in dispair and scream "I need a new camera with a longer lens, more megapixels and a flash as strong as sunlight".  Then  you buy a new camera only to realize that the results are still not what you wanted.  The simple truth is of course that you suck as a bird photographer.
Glenn Bartley is a professional photographer, who just returned from a 3 month trip in Peru, and has produced the best set of photos from Peru I have ever seen. Not only of common species, but some that are rarely photographed. The Long-whiskered Owlet for example at the top of this post, is of a species so rare that it has only been documented with some shaky video and a few half decent shots. I have only seen the bird once, and then it was a dark object flying from one perch to another without actually seeing the bird sitting.  That is all, after some 5-6 tries for the species.
Fortunately, for those of us who suck, Glenn organizes bird photography workshop in the Neotropics. I was fortunate enough to get Glenn to agree on an interview for Birdingblogs and I am allowed to share some of his amazing photos from Peru. Sit back and enjoy.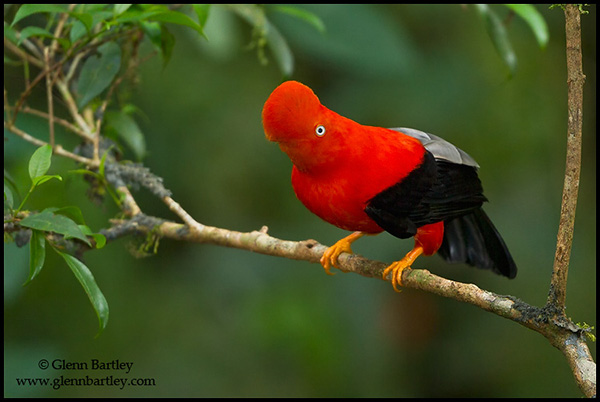 Who is Glenn Bartley?
I am a professional nature photographer who focuses on capturing images of wild birds in their natural surroundings. I live in Canada but my travels take me all over the new world tropics. I have fallen in love with the birds of tropical america and plan to spend many years devoted to photographing them. I publish my work in all of the major magazines and have published a few books myself (Birds of Ecuador, Birds of Vancouver Island).
I also lead instructional photo workshops to Ecuador, Costa Rica and pretty soon will be adding Peru to that list. To find out more about me and my work visit my website.
Nikon or Canon – and why?
I shoot with Canon gear. But to be honest I am really not biased towards either. Both companies make such good cameras these days that either platform will be great for any photographer.

Some bird photographers I have met don't like using flash, yet I guess many of your photos are taken with flash. How do you avoid the pitfalls of unreal colors, eye reflection and strange shadows, and yet make the birds look natural?
If you don't want to use flash in the tropics you are better off staying home! Learning to use flash successfully is one of the most important aspects of tropical photography and a topic that we cover extensively on my workshops. From using one flash in the field to using up to 6 flashes at multi-flash set-ups artificial lighting is a must in the tropics. To start with make sure you have your flash on a bracket and up off of the camera. Secondly make sure you know how to control the power of the flash output. That will get you started anyway…
What infrastructure is important for you when you chose a lodge for photography and in what aspects ought the infrastructure for bird photographers improve in Peru?
It would be great to see some more hummingbird feeders and fruit feeders in Peru. Good trails are vital too.
I for one believe the greatest recruitment of birders will be through bird photography. Maybe the birding clubs loosing members and worrying about regeneration of young birders should embrace bird photography more? What is your experience? How did you get into birds?
I definitely think more and more birders are heading in to the field with a camera these days. Being able to bring home images of the beautiful birds that we see and share them with friends is a huge plus that I think will make more people excited about birding and nature. I got in to birds about 12 years ago. Coincidentally this was right around the time I got my first camera!
How did you get into offering bird photography workshops in South America? What would you teach us on such a trip?
Over the past few years I have spent about 16 months in the new world tropics and have really gained a lot of experience in knowing how to photograph the birds down there. I think that a lot of people want to visit these places and there simply aren't that many qualified photography leaders. Birding tours are not the answer for anyone who is really serious about photography. All you will get will be record shots and a lot of frustration.
My workshops are kept small so that I can address the needs of each participant. Some folks show up and are already quite talented photographers. perhaps they just need a few pointers on the best strategies for an individual species. Others may be relatively new to photography and need more help with exposure, flash and technique. We always work on post processing in the evenings and I can pretty much guarantee that everyone who signs up comes away a better photographer. We have a lot of fun too!
My company Kolibri Expeditions have started offering birding trips specifically for photographers, such as this trip to the Marvelous Spatuletail over 9 days in January, visiting some of the same areas as you visited on your trip. I was pleasantly surprised how fast this trip has practically filled-up. It goes to show, that there is a great need of trips directed towards bird photographers. Of course, our trip is not a workshop, but for photographers who already know their equipment well enough. What are the difficulties the experienced bird photographers new to the tropics may encounter? Any particular warnings or tips?
Try to find some flowers that the birds are visiting regularly and focus your efforts there. Around the feeders will be very difficult for the spatuletail.

Name your 5 favorite birds in Peru you have photographed?
Wow…that is always a tough question…But I will try:
1. Long-whiskered Owlet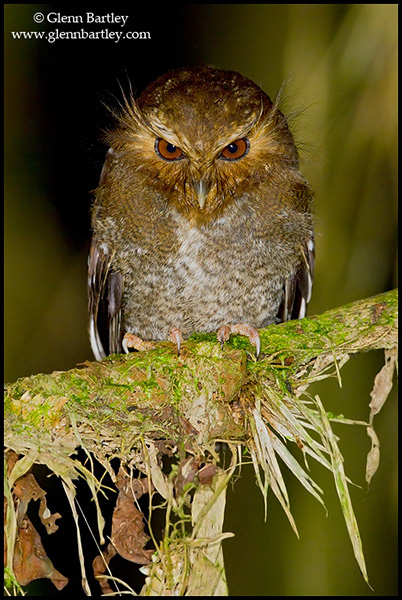 2. Marvelous Spatuletail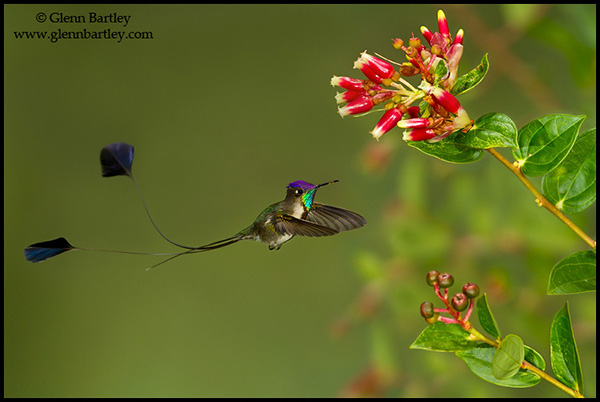 3. Yellow-scarfed Tanager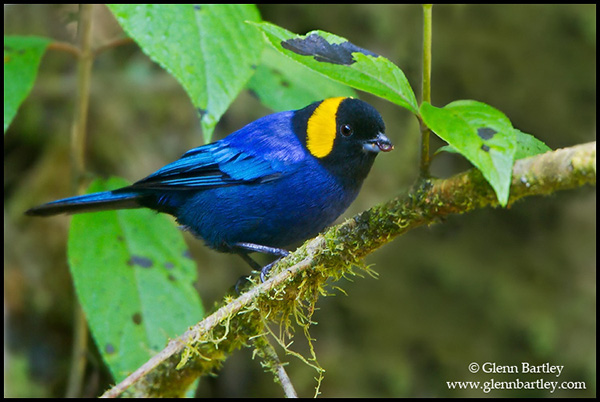 4. Agami Heron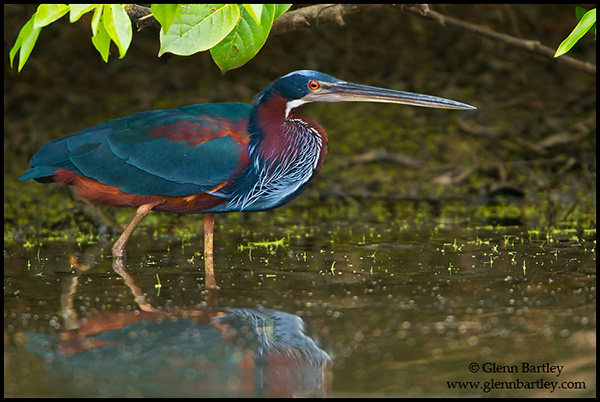 Rufous-crested Coquette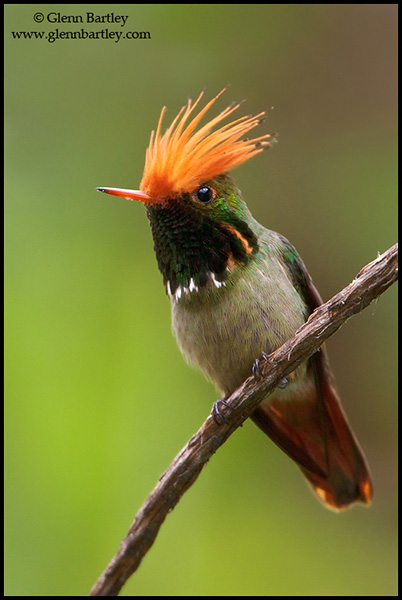 Truly marvelous pictures, Glenn! What is missing? What 3 birds in Peru you really want to photograph someday?
1. Golden-backed Mountain Tanager
2.  Andean Condor
3.  White-plumed Antbird
And I hear the pelagics are great too 😉
Funny with your wanted list of birds to photograph, since two of them I have a special relationship. The Golden-backed Mountain-Tanager is one of the few I actually have taken a half decent photo of – decent enough to make it to a couple of articles. That was pure luck during a filming expedition for Prom Peru which can be seen on YouTube with the Golden-backed Mountain-Tanager occurring at 11.35.

I was there with my camera of course and just happening to be where the bird was, which helps.
Another one on your want list, the Andean Condor, occurs in Santa Eulalia Canyon only 3 hours from Lima. There is a municipality there – Huachupampa – which bets on eco-tourism. There is, for Andean villages, a quite OK hotel, with private bath and hot water.  From Huachupampa it is only some 7km to the overnight cliffs where condors are usually seen, albeit distantly. I have been talking with the municipality to create a feeding station for condors here, with blinds for photography. Have you any experience of such set ups with other raptors? Any tips you can think of?
No experience there. But I'm sure if you plunk a dead cow out there the vultures and condors will come.
Enjoy some more of Glenn Bartley's great photos from Peru.
If you want to see more of Glenn's work in Peru, here are his Peru gallery and his blog.
Here is an excerpt from his blog regarding the Long-whiskered Owlet:
The Long-whiskered Owlet is an enigma. The bird was only discovered in 1976 and was then not seen again until 2002! Even to this day very few people have had good looks at it.

At just 5 inches this bird is the smallest species of Owl in the world. It is so unique that upon discovery ornithologists immediately put it in to its own genus "Xenoglaux" which means "strange owl".

That evening I trekked down a muddy trail into the elfin cloud forest and I waited patiently to hopefully hear the birds call. Before long, to my delight, I heard what I believed to be an Owlet calling in the distance. I began to use the birds call to try to lure him in towards me.

I'm sure you can all imagine the adrenaline and excitement that I was feeling when I realized that it was working and the bird was coming closer. I stood motionless. I didn't dare fiddle with my equipment. I didn't dare check to see what insects were crawling up my leg. Heck…I didn't dare breathe!!

And then…I saw a flash of movement in front of me. The moon was nearly full and there was enough light to just make out the movement. I shone my flashlight in the direction of the fluttering object and there he was not even 20 feet away on an open branch staring right at me – The Owlet!

As I walked back up the hill after photographing this incredible bird I could hardly believe what had just happened. I think that there are moments in our lives as photographers that I think we will never forget. For me this was most definitely one of them.
Also check out the testimonial of Glenn Bartley's workshops.
Thanks Glenn for sharing with us here. I am sure now everyone wants to come to Peru to see and photograph these birds! Lets finish with one of my favorite photos. This Common Potoo.
For accomplished photographers that need logistics and a guide to find the birds to photograph, Kolibri Expeditions run a series of tours concentrating on Bird Photography in Peru.