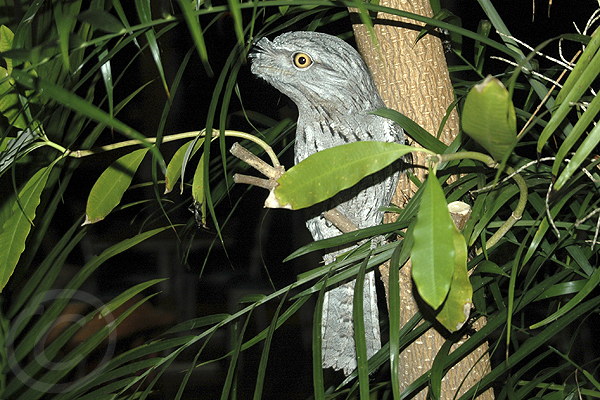 In 2006 I spent 2 weeks on a family holiday in Australia. The whole trip was fantastic, filled with long distance 4 x 4 driving, incredible scenery and some of the best birds to be seen anywhere in the world. One of the highlights for me was my first close encounter with a member of the Podargidae family. We arrived at a hotel in Broome late one evening and as we wheeled our luggage through the tropical hotel grounds on the way to our rooms, I spotted something up against a tree near the outdoor pool. . . I could barely believe what I was looking at, just a few feet away, with monster yellow eyes, a stunning TAWNY FROGMOUTH (Podargus strigoides) was starring at me from the shadows!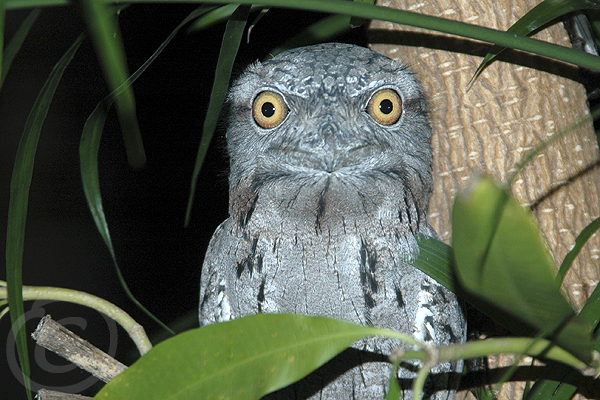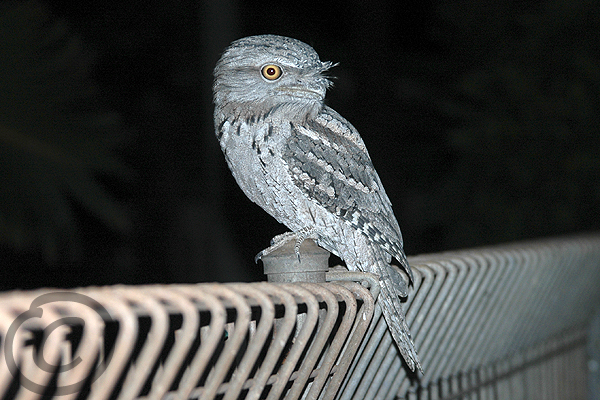 Although related to Owls, these birds are more closely related to Oilbirds and Nightjars which you can really see here with their large eyes and cryptic plumage in the images below. The Tawny Frogmouth is almost exclusively insectivorous. They catch their prey with their beaks rather than with their talons and just look at the size of that mouth!! There were some pretty meaty insects in and around the lights of the hotel at night so this Frogmouth was taking advantage of the insects attracted to the lights. We saw a lot of insects around the hotel, both Praying Mantis and Hawkmoth types on the walls.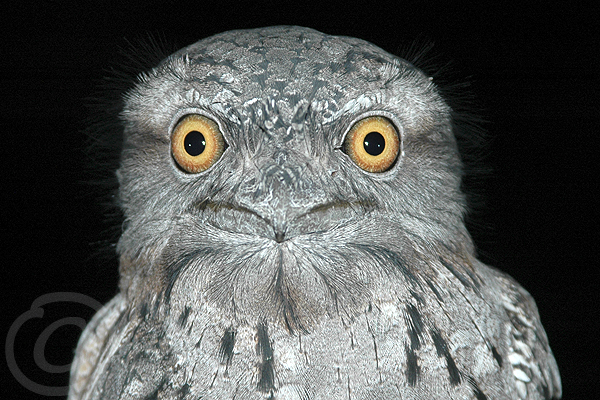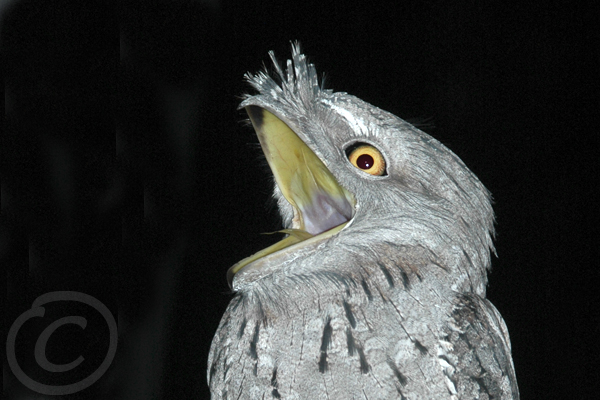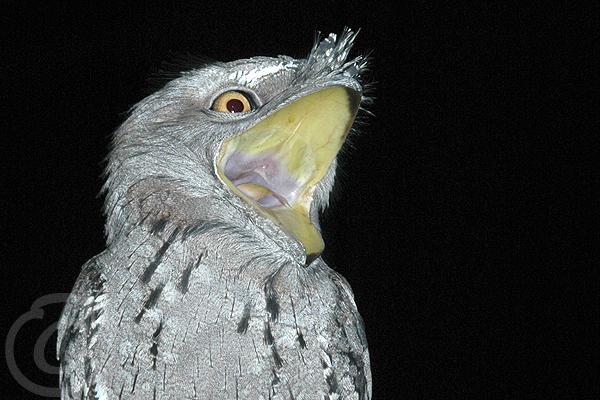 I did not have a flash with me at the time and my camera memory cards were full from a great days bird photography. I was in desperate paparazzi style need of a camera seeing the incredible opportunity in front of me – I needed to seize the moment! We left the bird sat in a tree and were shown to our rooms. I dropped everything and begged my Mum to use her camera, which I knew had a built in flash. Although a keen amateur photographer, Mum was not too fussed about photographing birds (good!!) so I leapt on the camera and disappeared into the night and back to the pool side.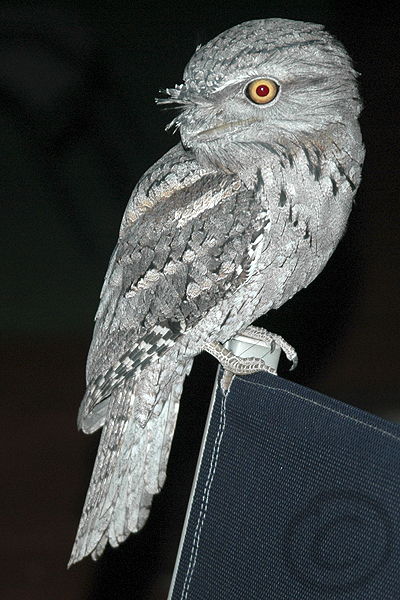 Although when we first saw the Frogmouth it  appeared to be roosting, it was now actively hunting around the pool edge, flying short distances and landing on pool side chairs, the metal railings and on the ground. I could not believe how tame this particular individual was, I could walk carefuly right up to it and was only using a 200mm zoom lens on my Mum's Nikon D70. I really felt the bird did not careless whether I was there or not, it seemed quite indifferent as it hunted about, there were far more interesting things for it to be concentrating on. Although a shot of this gorgeous bird eating an insect would have been the icing on the cake, I was pretty pleased with the yawning shots which show the scale of this birds mouth parts which when closed are barely visible. Coming across these images today after sometime makes me pine for Australia, the warmth, light, birds and other wildlife make it a dream location for many and certainly for the birder and bird photographer, I will have to return . . . . I've not photographed Papuan Frogmouth yet either . . .;-)