What, more photos from the Galapagos?
Well, in an 8-day tour in a place so loaded with photogenic subjects, there's much to share. I've actually whittled down these blogs to a tiny handful of the photos I took, but yes, the end is in sight. The following are from the last full day of the WINGS tour aboard the M/Y Integrity this past November, and then I'll have one more post from our post-tour extension to San Cristóbal Island.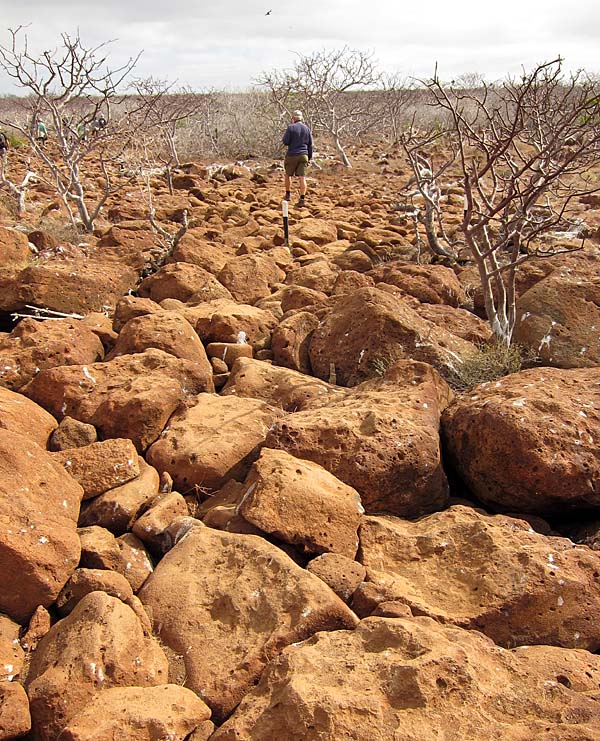 We started this morning with a slow walk on North Seymour, just off the northern tip of Baltra (which was formely known as South Seymour). The highlight here was the breeding colony of Galapagos Magnificent Frigatebirds. (Remember that this population has been shown to be genetically quite distinct from others and may be split in the future.) The bottom photo shows a closeup of the green gloss in the mantle feathers that help distinguish this species from Great Frigatebird.
There are also a fair number of Blue-footed Boobies nesting here.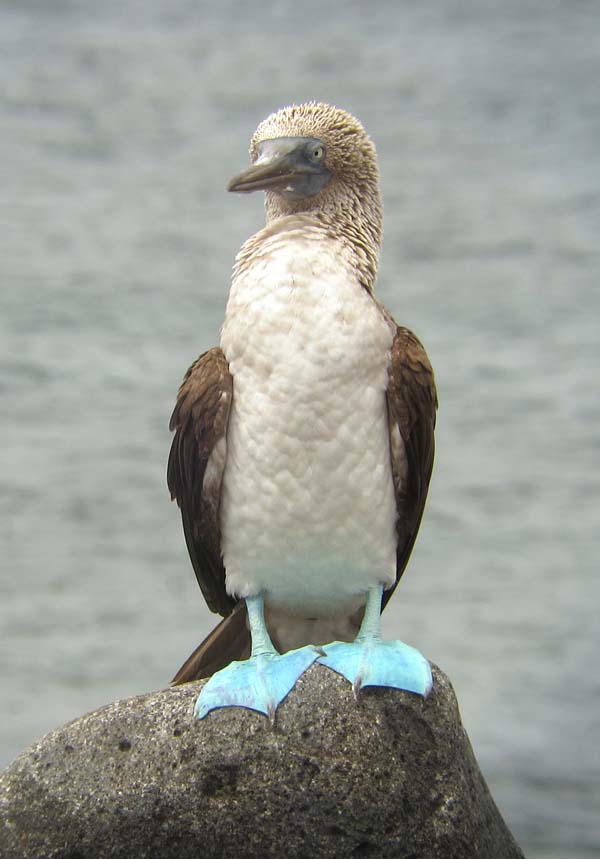 We thought that perhaps this juvenile might have been left for dead, but then we saw it move.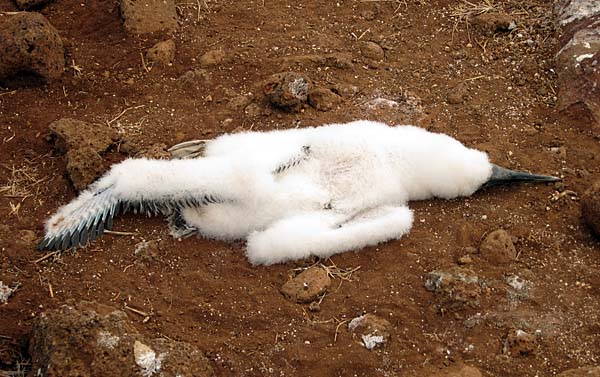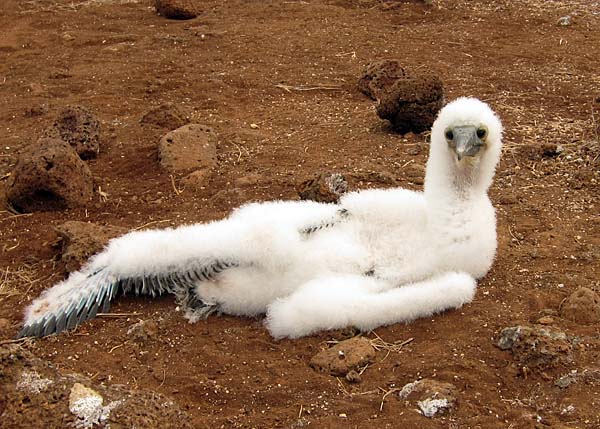 Some other interesting critters here were this beetle in the family Tenebrionidae and the genus Blapstinus. There are 18 in the Galapagos, all endemic.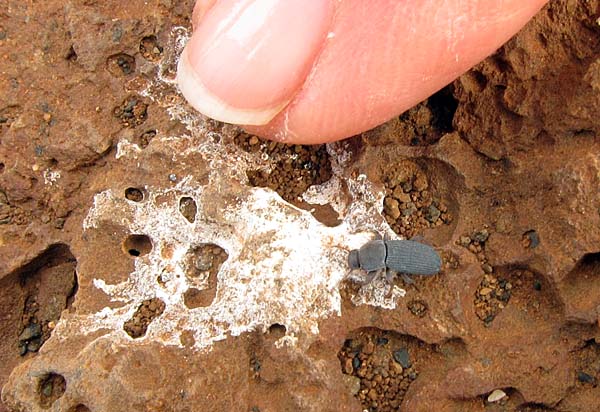 Wonderfully colorful was this tiny moth, the endemic Galapagos Bitterbush Moth, Atteva hysginiella. Its caterpillars feed on the endemic shrub Castela galapageia.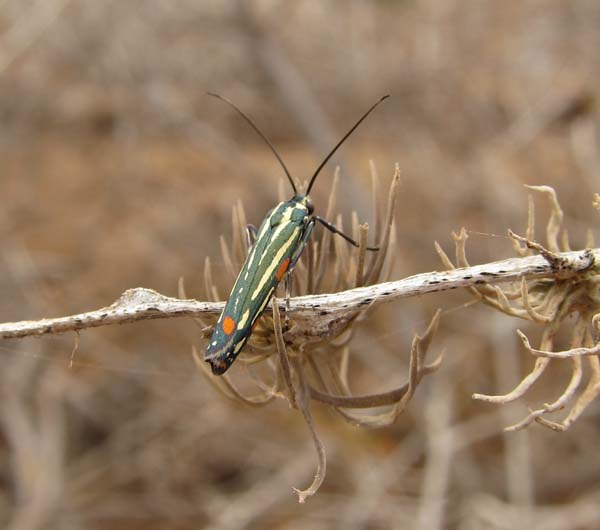 This is a male Galapagos Lava Lizard.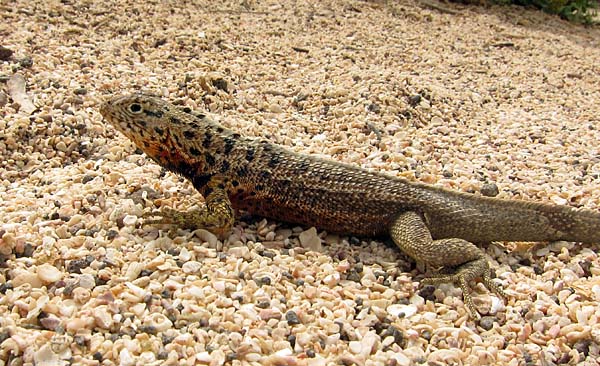 The Yellow Warblers here are interesting. They are a resident (non-migratory) subspecies (Dendroica petechia aureola, also found on Costa Rica's Cocos Island) and with that chestnut cap look very much like most of the resident island endemic subspecies found in the Caribbean called "Golden Warbler" (there are sixteen of them). It would be quite strange and very unexpected if it had derived from those, as there are much closer resident mainland forms that live in tropical mangroves called "Mangrove Warbler" – though all of them have a solid chestnut head. Well as it turns out, these are genetically quite close to the Mangrove Warbler after all, probably evolving this difference in head color in just a short time.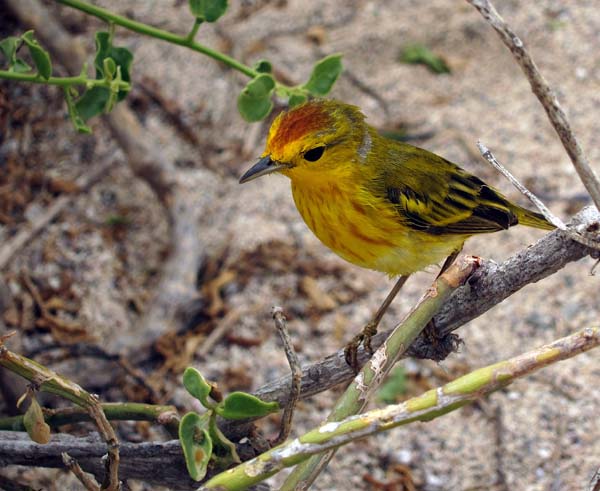 After some fun snorkeling just off shore of North Seymour (where the Galapagos Garden Eel was a highlight for me), we motored south off of the NE shore of Santa Cruz. Sitting on the bow was the best place to sit. It's probably not hard to ID this bird from its shadow.
Indeed, Magnificent Frigatebirds almost everywhere accompanied the yacht.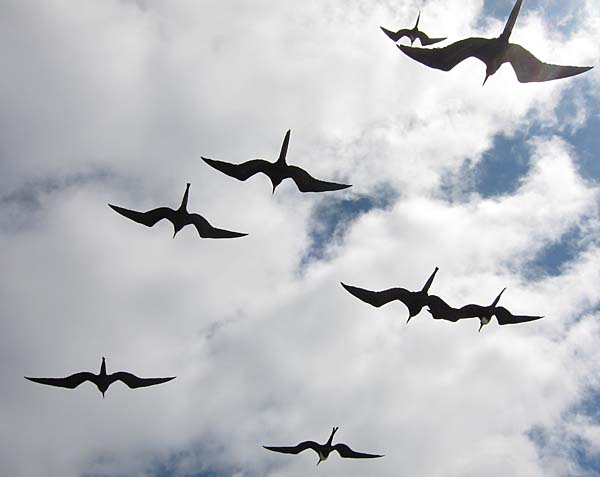 We ended the day on the tiny island of South Plaza, here looking back to our yacht anchored between it and North Plaza island, with Gordon Rocks in the distance.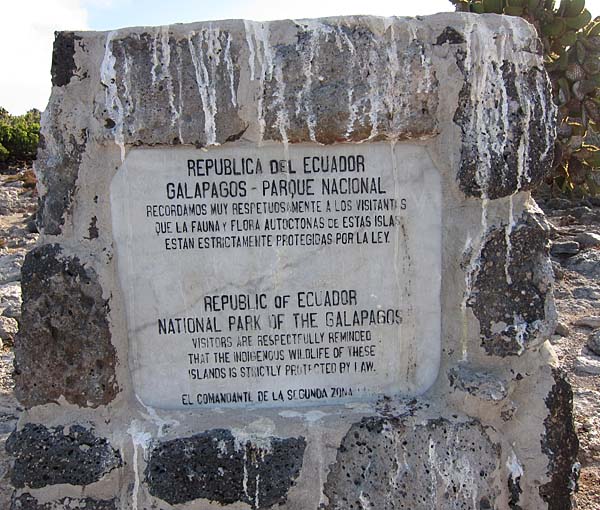 One of the main attractions here is the native Land Iguana, one of the first species to have gone extinct on several islands where they were killed for food.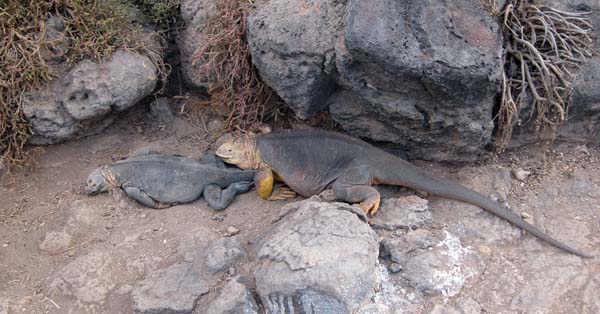 There are also a few Marine Iguanas here, and hybrids are not unheard of.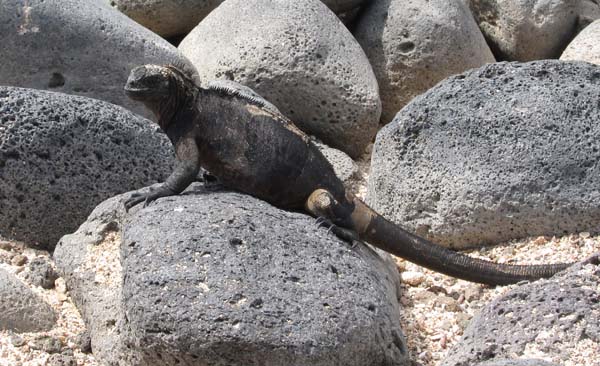 The reddish plant that covers this island is Sesuvium edmondstonii, in the family Aizoaceae.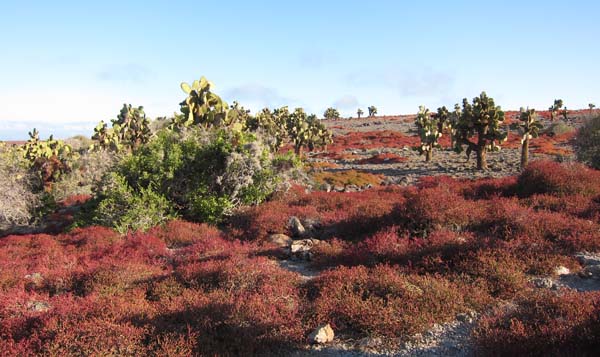 There are actually two species in this genus, this being the other, Sesuvium portulacastrum.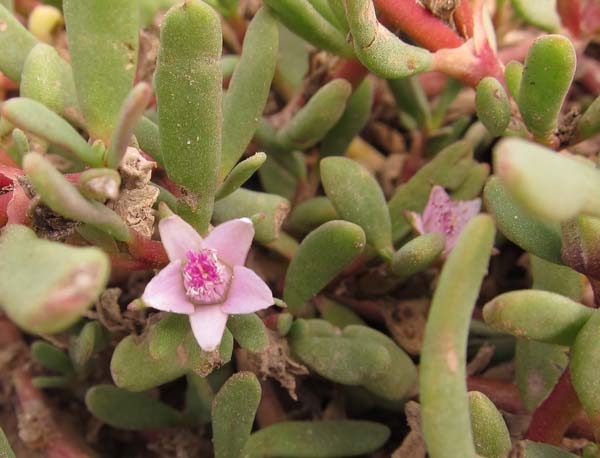 This island is also where we had our best views of the Common Cactus-Finch, an appropriately named bird.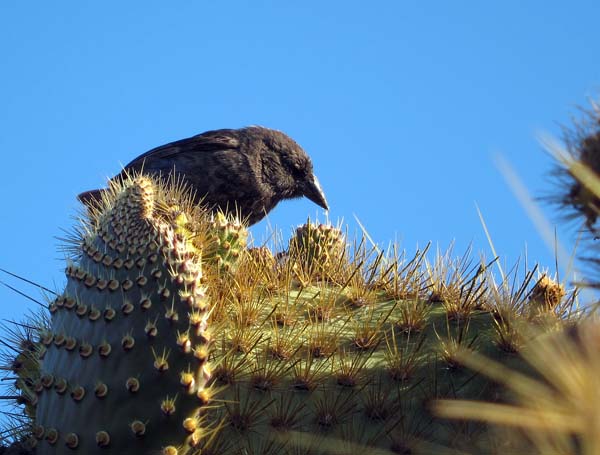 The loop trail follows the top of the south ridge, an abrupt dropoff where flocks of Galapagos Shearwaters wheel in and out, some disappearing into nesting crevices.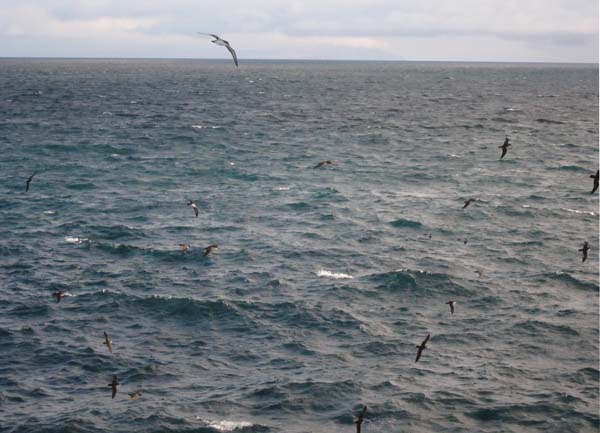 The farewell dinner aboard the yacht was quite a presentation.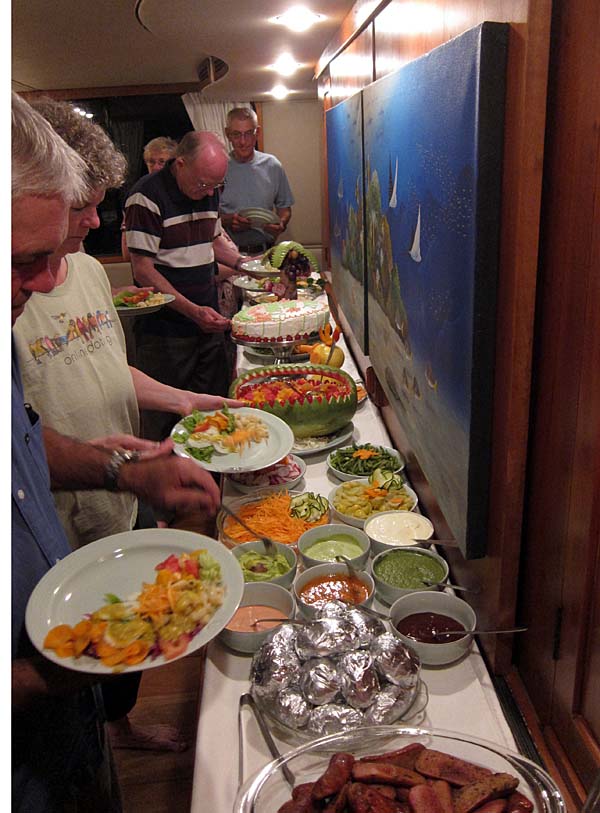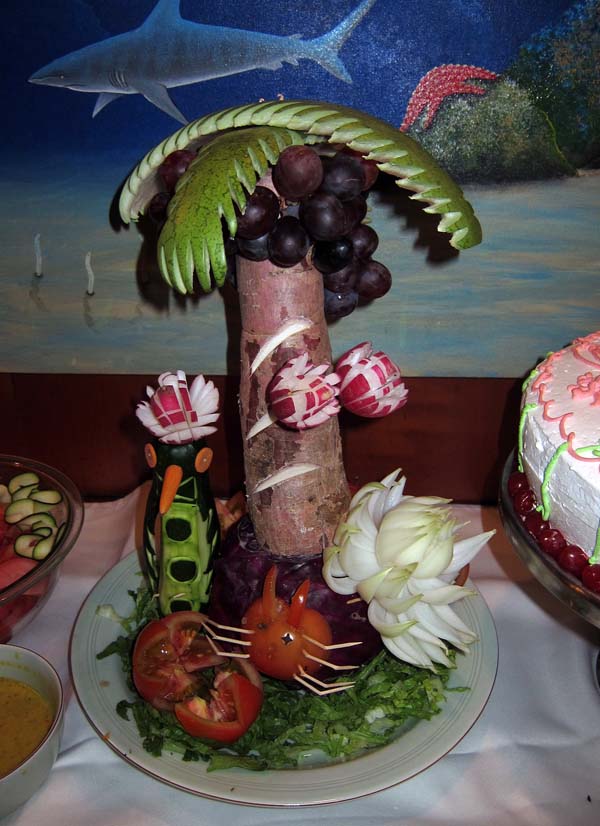 And here's the whole group, a terrific group of people to travel with. Stay tuned until next week, with a few photos as six of us continued one last day for the San Cristóbal extension.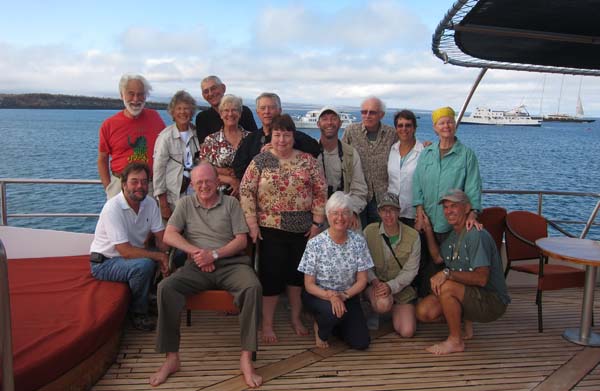 Photo at top: Galapagos Magnificent Frigatebird, Fregata magnificens magnificens by Rich Hoyer.