Featured Bird Photographer blogger
Howdee all,
Yep its me…Dawn….dusting myself off and oiling my finger joints after a long hiatus from Birdingblogs.
I have a few excuses~ a head injury in my family…lots of traveling and birding… but mostly its laziness.  I will give you no more excuses for my delinquency here.
I am now rust-free and ready to introduce to you an amazing Bird Photographer and Blogger.
I am thrilled to present to you~
~Mia McPherson ~On the Wing Photography~
With Mia its all about getting up close and personal with the birds~
Mia likes to get down and dirty when she takes her photos~
"Many yards away from the birds I dropped down to my knees then laid on my belly and slowly sand-crawled within range.  Sand-crawling is not just a way to get closer to your subject it is also low cost dermabrasion for your elbows, tummy feet and any other exposed part of your skin. It probably took me over 10 minutes of wiggling my way forward in the sand to get into a slight depression where I was close enough to the birds and low enough to get the low angle I wanted for my images."

Mia's blog is very organized with many Drop down menus..
Mia's Photographic Styles and Methods drop down menu might be of interest to you photographers out there.  Mia covers such topics as Angles and Perspectives ~ Depth of Field ~ Exposure Compensation ~ Frustrations in Bird Photography ~Habitat ~ High Key ~ Low Light ~ Rotation Adjustment ~White Balance Adjustments.
Here are some of the other drop-down menus on her blog with many subjects covered ~Birds~ Bird ID~ Critique Forums~ Critters~Humor~ Locations~ Man & Nature~ Photographic Styles and Methods ~Scenics~ Seasons and Wildlife Ethics
Mia offers her readers some beautiful Bird and nature wallpapers. Check them out and get yours too. Besides her own blog Mia is a monthly contributor to BirdingIsFun.com.
I know you will love Mia's photos and blog as much as I do.
Mia never fails to WOW me!
~Read more about Mia here~
Mia is a nature lover, wildlife watcher and bird photographer. Birds fascinate, delight and intrigue her which is why she
devotes many hours learning about them, observing their behavior and photographing them. By learning more about each subject, she can anticipate their behavior and create opportunities to obtain better images of those species. Mia enjoys sharing her photos, photographic skills and techniques with those individuals who are serious about their own bird and wildlife photography.
Mia is self taught and has never attended a photo workshop other than the ones she has given. She practiced a lot when first photographing birds because they are such a challenge but she enjoys strengthening her skills. Mia prefers to photograph birds doing what birds do and where they want to do it which means long but enjoyable hours in the field. She photographs in all kinds of light, the golden light of dawn, sunsets, low light, snowy and foggy images and has learned to work with the light, not fight it.
Her blog "On The Wing Photography" features her photos and the stories behind the photos plus information about many of her favorite photographic locations. Mia finds that her journeys into nature bring a sense of peace and balance to her busy life and tries to show that with her images along with the beauty of the natural world.
Please enjoy these featured posts…click on the links to go to the original post.
So ya think ya want to be a bird photographer?
"Read up on species in your local area, find out when they are there. Birds do migrate, some don't. Learn to recognize them by sight and find out what season you might expect to see them. And even better, study their behavior because that can help you get some great action photos.
Learn about exposure, white birds should look white and not muddy or gray in appearance. Black birds should look dark but not so dark as to not show any feather detail.
Know what the color a bird actually is for post processing later. An American Kestrel; for instance, shouldn't look like it lives at a nuclear power plant by glowing far too brightly or if it is WAY too colorful to be natural & realistic. A Snowy Egret should not look like it fell into a vat of pale grey paint.
If the techs aren't good and the exposure is bad nothing you do in PhotoShop is going to make a poor image great.
Seriously, would you rather spend two hours trying to fix an image that is poor in quality and even after that amount of time invested still isn't going to be great or spend that two hours in the field trying to create that great image right out of the camera?? That is an easy answer for me. Get it right in the camera to save time on post processing later.
Review each of your images prior to deleting and ask yourself "What could I have done to make this image better?" Learn to develop a love/hate relationship with culling. I love it when I nail shots all day long, I hate it when I have messed up more images than I care to count.
Develop a callus on your behind because when you mess up you'll spend a lot of time kicking your own butt."
Dawn says…..As you read Mia's blog you will enjoy not only her photography but her fun sense of humor..What you waiting for..go check out more photos by clicking on the link above!.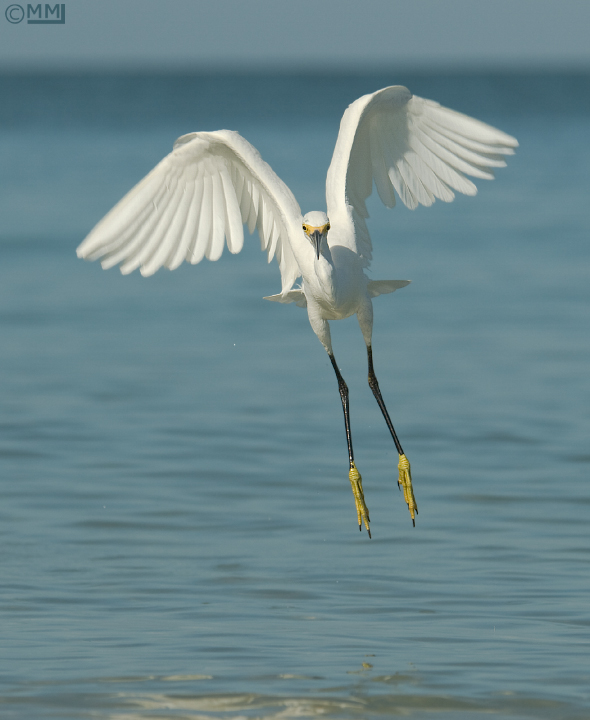 Snowy Egret (Egretta thula) in flight
Fort De Soto County Park, Pinellas County Florida
Nikon D200, handheld, f6.3, 1/1500, ISO 200, Nikkor 80-400mm VR at 175mm, natural light
………………………………………………………………………..

My Love Affair with Fort DeSoto
"I unashamedly admit that I have an ongoing love affair with Fort DeSoto County Park in Pinellas County, Florida.
There are a few places I have been to or lived near in my life's journey that simply feel like "home" to me. Places where I am completely at ease, where I am enthralled by what my eyes drink in, where the smells are familiar and the paths that I take are forever etched into my spirit.  Fort DeSoto County Park is one of those locations for me.
It is a place where I feel welcomed by the birds & wildlife, where the sand between my toes reminds me of well-worn bedroom slippers and the sound of the waves on the shoreline a lovely melody."
Dawn says……I adore Fort DeSoto too~We were there for the first time this year and plan on going many more times. Click on the link above to see more magical photos and a very cool photo of The Green Flash .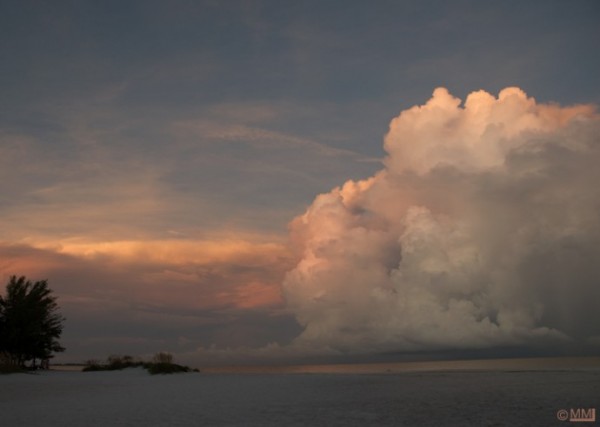 A stormy but colorful sunrise at Fort DeSoto's North Beach
D200, f5.6, 1/400, ISO 200, Nikkor 18-70mm at 18mm, natural light
…………………………………………….
"If you have never had the opportunity to photograph Burrowing Owl (Athene cunicularia) juveniles I would suggest you find a burrow and be prepared to laugh yourself silly. The adult Burrowing Owls are gorgeous but they seem slightly less animated than the juveniles.
Juvenile Burrowing Owls appear to parallax more than the adults, twisting, turning and bobbing their heads.  There are times that the juvies look so funny it is difficult to hold the camera and lens still because of laughing."
Dawn Says…..Terrific! I love these shots! Click on the link above to see more photos guaranteed to put a big smile on your face!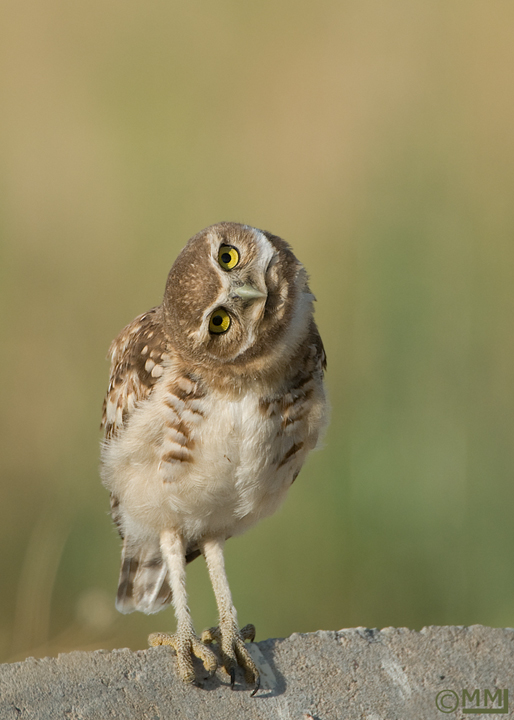 Juvenile Burrowing Owl parallaxing
Antelope Island State Park, Davis County, Utah
Nikon D200, f5.6, 1/1000, ISO 250, 200-400mm VR with 1.4x TC, natural light, not baited.
…………………………………………………….
Short-eared Owl female – 13 minutes of joy
"A  foggy morning at Red Rock Lakes National Wildlife Refuge brought me 13 minutes of joy after spotting a shape on the gravel road, it was a female Short-eared Owl (Asio flammeus) and she flew up  and landed on a post not too far from the road.
The fog was swirling around her, at times she would be clear of the mist and the post would be shrouded by the fog, other times she would be partially obscured and the post would be in the clear. The female owl was at the very edge of the miasma with the rising sun starting to burn it off .
Photographers dream about the "sweet" light usually found early in the morning or late afternoon. I know I appreciate that light too but I also love testing my skills  by photographing birds in difficult lighting situations while attempting to create compelling images. Photographing birds in a fog is one of those situations."
Dawn Says…..Be still my heart!~Check out more of these "sweet" light photos..click on the link above.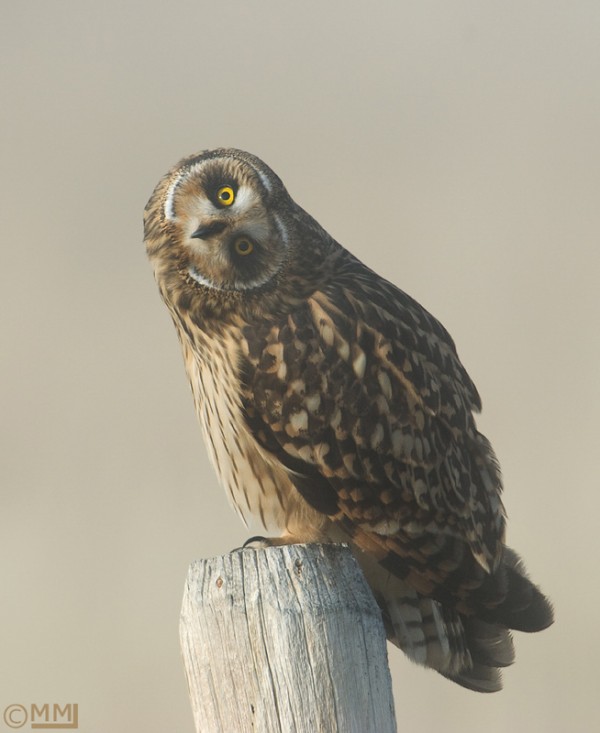 Female Short-eared Owl parallaxing
Red Rock Lakes National Wildlife Refuge, Montana
D200, f7.1, 1/350, ISO 400, 200-400mm VR with 1.4x TC at 400mm, +0.3 EV, natural light, not baited
……………………………………………………………………………………
Rough-legged Hawk – Kiting, Being Bit and Eating on the Fly
"I was out looking for birds to photograph on December 21, 2011 when I spotted this Rough-legged Hawk flying close to where I was located.  With enough time to stop, get my camera settings straight and get into position it wasn't long before I was able to focus on the hawk through my viewfinder to see that it had a Vole in its talons along with grasses it had plucked up when it grabbed the rodent from the ground."
Dawn says….Now this is fun!  You must click on the link above to see what went down.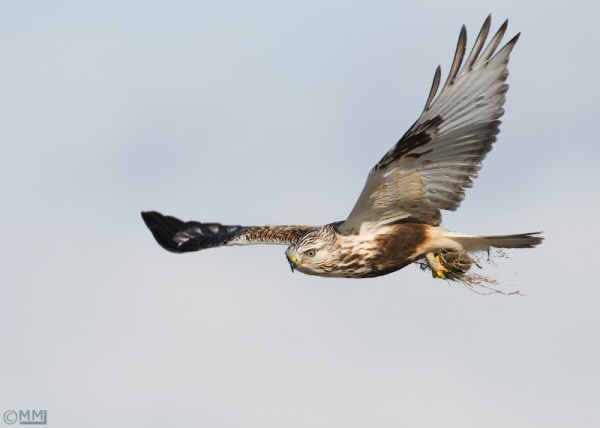 Rough-legged Hawk (Buteo lagopus) with a Vole in flight ~ Davis County, Utah
Nikon D300, f7.1, 1/1250, ISO 400, +0.7 EV, Nikkor 200-400mm VR with 1.4x TC at 400mm, natural light, not baited …………………………………………………………………………
Wild and Wonderful – Antelope Island State Park – The Birds
"This is the third post in my series about Wild and Wonderful Antelope Island State Park, I've saved the best (and longest) for last. The Birds! Okay, maybe they aren't the best thing about Antelope Island State Park, but I am a bird photographer and they are what I am most passionate about!"
Dawn says..I have never been to Antelope Island State Park….after reading Mia's blog and looking at her gorgeous photos..Its on our list of must see places. Click on the link above and see for yourself.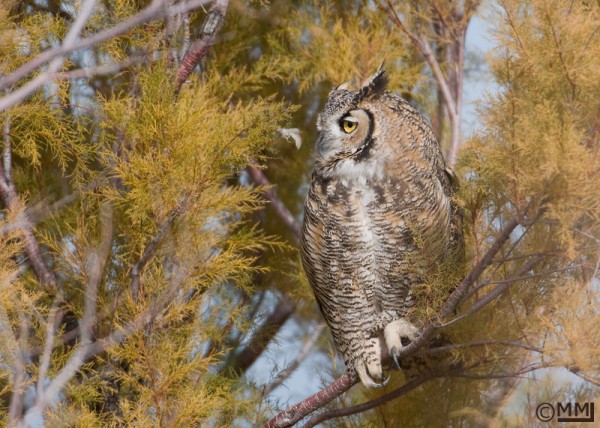 Great Horned Owl (Bubo virginianus) adult
Nikon D300, f6.3, 1/1000, ISO 400, Nikkor 200-400mm VR with 1.4x TC at 400mm, not baited
…………………………………………………………………………………
"These images of nesting Black-billed Magpies (Pica hudsonia) would not have been possible without my powers of observation.  Black-billed Magpies are common in Utah, western Canada, the west and southwest US and can range as far north as Alaska. In some places, like Rocky Mountain National Park and Yellowstone magpies can be fairly easy to approach, I don't find that to be the case in my local parks, wildlife refuges and nature preserves. Magpies are very wary of people here.
One day while out on Antelope Island State Park while looking for other birds to photograph from a distance I noticed a Black-billed Magpie in flight and it appeared to have something in its bill. Then I saw it land on a sagebrush and disappear inside the branches. I wondered about it for a few seconds then saw the bird leave the sage brush and it didn't look at all like it had anything in its bill. Then I saw another magpie fly into the sagebrush  with a small twig in the bill. Also from that distance I saw what looked like a nest so I had to get closer."
Dawn says…..A wonderful series of photos….Click on the link above to see more of the nesting Magpies.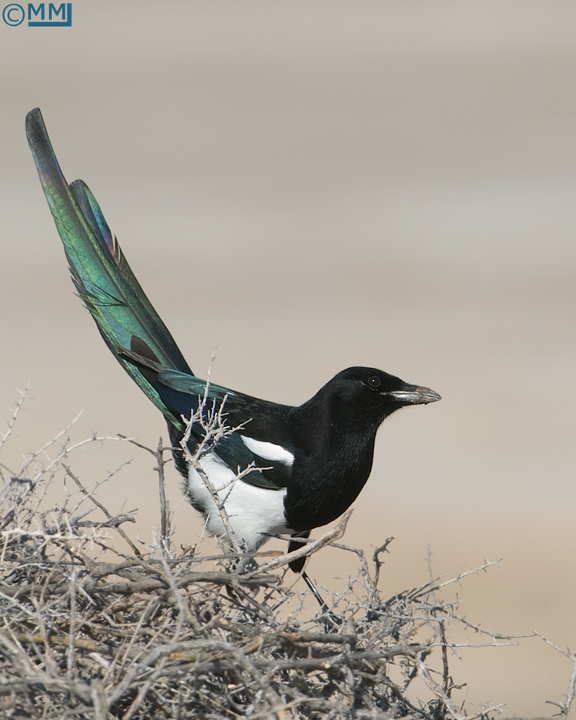 Black-billed Magpie on top of the nest
……………………………………………………………………
American Coots – Birds to Rail About
"It is my belief that even birds that people consider too common, plain, drab, or boring can be photographed in ways that create visually compelling images, for instance when I am photographing American Coots I look for colors and patterns that will compliment or be in contrast to thier dark plumage,  appealing settings, great action or an interesting pose.
American Coots are the most widely distributed members of the Rail family in North America and are very abundant in habitats with open water. Some bird photographers pass up on photographing American Coots because they aren't colorful and are common but if you have been following my blog for any length of time you know that if it has feathers and it is a bird, I'll photograph it.
These members of the Rail family have large, lobed greenish feet, red eyes, very dark bodies with ivory colored bills topped by a reddish shield. They are often in the presence of ducks and are at times they are mistakenly labeled a "duck" by people not familiar with birds. Coots can make a lot of noise and while they are gregarious they will often chase each other around in displays of aggression which is great fun to watch and photograph."
Dawn says…There is one photo in this post I adore~ I saved it for you to find. Click on the link above~third photo down.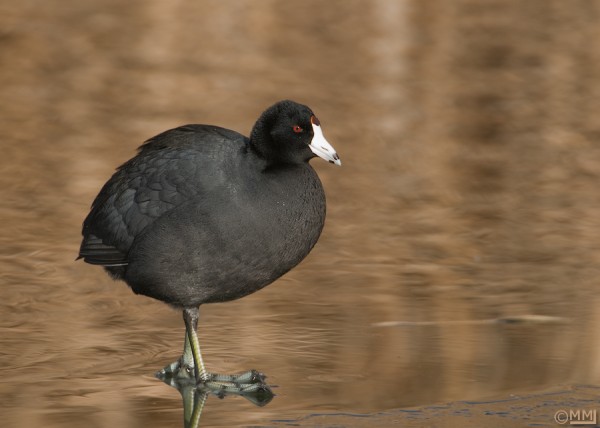 American Coot (Fulica americana) standing on bronze colored ice and water
Nikon D200, tripod mounted, f7.1, 1/350, ISO 250, Nikkor 200-400mm VR with 1.4x TC at 400mm, natural light
………………………………………………………………………………
The Chukars of Antelope Island – Throughout the Year
"I can recall vividly the first time I saw a wild Chukar (Alectoris chukar) on Antelope Island State Park and remember thinking "Wow, what an exotic bird!"  That thought probably was a bit strange though because at the time I was living in Florida and quite often saw birds there that would definitely be considered "exotic" here in Utah.
The fact is that Chukars are "exotic" any where they are found in North America. Chukars are an introduced upland game bird species that originally come from Eurasia. After introduction to the Great Basin feral populations became established and the Chukars have thrived in certain areas, one of those locations is Antelope Island State Park in northern Utah which is surrounded by the Great Salt Lake."
Dawn says….Some really super photos of Chukars here. Click on the link above to see more. You wont be disappointed.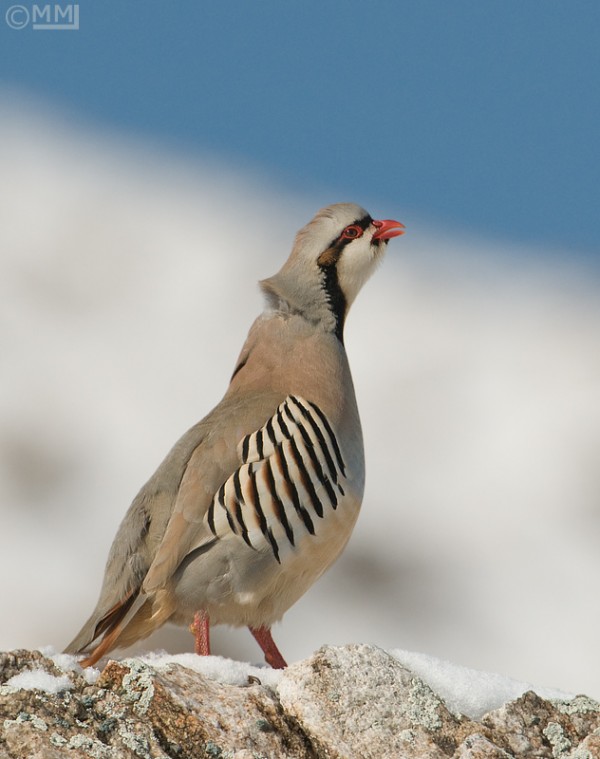 Chukar calling on a snow-covered rock
Antelope Island State Park, Davis County, Utah
Nikon D200, f7.1, 1/2000, ISO 400, Nikkor 200-400mm VR with 1.4x TC at 400mm, natural light
………………………………………………………………………………………………………

California Gulls feeding on the Brine Flies of the Great Salt Lake
"When visiting Antelope Island State Park during the summer I can often see piles of the pupal casings of brine flies on the shoreline that have been blown there by the wind. Perhaps "piles"  is a bit of an understatement since there can be over a billion pupal casings in a one mile stretch of shoreline. They remind me of the mounds of Turtle Grass I'd often see on the wrack line on the beaches of Florida but in this case it isn't grasses but the shed casings of the pupae of the brine flies.
The shoreline  and the surface of water nearest to the shore is also dark with the newly emerged brine flies themselves, millions of them! They seem to move in choreographed mass when anything approaches them.
Though other bird species feed on the brine flies of the Great Salt Lake I find the way that California Gulls do it in the most humorous and entertaining way. Franklin's Gulls seem to stay in one place then as the flies move past them they snap their bills to capture the flies."
Dawn says….Holy Moly! I have never seen anything like this! Click on the above link to see more of this feeding frenzy.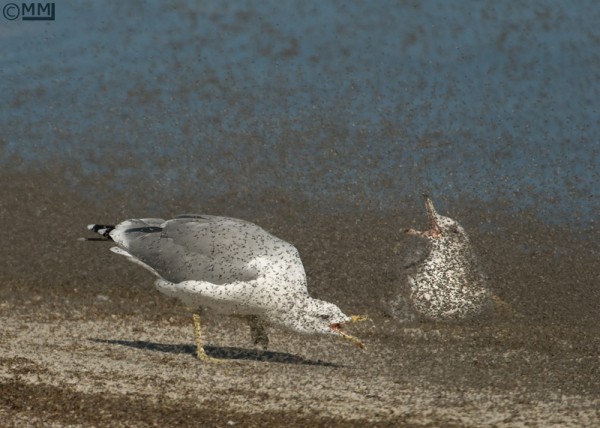 One California Gull (Larus californicus) actively feeding, the other is passively feeding
Antelope Island State Park, Davis County, Utah
Nikon D200, f6.3, 1/2500, ISO 400, -0.3 EV, Nikkor 200-400mm VR with 1.4x TC at 400mm, natural light
…………………………………………………………………………
"There are days when everything seems to go right. The light. The action. The habitat. The company you are with. The birds!"
Dawn says….Magic is right! You have to click on the link above to see the magic for yourself.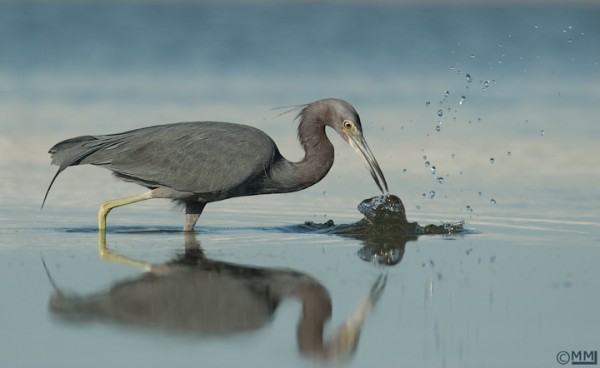 Little Blue Heron misses the prey
Fort De Soto County Park, Pinellas County, Florida
D200, HH, f6.3, 1/800, ISO 200, 80-400mm VR at 360mm, natural light
…………………………………………………..
Hungry Yellow-crowned Night Heron
"Adrian Burke and I were photographing together one morning last year on the Gulf coast of  Florida when we came across this Yellow-crowned Night Heron (Nyctanassa violacea) stalking a Ghost Crab.  Adrian and I laid down on our stomachs in the sand and got ready for some action."
Dawn says….A great series of a Yellow-crowned Night Heron downing a Ghost Crab. Click on the link above to see the rest of the story.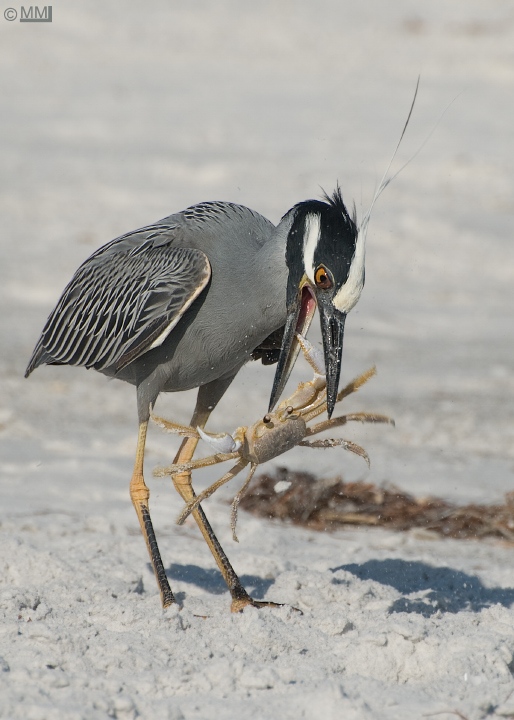 The Ghost Crab tries to fight back
Fort De Soto County Park, Pinellas County, Florida
D200, HH, f8, 1/800, ISO 200, 70-300mm VR at 300mm, natural light
……………………………………………………………………………………….

I hope you enjoyed Mia's Bird Photography blog and visit often…
Don't forget to leave a comment. Bloggers love feedback.
Happy Birding!
All permissions for this post and photos were given by Mia McPherson