SUMMARY: A retired salesman is befriended by a lonely goose whilst walking around a manmade lake in a small park in a very big city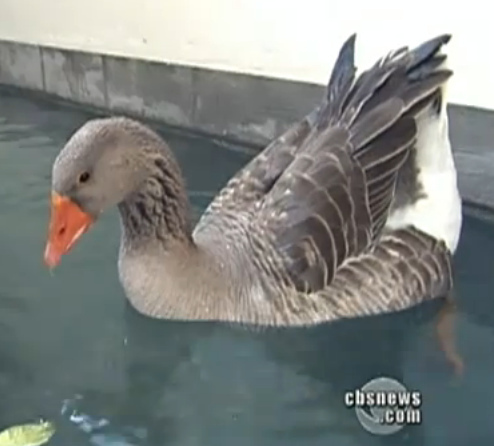 Maria in quarantine at the Los Angeles Zoo (screenshot/CBS News).
.. .. .. .. .. .. .. .. .. .. ..
This interesting video shows how strong the pair bond can be in many bird species. Even when they choose the wrong mate, geese are loyal, affectionate and protective. In this video, we meet a retired salesman, Dominic, who lives in Los Angeles. He seems an ordinary guy, but one day when he was taking his usual walk around the manmade lake in Echo Park, a goose started following him. The goose, named Maria, is a gray Toulouse goose, a domesticated descendant of the wild greylag goose. No one really knows what attracted Maria to this particular man, but the resulting story is really quite special:
[video link]
.. .. .. .. .. .. .. .. .. .. ..
So what happened to Maria? She is currently being kept in a quarantine enclosure at the Los Angeles Zoo whilst the lake is drained and the park is restored. Meanwhile, the zoo veterinarians discovered that "she" is a "he": Maria is actually a Mario.
Since geese tend to pine away when kept in isolation, Mario's human has special visiting privileges twice weekly. During these visits, they walk together around Mario's small enclosure:
[video link]
.. .. .. .. .. .. .. .. .. .. ..
Currently, it has been decided that Mario and Dominic will remain together, but it has not been decided where this will be. It is not certain that the Echo Park geese will be returned to the lake after work on the park is completed in two years. Meanwhile, Dominic still visits Mario at the zoo and has stated his intention to follow his goose friend to his new home, where ever that might be. Dominic has also raised the possibility of moving to Oregon with Mario.
"He'll get a U-Haul, put Maria in the front seat, and the two will migrate to Oregon or somewhere far away where they can walk", according to a story in the Wall Street Journal.
.. .. .. .. .. .. .. .. .. .. ..
NOTE: this piece is slightly modified from the original: it has been reformatted and edited. You may be interested to read the original blog entry since Dominic has commented there.
.. .. .. .. .. .. .. .. .. .. ..
twitter: @GrrlScientist
facebook: grrlscientist
Pinterest: grrlscientist
email: grrlscientist@gmail.com