Israel nightbirds
Daytime birding in Israel is as exciting as it gets in the WP. Migration in full swing, rarities being found every ten minutes, great birders from all over the world (many Finnsticks among them). But the real action begins when the sun goes down. Night birding is so full of adrenalin. The main reason is that we know so little about our nocturnal wildlife all over the world, and that's why night animals are often called 'mysterious' or 'enigmatic'. Watching and studying them is challenging, and so little is known about the ecology, status and distribution of nocturnal birds worldwide.
Nubian Nightjar
As part of my work, I am lucky to have the chance to study some of Israel's best night birds. I monitor and study the critically endangered (in Israel) Nubian Nightjar (see top photo). This small nightjar has a wide distribution in E Africa, but our local subspecies tamaricis is on the verge of extinction. It is a pretty little nightjar, with a vivid rufous collar and nice buff tips to scapulars and wing coverts.
Egyptian Nightjar
We have another exciting nightjar going through Israel this time of year – the Egyptian Nightjar. It breeds in Northern Africa and in the arid parts of the Middle East. It does not breed regularly in Israel, but in March we see some Gippo Nightjars going through, probably to some remote parts of  Turkemanistan, Iran or southern Russia. They are much bigger and paler, have longer wings and have smaller eyes.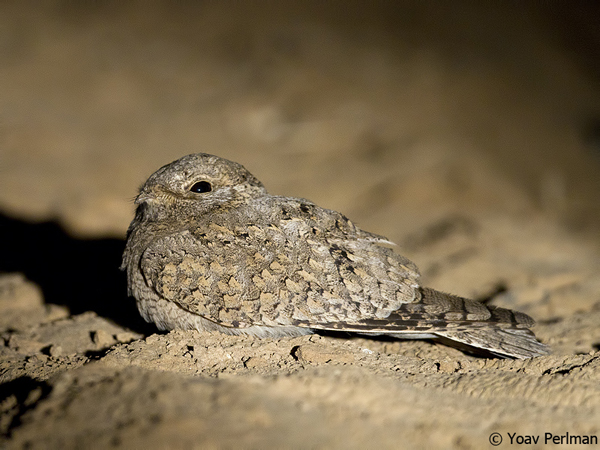 Hume's Owl
One of the most difficult birds to see in Israel is the beautiful Hume's Owl.  It breeds in remote parts of the Middle East, but is little known and seldom photographed. It is a beautiful owl of pale sandy colours. The dark triangle on its forehead is typical of Strix owls. I was fortunate enough to photograph this very inquisitive male at point-blank range last month: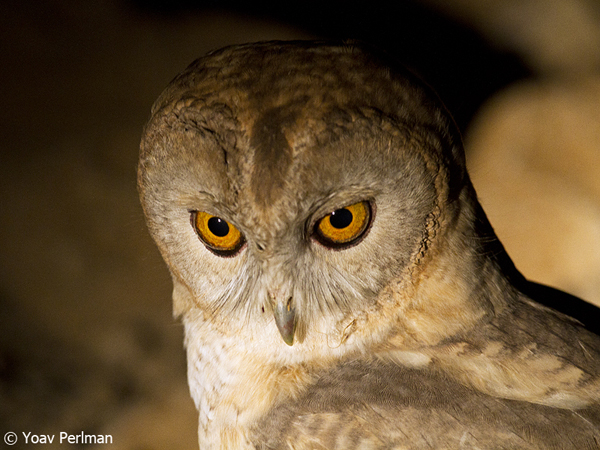 Tomorrow I will be heading down for the 6th Eilat Bird Festival – a great event. This year we will be joined by Martin Garner. I will post here my experiences and images after I get back next week, and hopefully during the festival on my blog.
Top photo: Nubian Nightjar by Yoav Perlman