Amazing Discovery at the Scarlet-banded Barbet site.
Peru never ceases to come up with surprises.  A new Antbird species was discovered in July last year by Josh Beck near the spot for Scarlet-banded Barbet, less than a kilometer from the village of Flor de Café, aka Plataforma.  The Antbird is completely terrestrial and very similar to the Ferruginous-backed Antbird (Myrmeciza ferruginea) of Venezuela and the Guyanas.
Background.
In 1995 on a remote peak of the Cordillera Azul a new, remarkable and beautiful Barbet was found during a Lousiana State University (LSU) expedition.  The Scarlet-banded Barbet was described to science in 2000. While there certainly was a lot of interest by birders to try to mount an expedition to see the species, very few actually could endure the hardship involved. One needed to set off a full 9-10 days up the Cushabatay river to see the bird and it included a very difficult and steep two day hike up the hill known as Peak 1538 (standing 1538 meter tall) to get to the only area where the bird was known from. Other expeditions into Cordillera Azul, had not produced any sightings.
A few years ago Todd Mark explored a road that lead in towards a settlement called Plataforma on the outskirts of what had now become Cordillera Azul National Park. The road had been built to supply a drilling platform that was later  abandoned. The road remained and land squatters have moved in.
To call it a road was an overstatement. While the road recently has been improved it is still dreadful in many parts. It is impossible for a regular car to make it, or even a standard  4WD for that matter. Specially adapted Toyota pick-up trucks are needed and such trucks can be rented in Bellavista south of Tarapoto, but are very expensive.
When Josh Beck contacted me to see if there was a cheaper way to visit the area, I let him know that he certainly could not get there in his sturdy 4WD van, but could perhaps hitch a ride with the trucks taking supplies, for much less. The problem would be getting back to Bellavista. Trucks are often not there for several days.
Josh didn't mind. His epic Central and South America overland trip had already been three years in duration, and he was in no hurry. Besides, there were many other good birds recorded at Plataforma apart from the Scarlet-banded Barbet.
For instance, an undescribed foothill form of the Long-tailed Woodcreeper, Yellow-throated Spadebill, Vermiculated Screech-Owl and Subtropical Pygmy-Owl, Gray-tailed Piha and Jet Manakin, should keep Josh busy several days. There is also a remarkable range extension of Yungas Manakin  Here is has a different call, which may indicate that it is a cryptic species, even though it does not look much different from Yungas Manakin from further south.
One day Josh decided to explore a trail further, continuing past the traditional spot for the Scarlet-banded Barbet into the more intact foothill forests. The forest here was in much better condition, with much less deforestation than in the area where the Barbet was usually seen.
The trail goes through tall forest with relatively open but very dark understory.  It was here Josh heard a clear, very distinct, easily imitable descending whistle.  Even though Josh knew the songs of all the Antbird species in this area, this unique call was not one he had heard before.
He made a recording and after some playback of the same, a terrestrial Antbird came walking towards him. Clearly this was a new species, if not to science,at least one previously unrecorded in this area or the rest of Peru. It turns out the closest known species is the Ferruginous-backed Antbird (Myrmeciza ferruginea) some 2000 km away in the Guyanan region of Venezuela and Guyana.
Description and Conservation of the new Antbird and Scarlet-banded Barbet.
Josh knew that if this was a new species, formal documentation and a description was urgently needed. Coincidentally as he was about to leave, a team from Louisiana State University (LSU) arrived to work on other species. Together with the LSU team of Dane Lane, Jesse Fagan, Andre Moncreiff and Oscar Johnson, as well as Fernando Angulo from CORBIDI more individuals and territories could be located.
This new Antbird and the possibility to actually see the Scarlet-banded Barbet without going on a 10 day expedition, will create a lot of interest from birders around the world.  There will be a monetary incentive at Flor de Café with more birders visiting for the locals to conserve the area. Here is a video that the Fernando Angulo made about the Barbet when the team was there. Notice also the call of the undescribed Woodcreeper in the background soundtrack.
A formal description of the new antbird species has been completed and will be published shortly. This will be essential to help create the legal framework necessary for the Peruvian state to declare recognized reserves and legal actions to ensure its conservation. After all, it was partly the discovery of Scarlet-banded Barbet that ensured the creation of Cordillera Azul National Park.
Birding in Plataforma and How to see the New Antbird
Even though only a handful of groups have visited Plataforma since July it seems the new antbird already to has become quite tape shy. We visited the site in the afternoon without hearing it, and had no response to playback. The next morning it called spontaneously. We were not able to get it to come in by playback.  In contrast, when doing playback it shut up completely. There was no way of knowing if it was close or not.
We soon abandoned the attempts to call it in, and had our guide Carlos and the hostel owner Eugenio to get behind the calling bird while the group waited motionless in an area where there was a good view of the forest floor. Carlos and Eugenio walked in towards us effectively pushing the bird in our direction.  This seems to be a fairly low impact way of seeing the bird. Excellent views were had by everyone in our team. And I managed to get a head shot with my point and shoot. I regret I did not try to get a video instead.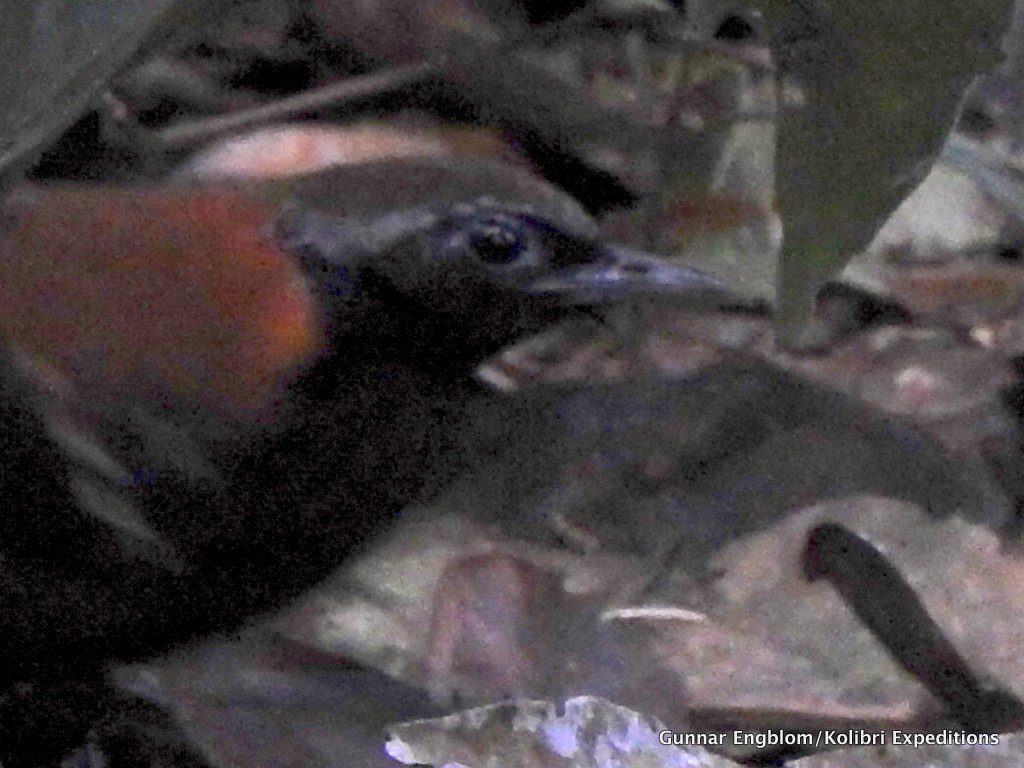 Eugenio charged us 60 soles for the two attempts and also got some appropriate tips. It is recommended that this strategy is used rather than continue with playback.  It should also be said that until the scientific description is out, Josh urges not to make the call publicly available.
If short of time it is probably best to look for tour with a tour operator that makes a Scarlet-banded Barbet extension. Kolibri Expeditions has a four day Scarlet-banded Barbet extension tour that can be added to any program that starts or finishes in Tarapoto.
Regardless, if you choose a tour or go privately, I am pleased to share information.  Just contact me at kolibriexp@gmail.com.  But please do go for this bird ASAP. With the current rate of deforestation, increased birding tourism to Plataforma may be the best way to slow down deforestation. Nobody wants to climb that hill on the Rio Cushabatay again, to try and find new habitats for both the Barbet and possibly this Antbird, if the Plataforma site gets so deteriorated that no suitable habitat is left for either.
Birding Plataforma
Josh kindly let me publish his map how to bird Plataforma. Although a bit rough, and I do apologize for not editing the map to make it more legible (not very good at Draw type programs…..and lazy), I still think birders will have great use of this. Some good birds mentioned in the map are Yellow-throated Spadebill, Jet Manakin, Short-tailed Antthrush, Roraiman Flycatcher, Green-throated Tanager and Foothill Schiffornis.
The map has some Spanish so allow me to make some translations.
Chacra =field with crops, slash and burnt cleared area.
Potrero = field for grazing cattle.
Bosque = forest
Trocha = trail
Cuarenticinco = Cuarenta y cinco = 45. Supposedly referring to km 45 on the lower road and the name of the little hamlet at this spot.
Lodo = mud
Hacia = towards.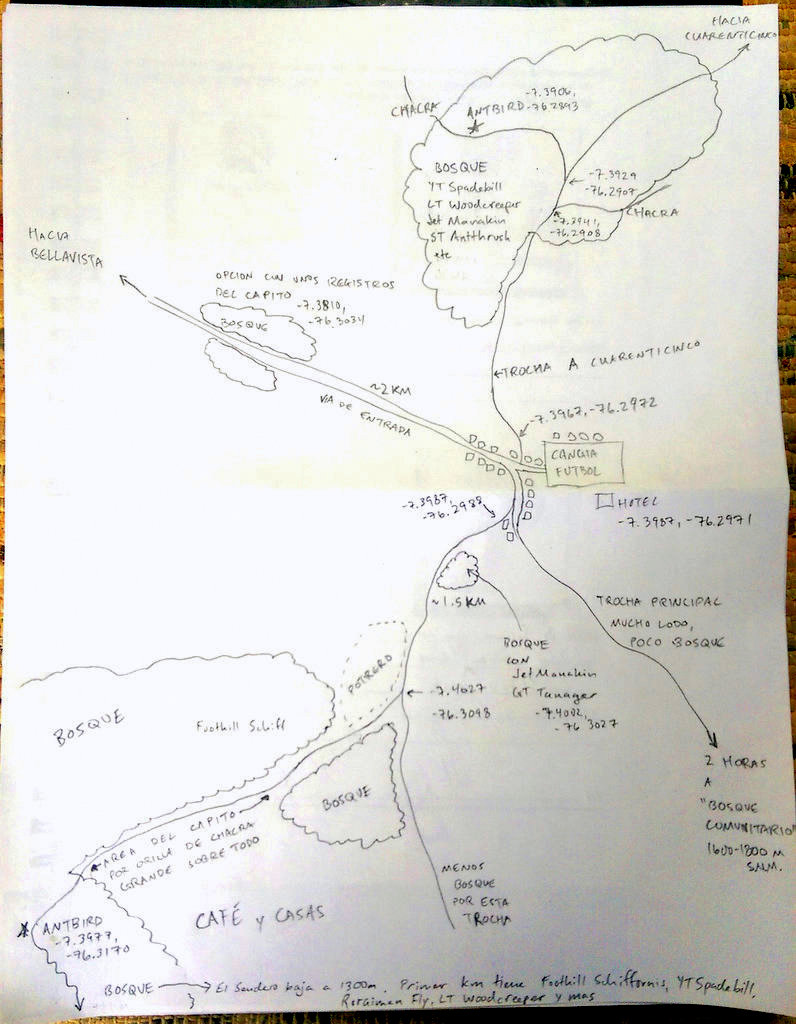 Photo of male Antbird sp nov kindly supplied with permission by Andrew Spencer.
——————————————————————————————
Gunnar Engblom is a Swedish birder who lives in Peru since 1998, where he operates birdwatching and nature tours for Kolibri Expeditions. He is also a dedicated 3:04 marathon runner, right now training for Chicago Marathon. In 2016 Gunnar additionally re-launched his rock'n'roll singer career with his band Guran Guran.