If there's one thing clear from my Cristalino Montage, it's that I like a lot more than just birds – only just over half are photos of birds. This week's revelation of Row 3 represents a good mix.
We start with a damselfly – an insect in the suborder Zygoptera, order Orthoptera. Many people are familiar with dragonflies (the only other suborder in Othoptera)  but are only vaguely aware of damselflies. Sadly, there is no good field guide to the damselflies of the tropics, so until I can take the time to browse the web or forward my photos to experts, they will remain largely unidentified for the purposes of this blog. I can usually get to genus though – the one in the montage is a rubyspot, genus Hetaerina, and this one below is probably the same species as the one in the montage.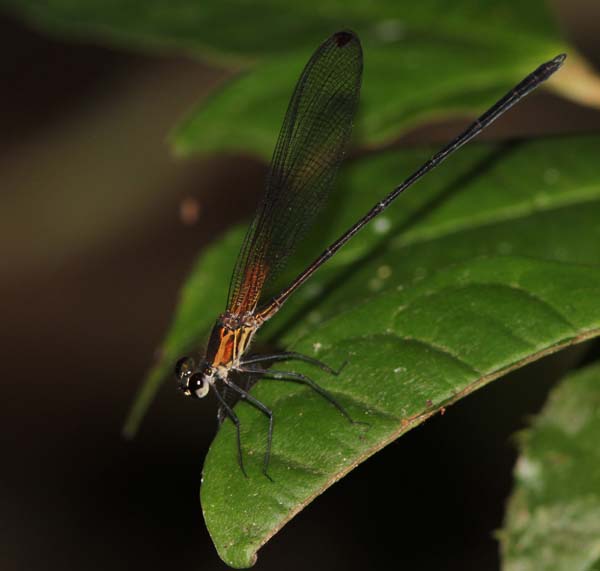 There are some great damselflies at Cristalino, even during the dry season, though it's surely better after a few weeks of rain. This one I actually probably have figured out to species: Argia elliptica; the members of this genus are known as dancers.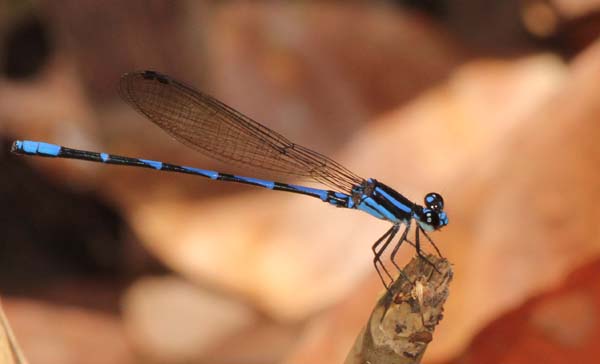 This looks a lot like what we call forktails in North America, so I'm guessing that it's the tropical version – a wedgetail, genus Acanthagrion.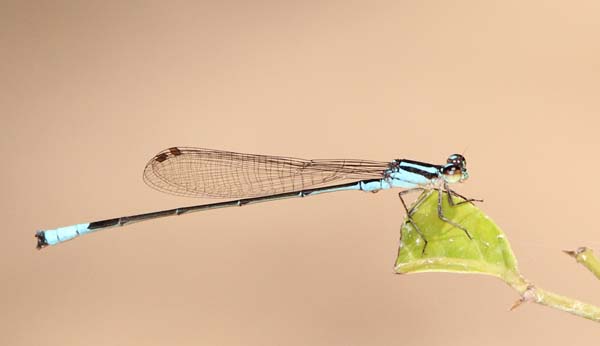 This one is probably in the genus Heteragrion. Notice that not all damselflies necessarily perch with closed wings over their back. In comparison to dragonflies, spreadwings damsels have widely spaced eyes that are much larger than the head, a rather delicate build, and have hind- and forewings that are the same shape, all good characteristics for Zygoptera.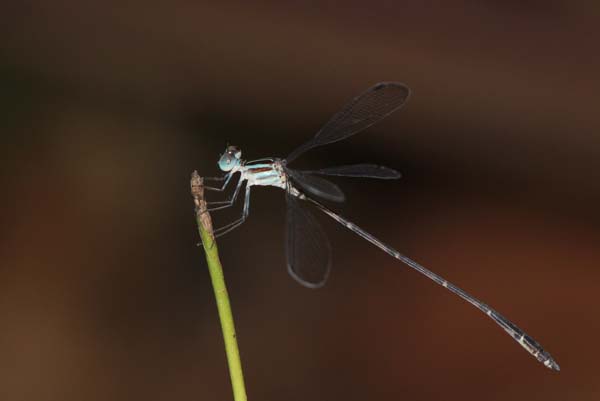 Enough of the damselflies? OK just one more, a really cool one – with green eyes. It appears to be in the genus Metaleptobasis.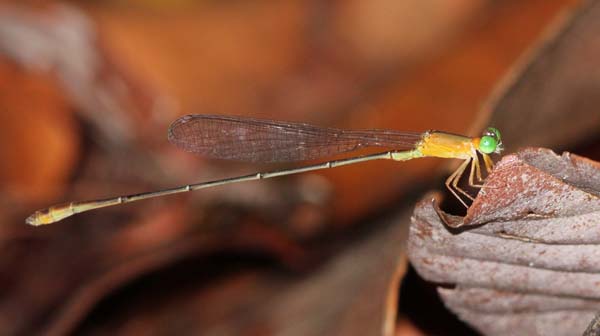 You would think the frogs are better known at Cristalino, but it doesn't appear to be so. This one is probably the treefrog Hypsiboas boans.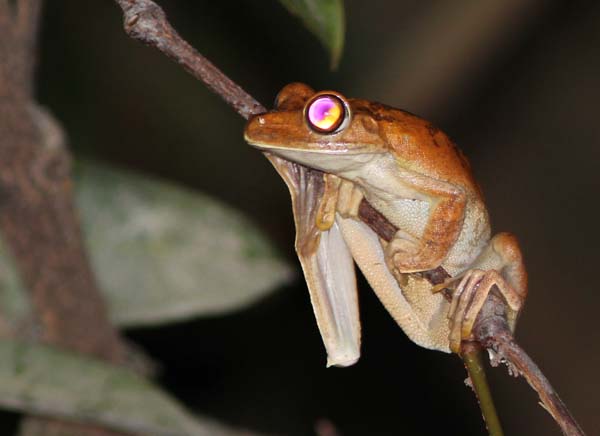 But what about these two? They might even be in a different genus, Osteocephalus. There were all found with luck – either just spotting them on leaves next to the trail or, like the one in the montage, by its lilac eyeshine in branches overhanging the Cristalino River. Feel free to leave comments if you have any idea what species these are.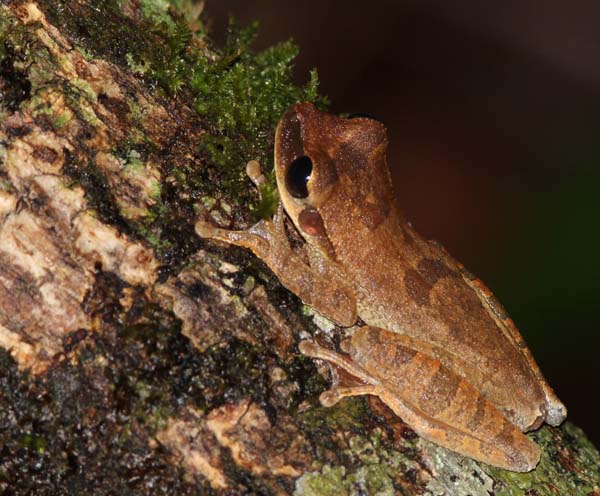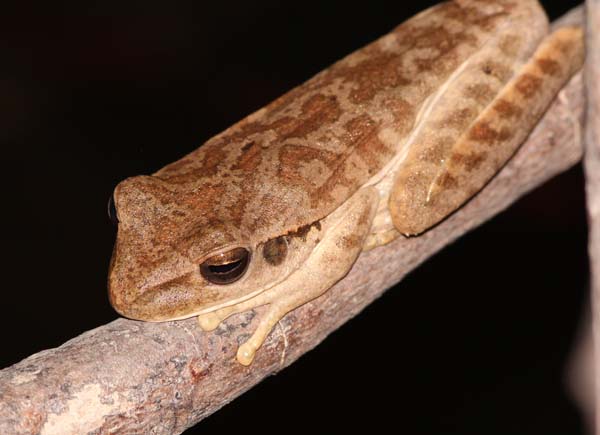 Scarlet Macaw is the next photo. This species actually seemed to be the least common of the three big macaws that breed at Cristalino, so I never did manage close photos. But they could fly by almost anywhere and at any time. The group of four below were taken from the new tower.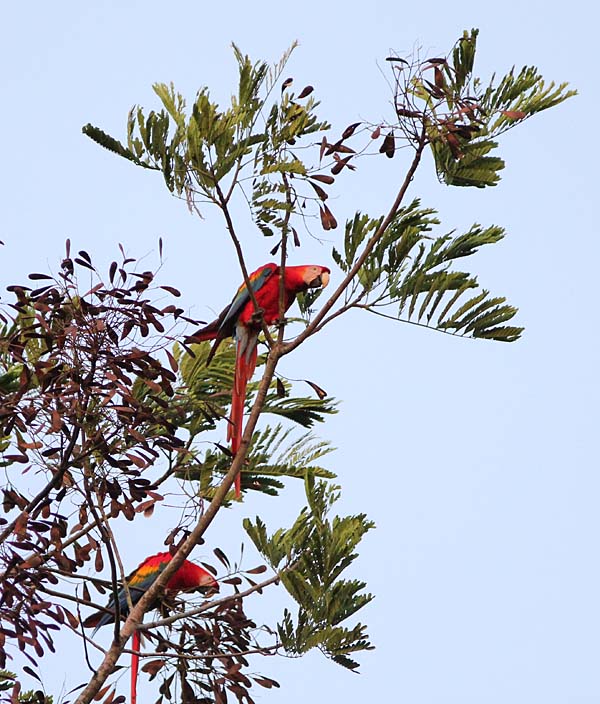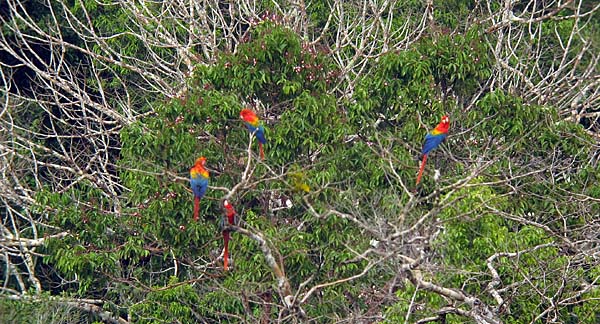 Ah, the Harpy Eagle. This bird was spotted by local guide Sebastião and one of the clients (a non-birding spouse) who were just upriver from the lodge catching piranhas. It stayed long enough for me to get a ride from the lodge and watch it for about 45 minutes. It or perhaps other birds were seen within 4-5 miles of the lodge perhaps once a week by very lucky people.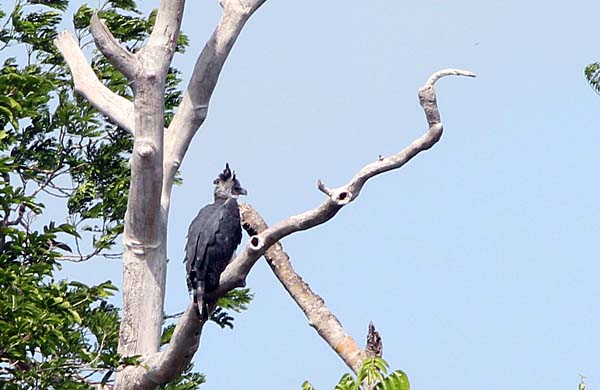 Speaking of the new tower, one of my favorite times at Cristalino was sunrise from there. So here are a few.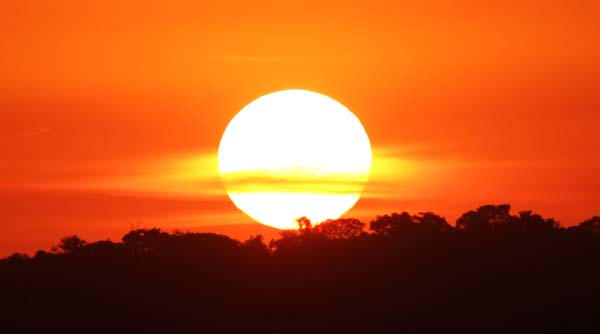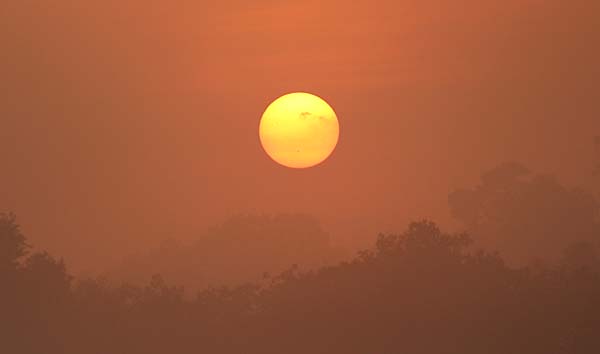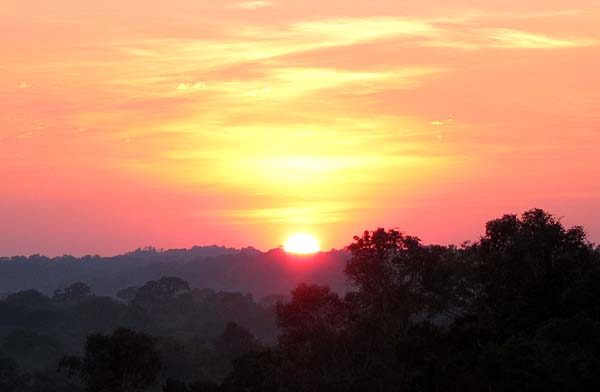 Finally, this last tissue-paper like flower started appearing only in the last couple weeks before I left, in response to the increasing rains. It is Costus subsessilis, growing near the ground with one, delightfully fragrant flower per plant.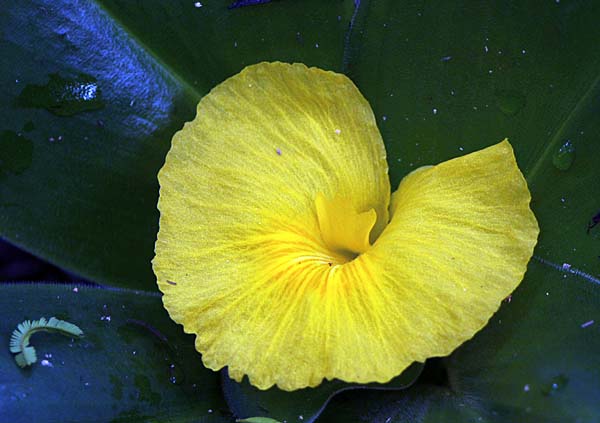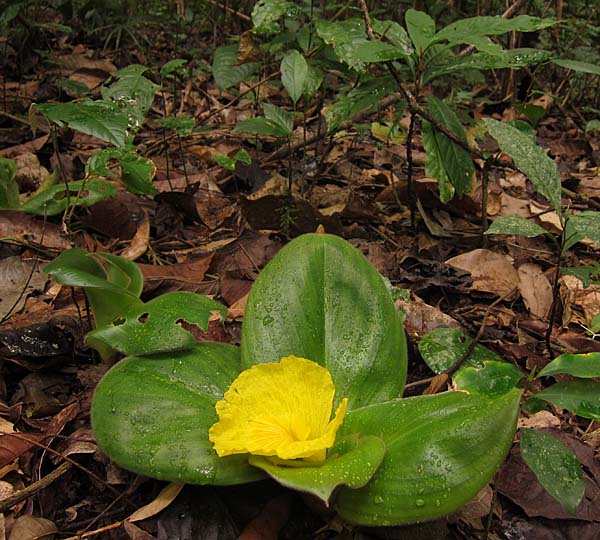 Costaceae is one of the several families in the ginger order, Zingiberales, and many of them are used in tropical landscaping for their beautiful flowers. Perhaps you've seen one of the other species of Costus, such as this lovely one from Bolivia.